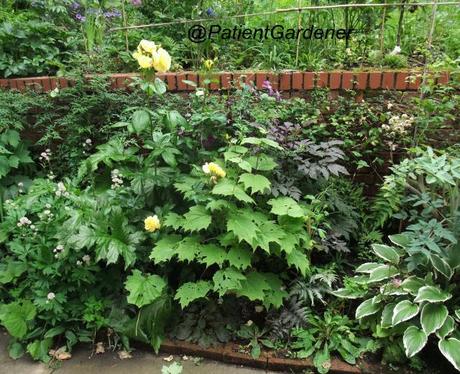 As you can see from the photo above June has been an unusually wet month.  This  has resulted in a lack of weeding and very lush growth on the plants.  Whilst the rain has meant a reduction in gardening time I haven't been that bothered by it as I prefer the rain and cool any day to a hot and humid day.  Surprisingly despite the definite increase in slug activity which has been evident on the seed trays my hostas seem to be fairly slug free.  In fact this hosta is rarely attacked by slugs; I have had it many years, divided it lots but have no idea what variety it is.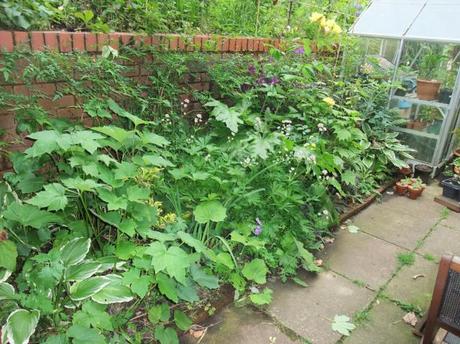 The view from the other end of the patio border shows my horrid patio.  The slabs are actually those pink and yellow ones in a checked pattern.  I only realised this a few years back when I pressure washed it and wished I hadn't.  I want to replace but have no real funds so keep trying to come up with alternatives, maybe something to cover it.  Oh and it also needs weeding – again.  I have tried to have a limited color pallet in this border – greens, yellows and purples and I think it works quite  well.  However this border has been an exercise in trying to work with foliage more than flowers; trying to mix both leaf shapes and colours.  I am quite pleased with it and what to try to use the same approach elsewhere, less reliance on flowers and more on foliage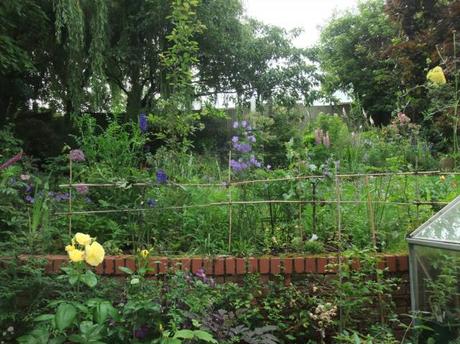 Above you can see what I call the back of the Cottage Garden Border.  The border is along the top of the wall at the back of the Patio Border and therefore could be seen to have no real front and back and I have struggled with this.  It isn't wide enough to have a border where the height is in the middle and I decided last year that I really needed to find a way of creating a back so the border only really faced onto the 'lawn'.  Eventually after much consideration of hedges, low fences etc etc I decided to use step over apples.  This was something I wanted to try for some time, it will provide in time a back and also provide an interesting top to the wall – I hope.  The trees went in over winter and in the last month I have had to start putting in a framework to train them on.  This would be fairly easy if I didn't have to balance on top of the wall to build the structure and tie in the apples.  It all looked level and lovely after an hour of balancing but as you can see it is not level  and there needs to be adjustment – I am working myself  up to another balancing session.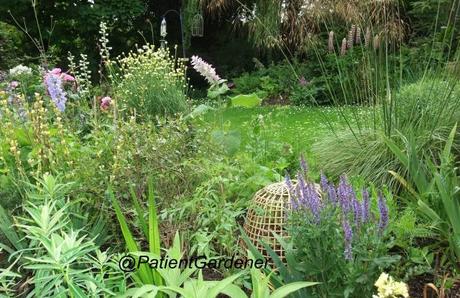 The Cottage Border is filling out but it's not quite there.  It may be better when the Delphinium and Anthemis open and the plants planted this year bulk up but I think it is too bitty.  I have repeated plants throughout to try to achieve some sort of rhythm so I am not convinced it is that – I suspect that it's the foliage and I prefer planting in the Patio Border above.  I  think it needs more substance and less airy fairy plants (for want of a better expression)  I will see how it goes this year.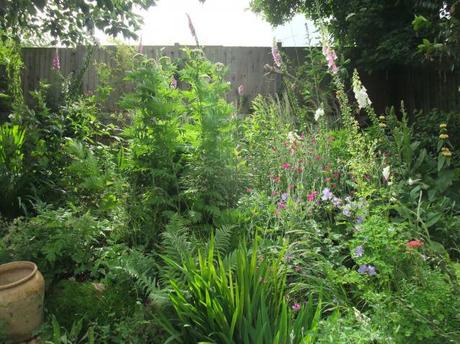 The Slope/Daisy Border has gone mad with all the rain we have had and whilst there are no daisy type  flowers to be seen yet, the border is looking very full and I am rather pleased with it.  It will be interesting to see how the border changes in the next month since the intention was that it peaked as a late summer border, hence the Daisy Border, and it is meant to be all asters, echinacea, heleniums.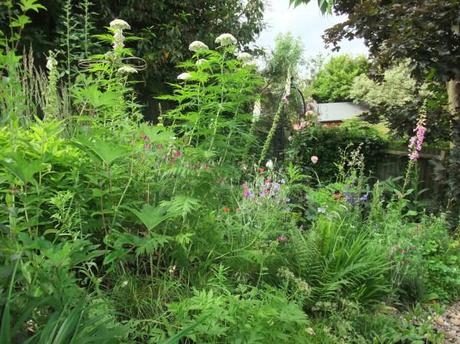 I like that the planting is thick and full and I think this is what I am trying to achieve in the Cottage Border.  Now I am looking at the photos I wonder if the problem is that the Cottage Border is just too narrow to achieve the look I am after .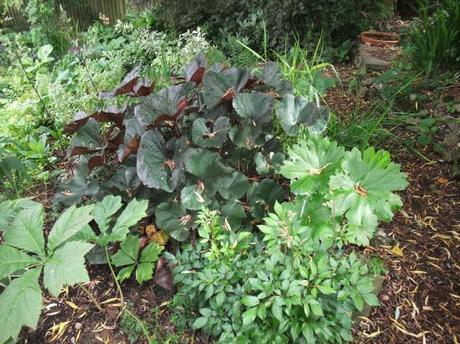 You may remember that I filled the pond in over the autumn/winter and planted the area up as a bog garden.  Here it is so far.  I only replanted the plants that were around the original pond and I am waiting to see how they work in the space and whether I need to edit or add.  Again I really like all the contrasting foliage.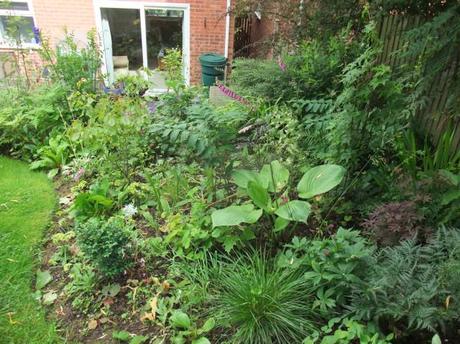 The Woodland Border one year on.  The border is intended to look its best in spring with lots of spring bulbs but I want it to be interesting the rest of the year and again I am trying to get foliage interest.  In fact I hadn't realised just how much I had moved towards being interested in foliage until I did this post – how interesting.
If you would like to join in the End of Month View meme you are very welcome.  I find it very helpful to look critically at my garden but you can use it for whatever reason you wish and in any way you wish.  Just leave a link in the comment box so I know you are joining in and can pop over to visit.