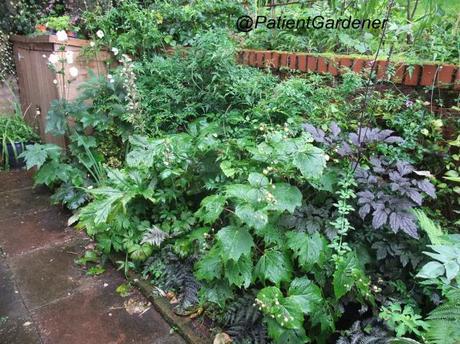 The End of Month View is a day early this month as I have signed up to FoodiePenpals and you are meant to post  about your food parcel on the last week day of the month e.g the 31st August.  I'm not sure how long I will continue with Foodie Penpals but I will also continue with the End of Month View post although it may end up moving to the Start of the Month post!!
Anyway here we are at the end of a soggy August.  I don't really mind the rain too much as I hate heat but it has been somewhat frustrating when you want to spend a day off work in the garden.  Anyway, as you can see from the soggy photographs we have had more rain this week.  The patio border is very full and the Kirengeshoma palmata is about the flower.  I love its flowers as they remind me of curls of butter.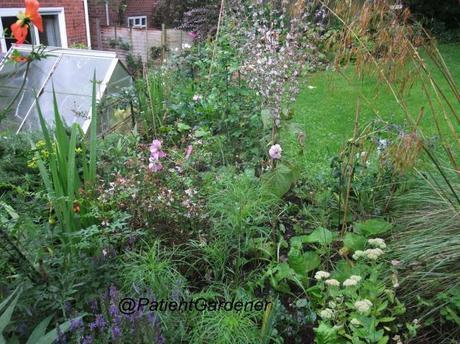 The Cottage Garden border hasn't delivered as I had hoped this its first year although if I am honest my plans for it and the planting was a little haphazard this  time last year.  I have made the decision that I want this border to peak May – June with the baton being picked up by  other parts of the garden.  So I have some Delphinium seedlings  to add as well as more Geraniums, Evening Primrose and Verbascum.  Then I will fill in with lots of cosmos to give some interest at this time of year – well that's the plan anyway.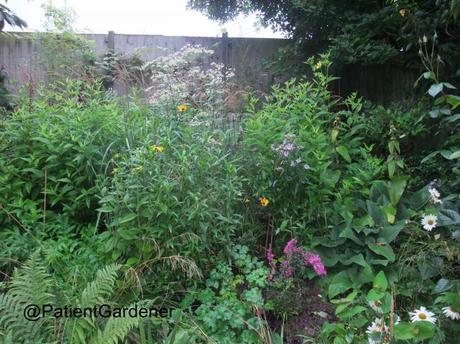 The daisy border has filled out in the last year and the daisies are beginning to burst.  However, I think I need to remove one of the clumps of Helianthus 'Lemon Queen' as they are dominating the border and I would like to add more variety and in particular more Echinacea.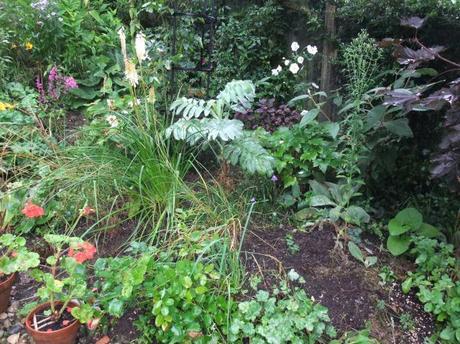 This is the 'I haven't got a clue' border and this winter/spring's project.  Its in the corner and one of the few flat places in the garden.  I did say I was putting the raised vegetable bed here but the voice in my head has convinced me that I should  listen to it and that I will be happier and more content with no vegetable growing.  So what to do with this corner.  I  toyed  with an alpine raised bed but having looked at the rockeries and crevice gardens at the Alpine Garden Society garden in Pershore I decided this wasn't really for me at all.  I really like alpines but prefer them in pots rather than in a big planting.  So instead this week's plan is to transform this into the bench border.  I want to gain access to the bottom of the slope so a narrow path will  go  in there and then we are going to get a nice bench  and choose the best position for it and move plants around as needed.  Well …….!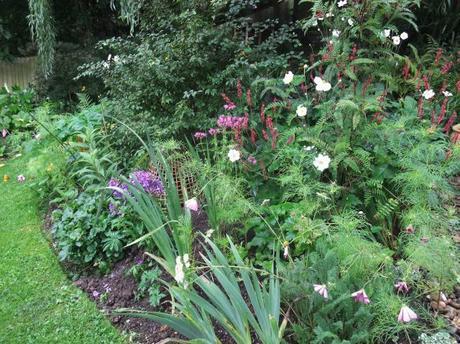 The 'front of the pond' border although there is no longer a pond so a new name is needed.  I have planted a monarda and phlox this week in this border to see how they do.  The books say they both need moist  and well-drained soil – heavens knows what that really means.  My soil is definitely moist so I have added a little gravel under and around the plants.  I want to do something like the wonderful phlox/monarda border I  saw at Stone House last week which was smothered in insects.  If the phlox and monarda come back well next  year  I will add to them.  In the meantime I have some narcissus to add for Spring interest.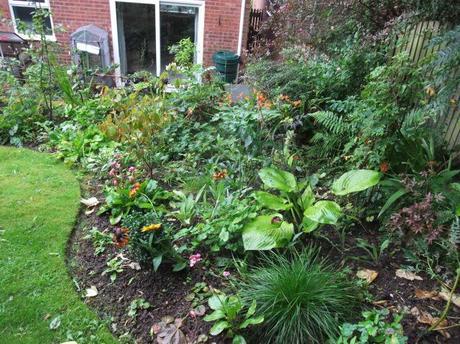 The Woodland border at the end of its first year.  I am pleased with this area as it has done very well given my poor preparation during the dryness of last summer.  This border is designed to be of interest in Spring with lots of bulbs which I will add to this Spring.  I do need to do some editing and tweaking as some plants are swamping each other or not in the best position to show them to their best advantage.  Notes have been made in the faithful notebook.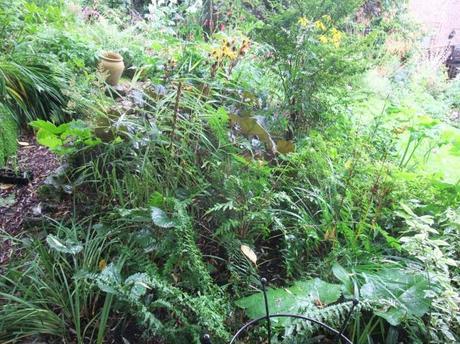 The bog garden has done well  in its first year, no doubt due  to the rain we have had.  We have decided to remove the branch of the prunus  tree which runs above it as it is forcing the flowers to lean at an angle in search of better light.  I want to move some candelabra primulas to this area but apart from that I will be leaving it be for the coming year.
So that's most of the back garden this year.  There is also the top raised bed which runs along the back  fence  and leaves me cold.  I can't think what to plant  in it amongst the three bamboos that have been planted to provide a screen.   I think maybe some big leaved plants would be the answer but I am waiting for the lightbulb moment.  There is also the little wood store border which is only a few months old but maybe I will show you that in the future – who  knows.
If you would like to join in the End/Start  of  the month meme you are very welcome.  You can do use it for whatever purpose you want, it's entirely up to you but it would be nice if you could  post a link to your post in the comment box so we can share.