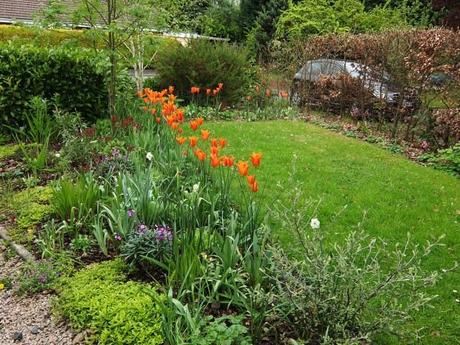 I did say I was going to start this monthly meme with the view from my back window but I forgot and the light is now appalling so instead you have a view of my front garden taken yesterday when it was sunny.  The front garden was the theme of last year's End of Month View posts and long-term readers will know how I struggle to engage with this area.  However, I think it is getting there and the lovely orange Ballerina tulips which I have extended along the end of the lawn are really helping.  I will add more of these next year and try some up the other side although it may be too wet there.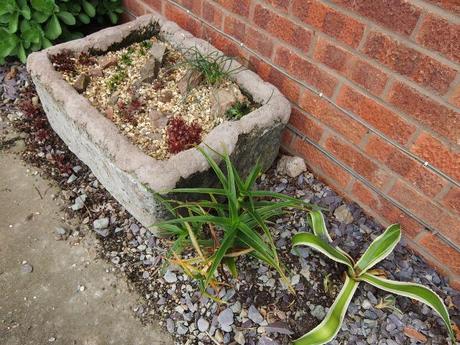 Sticking with the front garden  I have planted up the old sink with sempervivums and sedums. I realize having seen some crevice gardens recently this is a poor imitation but it uses some of the stone I had lying around, although my concrete patching is also not the best but at least it has character!  I have added an Aloe striatula and a sad looking Agave which was lurking in the greenhouse.  I intend to add some more tender succulents in late May.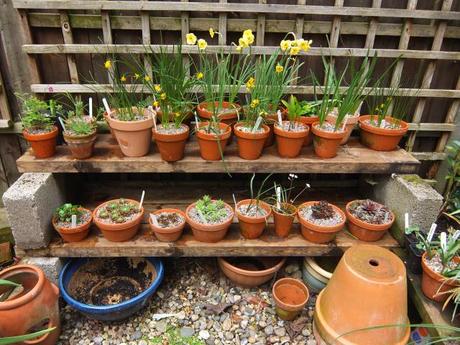 The pot display area is slowly losing its bulbs and gaining more succulents.  I am using it to display what is good or due to flower and then when they go over I move them and replace with something else.  I have pelargoniums lurking in the greenhouse which I will have on here in the summer.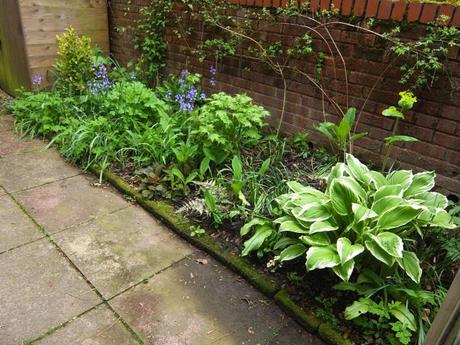 The Spring/Patio border is predominantly green at the moment.  I think it has two seasons of interest firstly in early Spring when the snowdrops are out and then in high summer when the various perennials are flowering.  There are some bluebells at the far end which have been there more or less since we moved in.  However their foliage swamps everything around them and my interests have changed and I want to plant more interesting plants in this area so the bluebells will be coming out and moving to the back of the woodland border up the garden.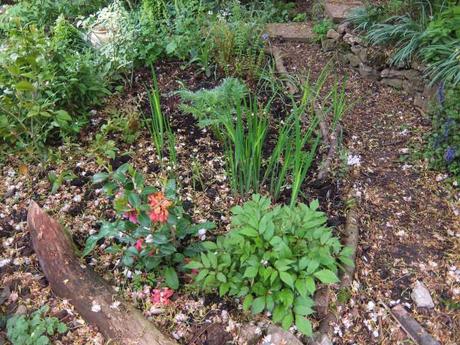 The Camellia border (formerly the Bog Garden) is filling out and the ferns are putting on growth.  I have moved some Arisaema to this border from elsewhere in the garden where I thought it was too dry for them.  Hopefully this new location will suit them better and there will be a good display.  I'm not sure how well the Iris siberica will do as although the moister soil will be good for them it is rather shady and I keep reading that they like sunshine.  I will have to see how they do.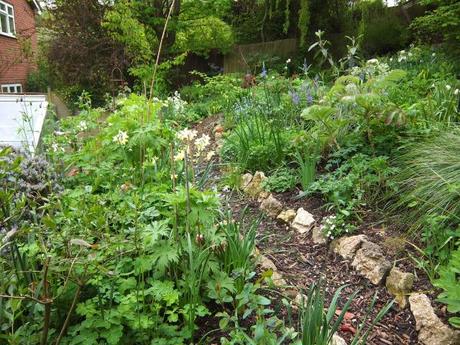 Finally the Cottage Border which runs along the top of the wall and is a nightmare to photograph.  Again it is looking very green and lush. The delphiniums are really putting on weight and hopefully will flower well.  There are still some daffodils flowering and at the far end of the border the white honesty is looking fabulous.  On the other side of the path is the Big Border which is beginning to sparkle with blue camassias flowering.  I am hoping that by the end of May the color will really be coming through.
So there is my garden at the end of April which has been a relatively mild and pleasant month.  There are some frosts forecast later this week but hopefully in a week or so it will be alright to bring the tender plants out from under cover.
Anyone is welcome to join in with this meme and use it how they like.  I just ask that you add a link to your post in the comments box below and a link to this post in yours, then we can all see whatever one else is doing.