It would appear that this year is now five months gone, this is rather speedy.  May has been a bit chilly at times, but also quite sunny and warm and a reasonable amount of rain.  Pretty good growing weather all in all and the garden has responded by growing rather a lot.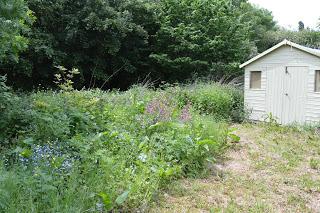 I have not shown the driveway for a while, it is coming on fairly well.  There is quite a lot of color from forget me nots, red campion and buttercups. It was getting a little out of hand so I had to mow some of it, the drive was disappearing.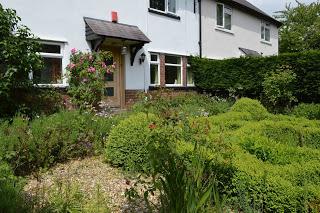 The front garden is looking ok.  The knot garden is getting a bit shaggy and will soon need trimming.  The Gertrude Jekyll rose by the front door is flowering really well.  The flowers are just at the right height to give lots of scent as I leave and return.  The lavender edging, however, is a total mess.  It is full of weeds and aquiligea and I need to do something about it.  I do not want to dig it all out but it is a distinct possibility.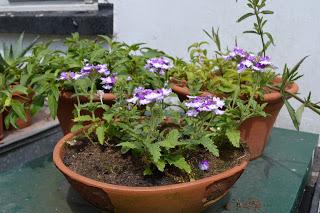 The days and nights warming up means that pots are starting to appear.  This Verbena Purple Sparkle was sent to me by The Vernon Nursery and it is incredibly pretty.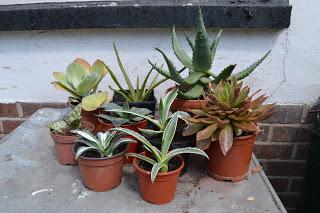 My little collection of agaves and succulents has also made it outdoors.  I am not sure if baking them on the metal coal bunker is a good idea but they seemed to like it last year.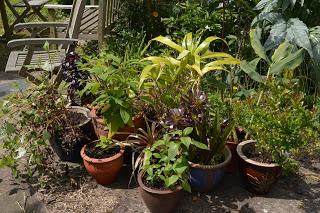 This collection of pots is a bit random, but now includes two aeoniums.  I think that any collection of random pottage looks better with added aeoniums.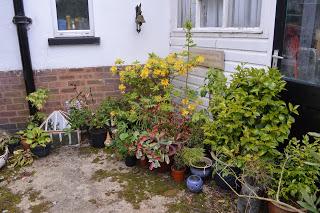 Whilst still on the pot theme, the Courtyard is blooming and full of the scent of the rhododendron luteum.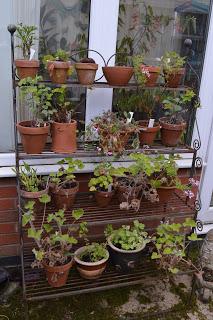 and the pelagoniums have made it through the winter and back outside again.  I have taken a few cuttings, whether this works or not I will let you know (or not if it fails - thems the rules).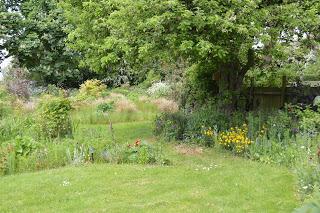 The borders overlooking the formal lawn are getting some color.  There are spots of yellow and red appearing.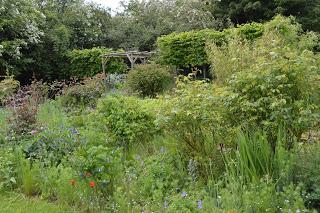 It is still quite green though.  I like this shot as it shows the pleached hornbeams quite well.  I am getting a little smug now about the pleached hornbeams, from a distance they look quite convincing.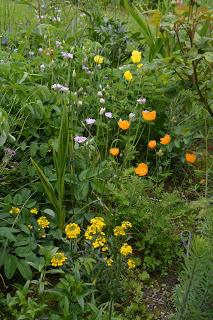 In the borders there are weaves of welsh poppies and the yellow wild wallflower that has decided to self-seed around quite happily.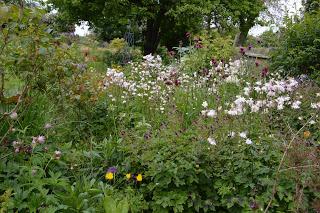 The Conservatory Border is full of aquiligea, I like them alot but they will need thinning out.  I try and remove the seedlings as much as possible, I appear to have missed a couple....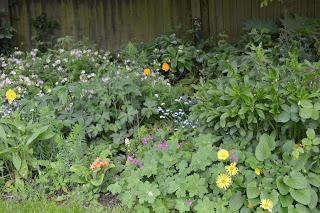 The Spring Border is looking less springy now, which is allowed as we are now heading towards summer.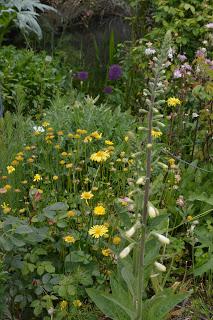 The foxgloves are reaching up for the sky now.  I am very fond of them and let them roam about the garden as they please.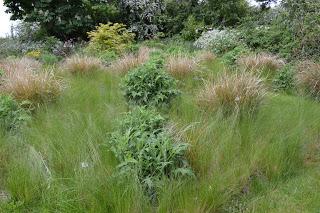 The Prairie Borders are starting to take shape again.  The Stipe tenuissima is growing well and will soon by at its wafty best.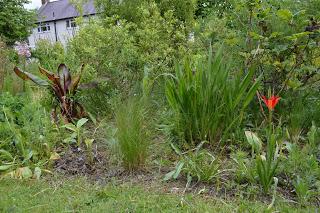 The Tree Lupin border is morphing into an Exotic Border.  You can tell this as there are now bananas planted into it.  You can also see the red of the Tulip Sprengeri.  This is an expensive tulip that will apparently self-seed if it is happy.  I am not holding my breath, but it is a thing of great beauty and I shall have to buy another one this autumn I think.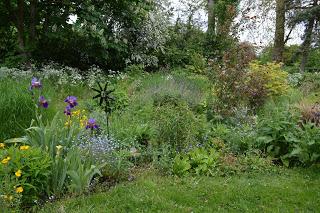 The Woodland Border/Bog  Garden is now looking quite lush.  The irises planted out a year or so ago are doing very well. I have added in a couple more ferns to the bog garden and thinned out some of the primulas.  It is coming on well now.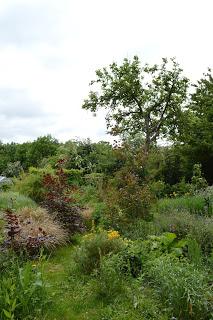 A look down the garden from this corner shows the purple beech pillars quite well.  I know that calling them pillars is more anticipatory than reality, but they are getting there, slowly.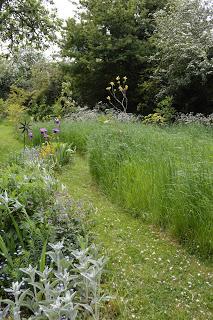 The view down the other side of the woodland border shows the edge of the Wild Garden.  You can see how the grass has been held back the addition of yellow rattle can't you?  No, neither can I, I probably need to sow more and let it gain momentum for a year or two.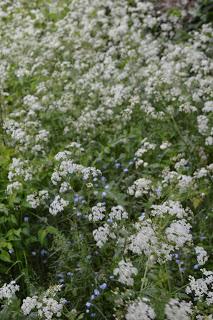 The top of the Wild Garden is a froth of cow parsley and forget me nots.  This makes me very happy.  I do have to control the cow parsley as it does like to take over given half a chance, but I do find it very pretty.

The Four Sisters are growing well.  The Carol Klein Acer is growing very well and the edgeworthia is still alive.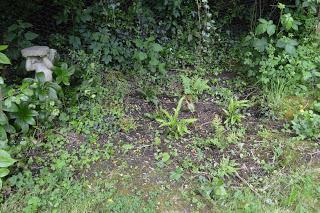 The newly planted up fernery is coming on ok.  I even found two tiny ferns that had self-sown themselves elsewhere in the garden so I moved them to this spot.  The Boy Who Waited looks on and has been pleased to discover that his name is Philip.  Yes, this is now called the Philip'n' Fernery, which dates me more than it does this part of the garden.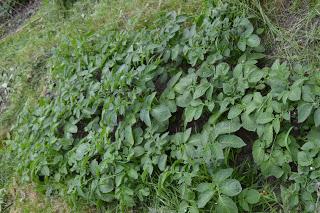 In the veg garden the spuds are growing all of a sudden.  One minute there was no sign, now they are definitely there.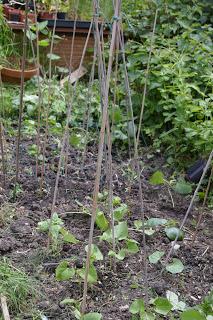 I had to go and buy some emergency french bean plugs and I only successfully germinated 2 cobra beans.  When I thought about this I realised I used last year's left over beans, that might have been an error.  Anyhoo, there are now some Blue Lake and a yellow bean I have already forgotten the name of growing in the garden.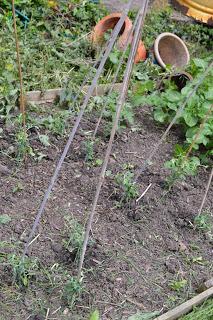 I have also planted out some sweetpeas in the veg garden, it is my own, rather pathetic, pickery a la Easton Walled Garden.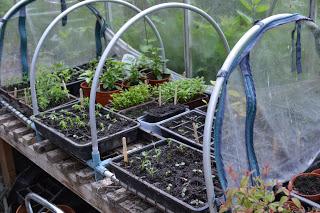 Inside the greenhouse there has been pricking out of seedlings.  It almost (from a distance) looks like I know what I am doing.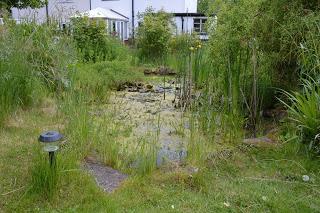 and the pond?  Well it is still a bit of a gooey green mess.  There is (still) a tale behind this and hopefully (very hopefully) it will be resolved.  It is heaving with tadpoles and on a sunny day damsel flies are making whoopy on the surface.  So green sludge, or no green sludge, it makes me happy.
Thanks as ever to Helen for hosting this meme.