May was a bit quick wasn't ?  Like most months this year it appears to have been at least a week shorter than usual.  Its ok though, we are not half way through this year just yet, that will be in another four (three?) weeks.
May has been a busy month, the garden has decided to shrug off the slow Spring and start growing.  it has been a little chilly at times but there has also been rain and sun, a good combination for growing.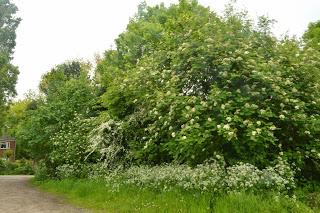 I begin in the driveway, which is fully of frothy cow-parsley-loveliness.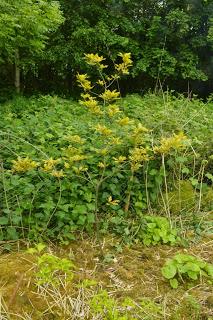 The Pin Oak is growing well, I am very pleased with it.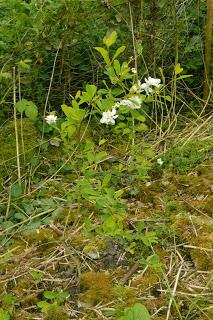 This is a recent addition, Exochorda giraldii wilsonii (or Gerald Wilson to its friends).  I bought this a few weeks ago whilst visiting Barnsdale.  It will get quite large, well I'm hoping it will be anyway.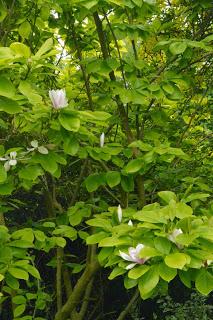 Into the front garden proper and the magnolia is still flowering.  I think it is its best ever year, superb flowers and not frosted at all.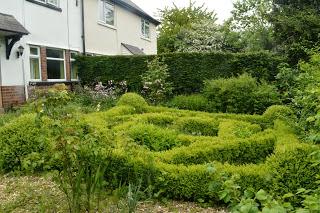 The Knot Garden looks different, can you tell?  The obelisks that I grow sweet peas up have been relocated to the back garden.  What you should be seeing here are four cypress trees in their place but the order has yet to arrive.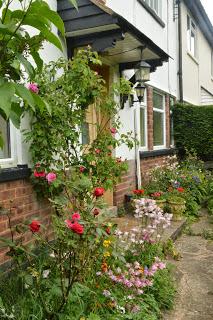 By the front door the roses are blooming and the aquilegia are flowering.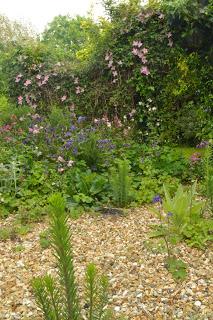 Around to the side of the house and the gravel garden is mainly green.  It is spreading out further across the gravel and this is good.  As long as I can put the washing line out when I need to it can spread where it likes.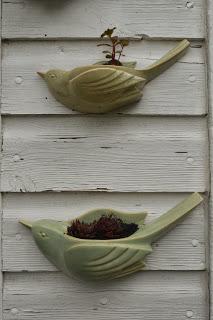 By the back door two birds have appeared.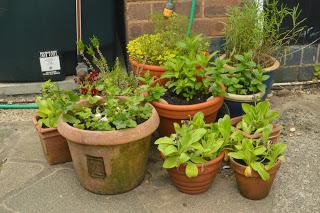 There is a small clutch of pots nearby, mainly mint, tarragon, auriculas, fuchsias and pelagoniums.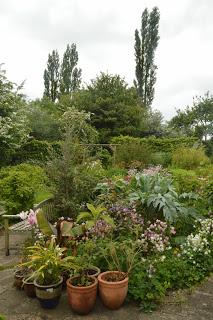 Pots are also appearing on the way into the back garden.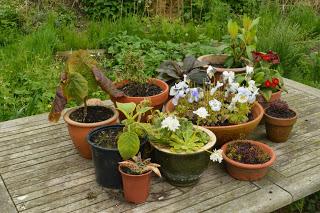 and on the table this group is growing,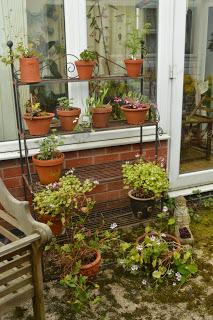 and in the courtyard there is the beginning of a pellie-stand.  I have more to go out but I need to buy some more terracotta pots.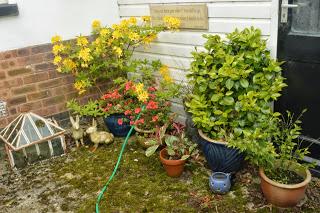 The Rhododendron luteum is flowering its heart out and mixing well with the red azalea.  This is the courtyard's best time of year.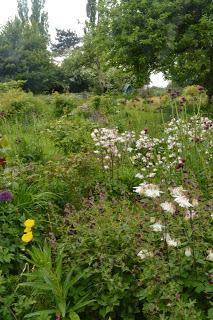 The view across the garden shows aquilegias, poppies, Cirsium riulare (red thistle) and probably (definitely) too much geranium phaem, a great plant but seeds around like it is going out of style!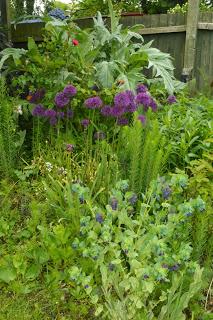 In the Conservatory border this cerinthe, allium and cardoon combination makes me incredibly happy.  They complement each other perfectly.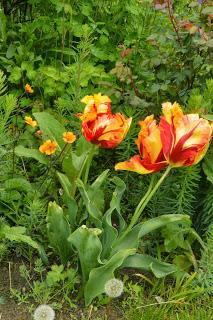 I'm also loving these firey tulips and orange geums.  I am not so fond of the dandelions but they are running riot at the moment.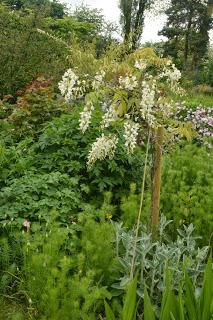 In the Pond Border this white wisteria makes me happier than I can say.  I wanted to grow one as a tree and so far, so good.  It has been there a few years now and is developing really well.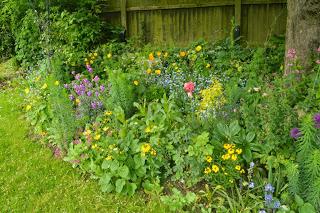 The Spring Border is looking full and colourful, it is now quite well planted up and looking like I hoped it would.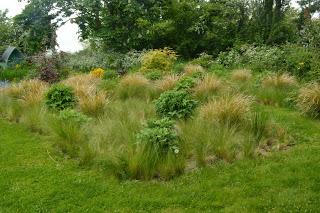 The Prairie Borders are still not at their best just yet.  The Stipa is growing though so it won't be much longer before they start to really look good.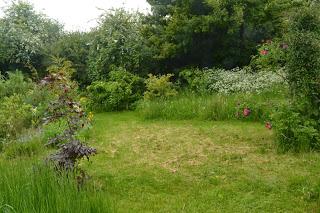 The Dancing Lawn is mowed now and the scent from the Wild Edric rose growing up the apple tree wafts across it beautifully.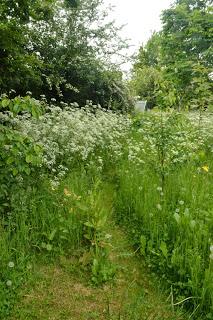 The Wild Garden is mainly cow-parsley at the moment.  I have been chopping it back though to let light into the plants that need it.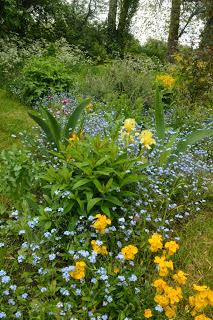 The Bog Garden and Woodland Border are looking very full.  Yes there are a lot of forget me nots in there, but I am steadily removing them to make more space for the plants to come through.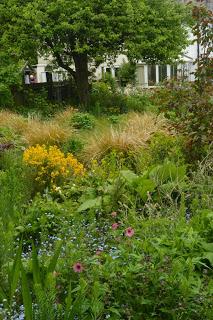 Its taken a few years for these beds to look well planted, but I am now much happier with them, they are coming on well.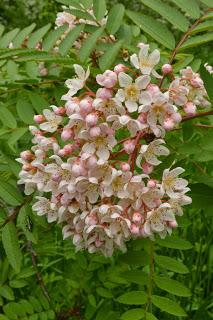 The Sorbus cashmeiriana is flowering (there will be berries)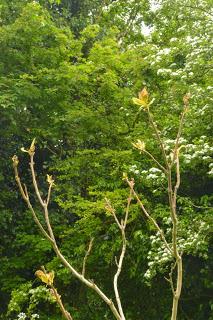 The Catalpa tree is coming into leaf at last, it is always the tardy one in the garden.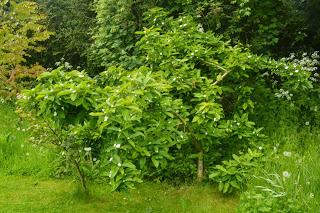 The Medlar tree is covered in blossom and spreading out its elbows wide.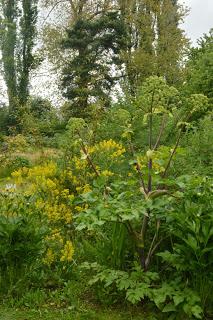 The Tree Lupin border is a froth of umbelifers: woad and angelica and Melanoselium decipiens.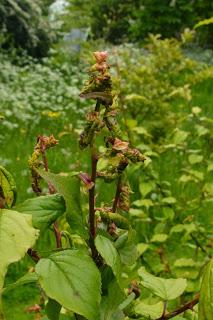 But look, look, something horrid is happening to my Prunus Ben-chidori, I am really worried about it.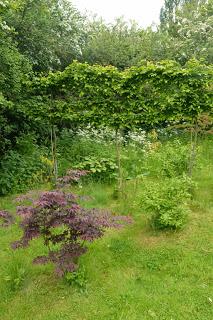 The Four Sisters are growing very well, the lack of late frost has helped them hugely.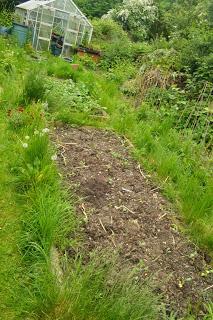 The veg beds are full of veg- full! yes I know the paths are full of long grass but the beds themselves are (currently) well weeded and I am on top of looking after them.  Make a note of this as it will not last.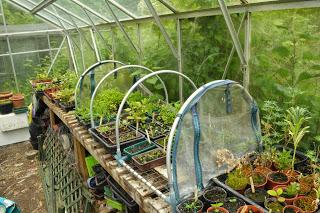 The greenhouse is full of seedlings and cuttings.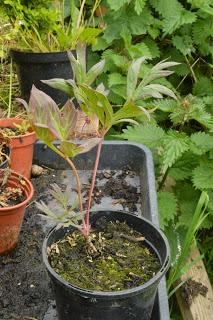 and on the rescue bench is this tree peony.  It was planted about six years ago but has struggled from day one.  I realised this year it was still alive but tiny and pitiful.  I dug it up and put it in a pot and it has grown much bigger already.  I think I will keep it potted for quite a while, maybe a couple of years, until it gains real strength.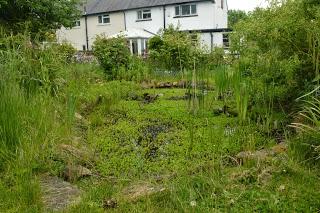 The pond is full of weed, I don't want to tackle it whilst there are tadpoles and all sorts of wildlife in there.  I shall do (shall) in the Autumn, promise.
Thanks as ever to Helen for hosting this meme.