Well its been sort of cold and rather wet this month, but it has ended on a sunny mild note.  The clocks have leaped forward one hour and now the lawns have had their first cut.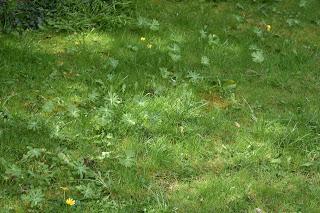 Well, not all the lawns have been cut actually, the side front lawn has its wave of aconites running through it and I need the foliage to die back before the lawn gets cut.  Thankfully this lawn is a poor grower at the best of times so it will not look too shaggy for a while yet.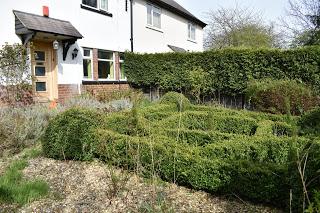 The Knot Garden is enjoying the spring sun, but the lavender edging is old and straggly and I think it will need replacing sooner rather than later.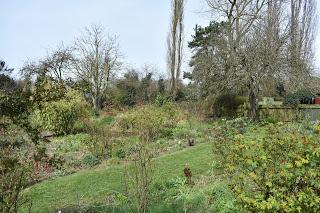 Around to the back garden and its all looking a bit green from this view, though you can see the peonies emerging claw-like from their winter-sleep.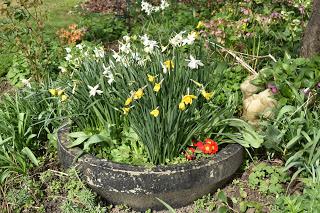 But there is color in the garden.  The concrete planter is full of daffodils this year.  The white Thalia are particularly looking fine.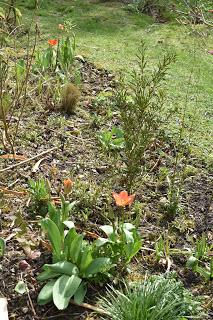 In the Exotic Border the tulips are starting to flower.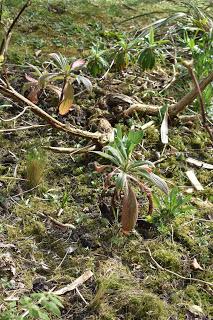 I have planted out some of the echium seedlings into the Exotic Border.  Not sure if they will flower this year, if not I will bring them back inside for the winter.  I still have some in pots just in case.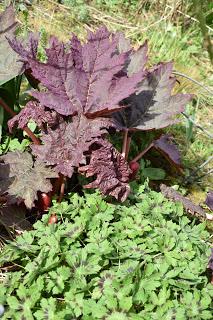 and the fantastic red leaves of the rheum are complemented by the markings on geranium phaem leaves.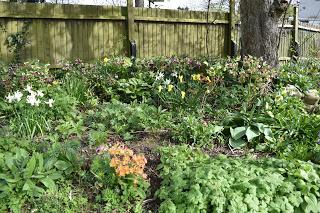 The Spring Border is still looking good.  The field of hellebores at the back of the border have been flowering for weeks,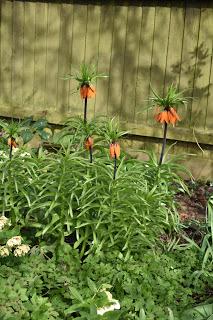 and the recent cold means that lily beetles have not devoured the Crown Fritillaries yet and they are flowering at their best in years.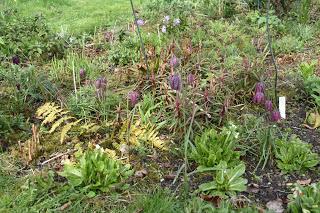 In the Bog Garden the Snakes Head fritillaries are starting to self-seed and bulk up a bit.  This makes me very happy.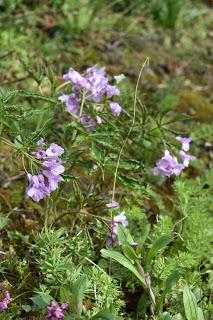 The pink Cardamine is also flowering in the Woodland Border, it is a great favorite this time of year.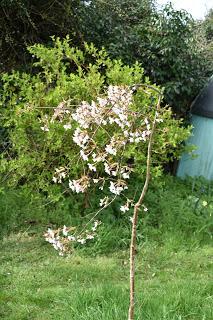 The Iford Cherry is flowering really well this year,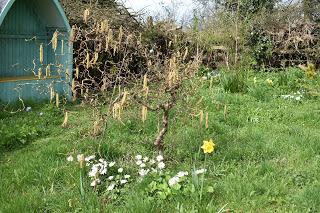 and I always love this view of the contorted hazel with the white anemones flowering underneath.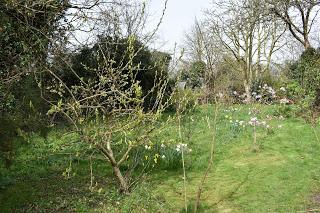 The first path cutting has taken place through the Wild Garden.  It is not hugely obvious this time of year, but it is am important part of the start of the growing season here.  I have to mow around various bulbs and the Dancing Lawn cannot be mowed for a few weeks yet due to the daffodils not being over yet.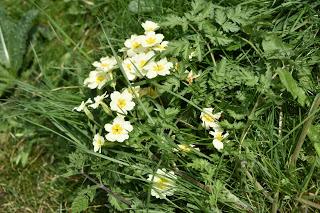 There are primroses in the Wild Garden,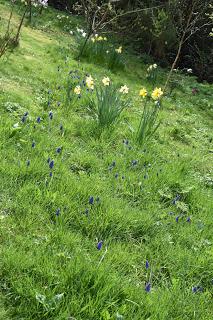 and the muscari are meandering well.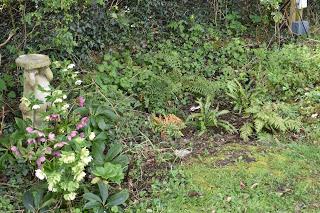 The Fernery is edged with hellebores and they are flowering well.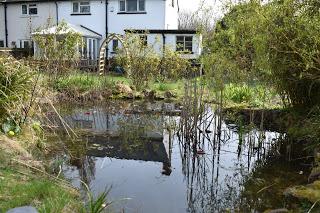 So all in all it is coming along nicely, all bodes well for this growing year.  The pond is still looking nice and clear and it has tadpoles just starting to emerge.  The new arch is weathering in and has proved to be an excellent addition to the garden.
Thanks as ever to Helen for hosting this meme.