Sodden, the garden is sodden. I could just leave this month's review as those five words and leave it at that. I had a good few gardening days in the few days off I had before returning to work in January after the Christmas break, but it feels like it has mainly rained since then. January is always a grey month and whilst the light is returning (hurrah hurrah hurrah), there are days when it feels there is little daylight at all.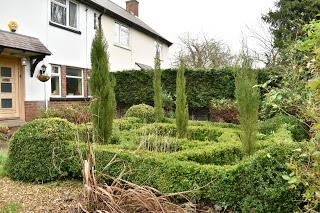 This all feels a bit gloomy but when out in the garden I refuse to be gloomy. This time of year is about enjoying the little things, embracing what there is. The Knot Garden is looking wonderfully green. The Box that was giving me some concern now looks ok. I shall be watching it carefully as the year progresses. I did formulate a new front garden in my mind and it might be that the Knot Garden might be replaced. No firm decisions have been made on this yet. I spent a bit of time looking at the cypress trees that were planted five years ago. They are now becoming fine looking trees. At some point I will have to consider whether they will get too big for the space and deal with that before it becomes an issue.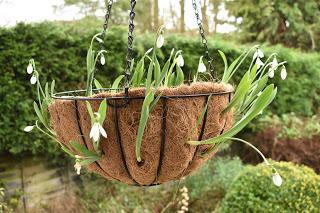 The hanging basket is now in situ by the front door. You may recall this was one of its first signs of success, it 'Strictly at Blackpool' moment. The other day a visitor remarked 'impressive snowdrops', I smiled. The tulips I planted in the hanging basket are now starting to show; I might be finding this more exciting than is reasonable.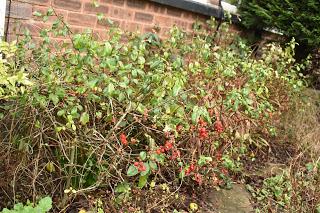 The Quince hedge has a blaze of colour running through it. I love this hedge.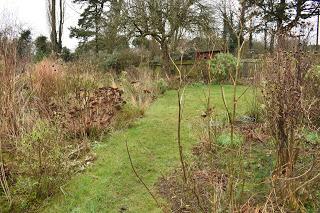 Around now to the back garden. I gave the lawns a trim over the Christmas break as the grass is still growing from all the mild weather. We have had a frost or two this past week and the cold was welcome. We do need a Winter pause to keep various pests and weeds in check. The lawn looks neater but with the sodden nature of it at the moment I think it has made it more susceptible to be muddy, so now I am not certain it was my best idea.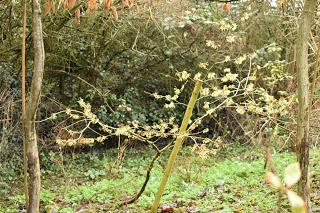 The Hamamelis Arnold's Promise is still flowering away. It wants to be more prostrate that I want it to be so you might notice the very subtle, hard to see post, keeping it upright.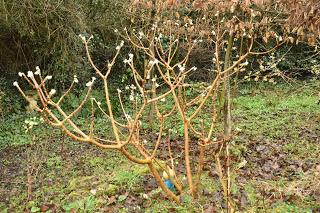 The Edgeworthia is covered in buds this year. I do not lament a lack of cold Winter when I look at my Edgeworthia, I always worry it might not make it through a very cold one.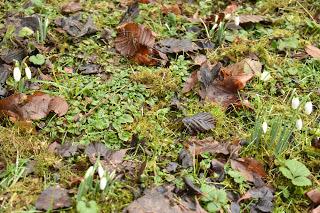 The snowdrops are emerging well this year.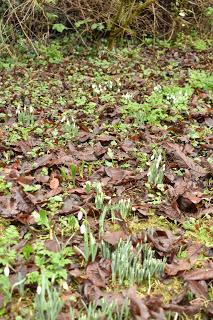 There is a goodly number coming up in the Wild Garden and this makes me very happy.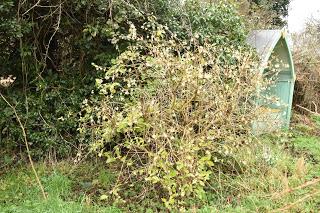 The Winter Flowering Honeysuckle spreads scent through the top of the garden. I will never stop saying it is one of the best winter scents.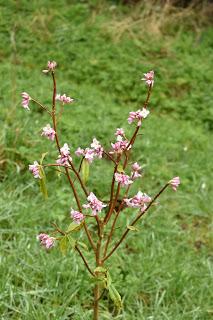 Discovering scents as I walk through the garden is really important to me this time of year. This Daphne Jacqueline Postill is still fairly young, but already flowers up well and I am glad I have added one to the garden. I spent years trying to get Daphne mezereum to establish and failed completely, so I am hoping young Jackie will be kinder to me. Even as I write this I know I want to try again with a mezereum - sigh.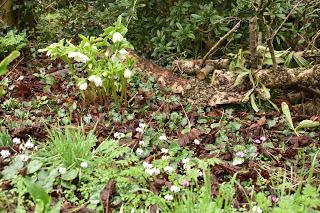 The cyclamen and hellebores seed themselves around the Wild Garden and this makes it better and better with every year.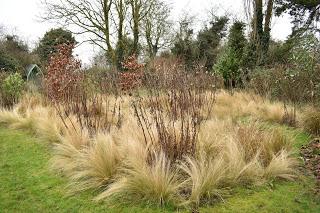 The Prairie Borders maintain their blonde ambition....... (come on, it had to be done). It will soon be hair cut time for these borders. For a few brief weeks it looks really quite awful but then pulls itself together and shines for the rest of the year.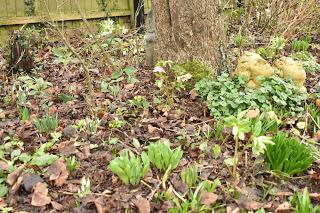 The Spring Border is getting ready to spring.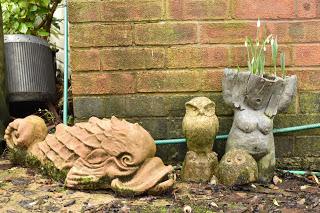 and Mavis with her snowdrop hair has discussions with the owls and the dolphin. They were put there for a moment whilst I was working on something, now it feels a shame to break up their friendship.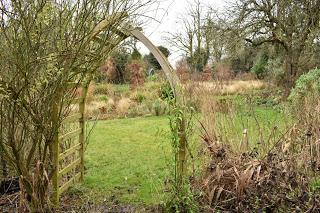 This is one of my favourite views into the garden. I could (and do) stand and absorb.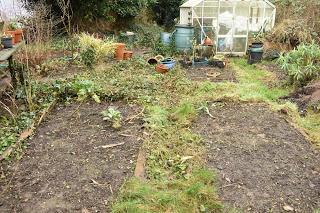 The veg borders need re-edgeing but they have been weeded and are ready to be planted up. I have vegetable plans this year, I will write more of this as the year progresses.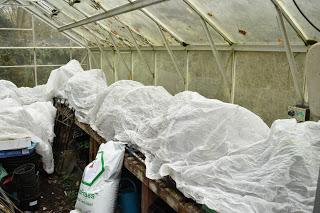 We had some colder nights so the greenhouse is in Miss Haversham mode.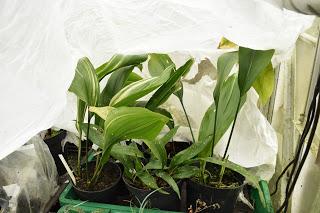 I popped the aspidistra into the greenhouse and they are cuddling under the fleece. They seem happy enough. I still have a couple in the house but I do not want to keep them cooped up indoors if they can be let out into the garden to enjoy themselves.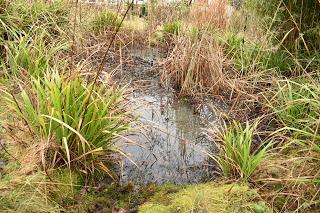 and the pond is full and also looking a little murky. I think the cold and mild is causing this and it will hopefully rebalance in Spring.
Thanks as ever to Helen for this meme.