This year so far has been very wet and February has been very wet.  There was a little flurry of snow one day but otherwise it has been remarkably mild with few frosts and generally, well, wet.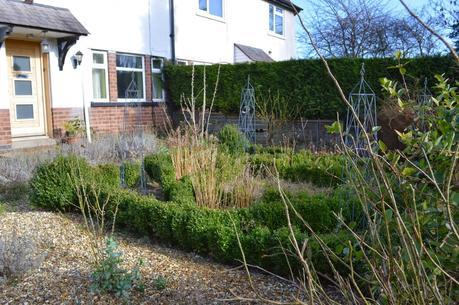 I start at the front garden, the Knot Garden was definitely one of my better decisions, particularly this time of year it is a good constant whilst the rest of the garden changes around it.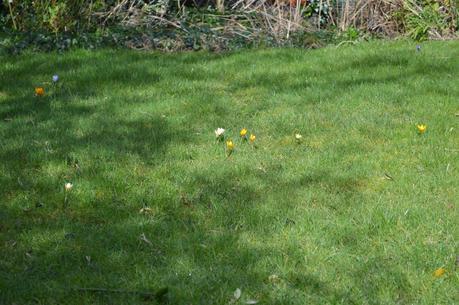 The side lawn is being populated by flowering crocus at the moment, I love seeing crocii in lawns, they give such good spots of color.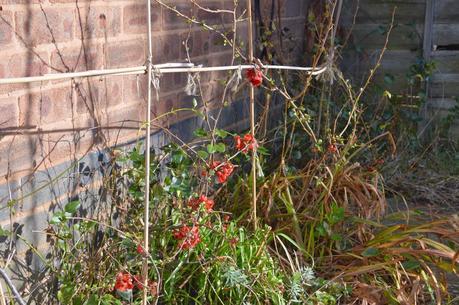 The quince hedge is flowering well, it has benefited greatly from the recent damper summers and even this wet winter has not put it off.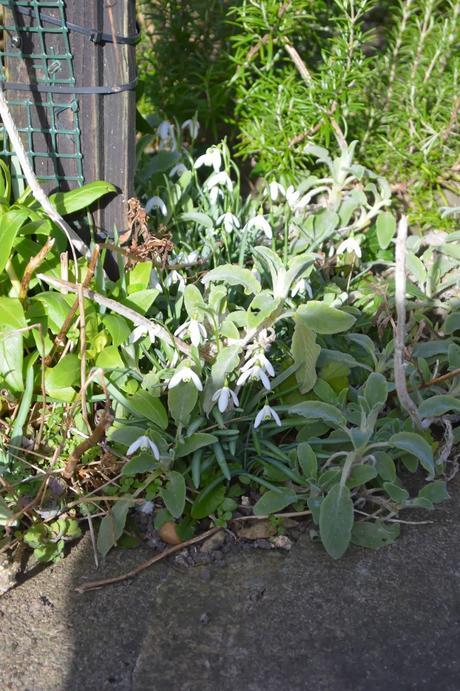 Just by the side gate are these snowdrops, the original settlers of the garden.  When I moved into this house there were no daffodils in the garden but there was this small patch of snowdrops.  I keep thinning them out a bit each year and they look like they need another thinning.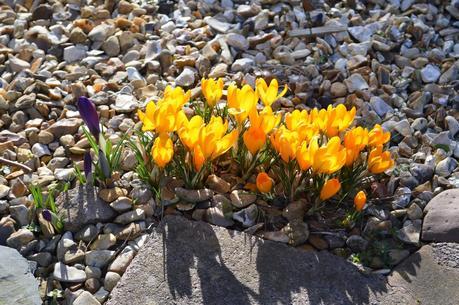 At the edge of the gravel garden is this clump of crocii, I planted about 5 when I first moved in.  They like this spot.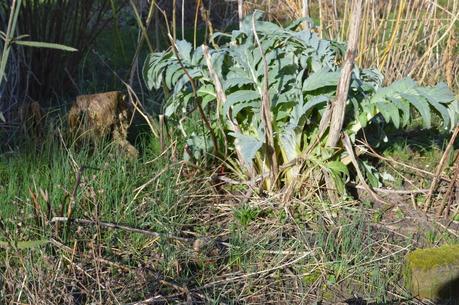 Around now to the back garden.  This is not a photograph of a cardoon (well it is, but,) this is a photograph of what happens when you let alliums self seed.  This is Allium 'Hair', it even looks like green hair now, it self-seeds with a colonising zeal matched by few others.  I rip it out by the handful as there is always plenty more where that came from.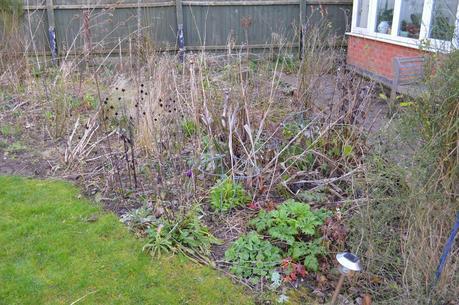 The borders still look quite bare, there are odd patches of green but I still have not yet had my Spring tidy up. This is largely because it is not yet Spring and I still wonder if there is hard frost to come.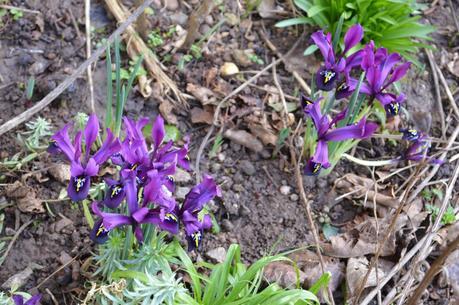 There is color though, these Iris reticulata are clumping up well, I might be thinning them out when they have finished flowering.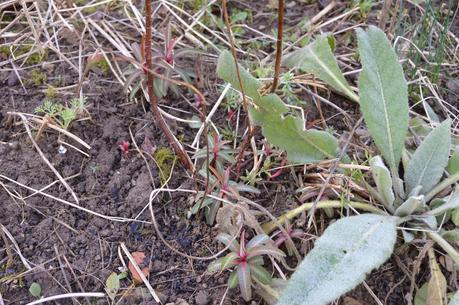 This Euphorbia sikkimensis '

Crûg

' Contrast is popping up in various difficult places, it is listed as a creeping perennial, I think this is accurate.  It is a beautiful plant, I have been slow to appreciated euphorbias but I am getting to like them more and more.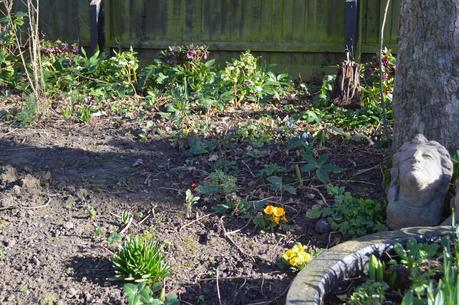 The Spring Border is coming into its own now, the hellebores at the back are in full flower and the primulas at the side are giving good color.  Soon the forget me nots will be flowering, I am pleased with how this border is doing.  The small dead tree fern remains however, resolutely dead.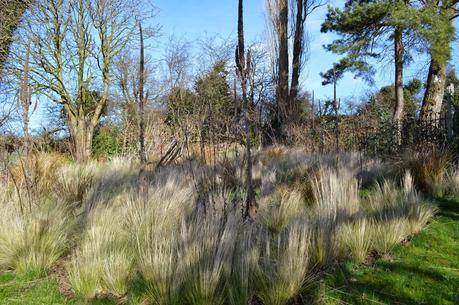 The Prairie Borders are just a joy, they have looked good even on the windy days when they have moved like waves.  Soon I will cut them back with my new sickle so that the new growth can come through.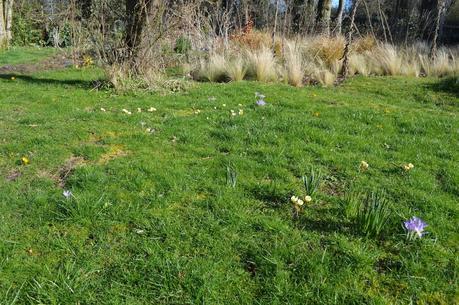 The Dancing Lawn is bejewelled by crocii, it is probably my favorite time of year for this lawn.  It needs some more planting this Autumn.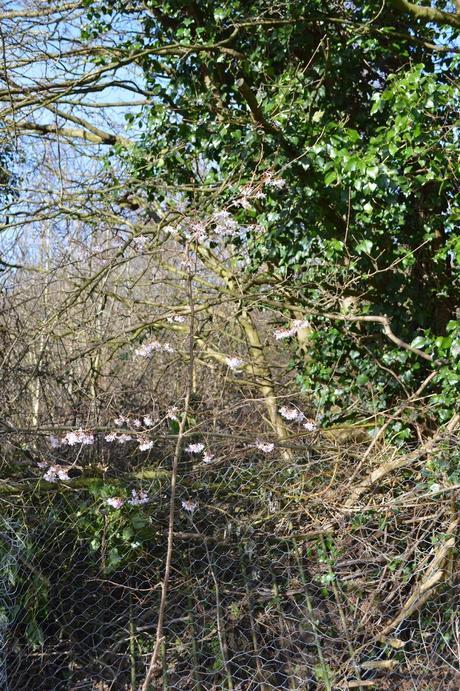 The Prunus autumnalis is flowering well this year.  It is starting to mature well.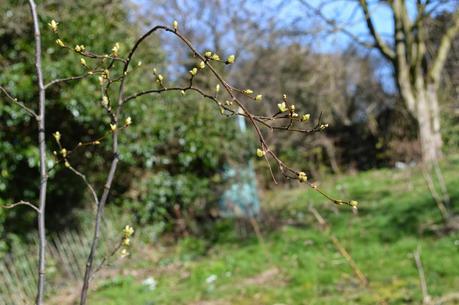 I have high hopes for the quince this year too, will this be the year of the first quince?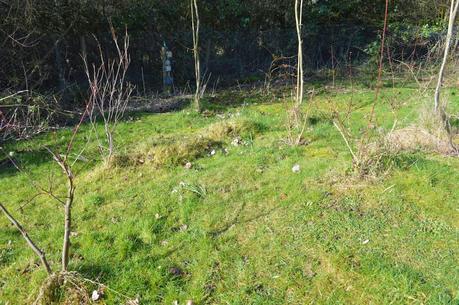 The Four Sisters are budding up, they will soon be in leaf again,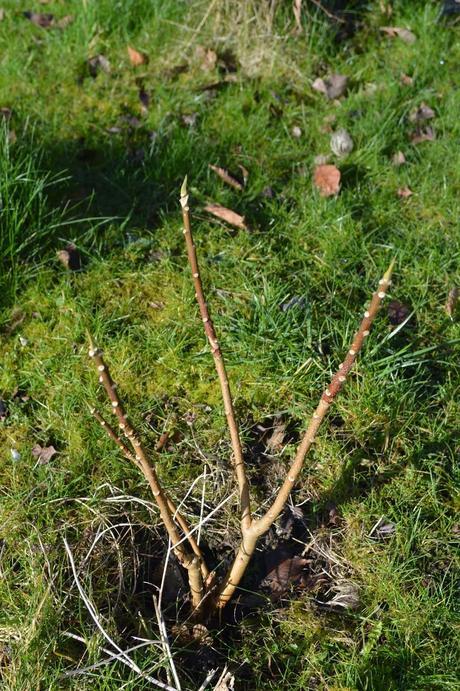 The Edgeworthia appears to be still alive, so hopefully all will be well.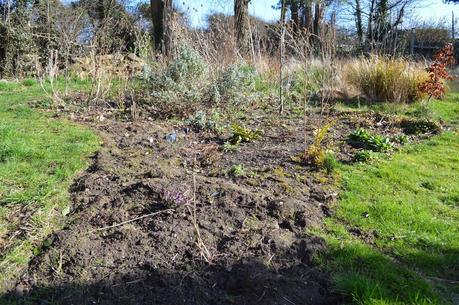 The Bog Garden and the Woodland Border look ok at the moment, there are still a lot of gaps in the Bog Garden and in the new Heather Spur, but they will get filled as the year progresses.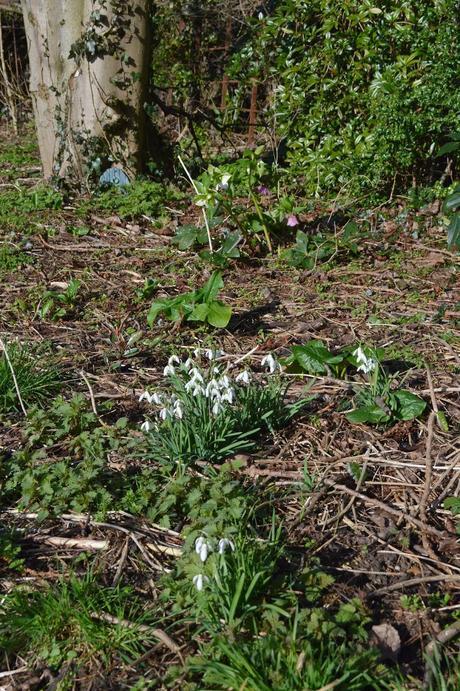 There are lots of snowdrops in flower in the Wild Garden and some hellebores too now.  I am going to get some more snowdrops 'in the green' soon and thin out what is already there, I am two years behind on my snowdrop planting and I need to get back with the programme.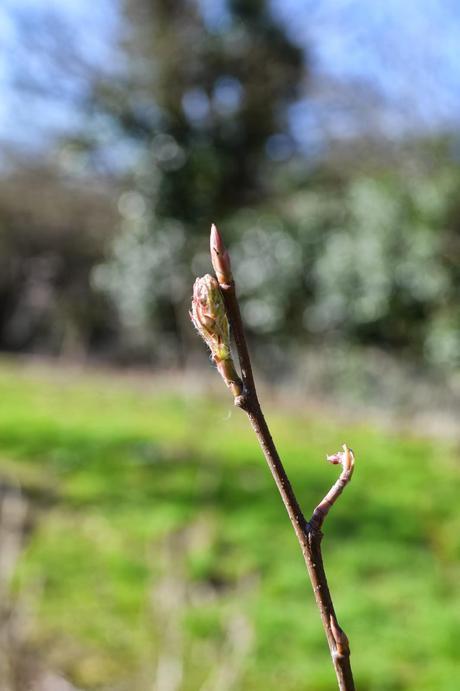 The Amalanchier is on the verge of doing something.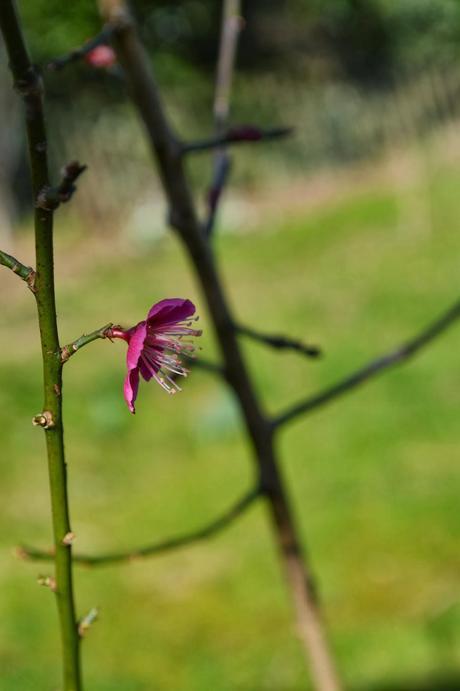 The Prunus ben-chidori is doing something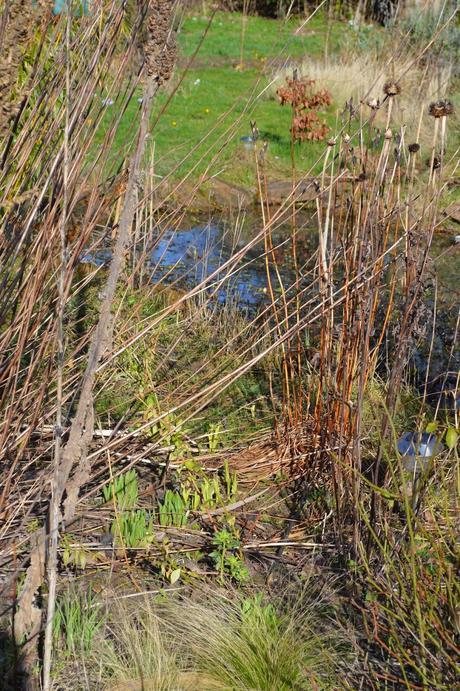 Bulbs and day lillies are on their way up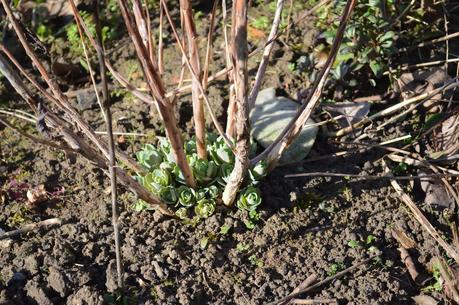 Sedums are seriously considering making a move.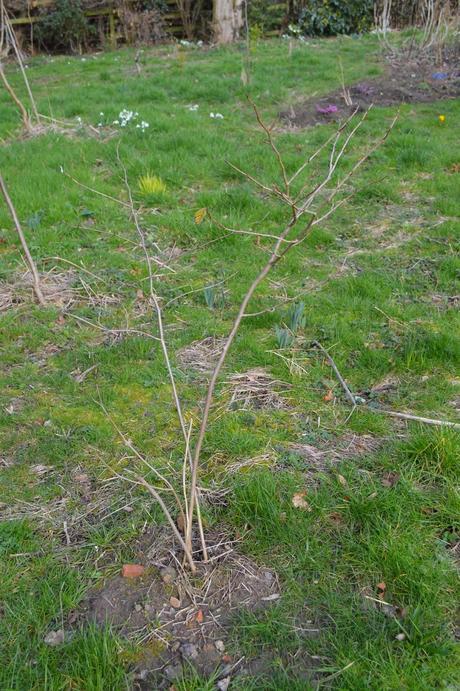 May I pause at this point to introduce the third witchhazel.  Technically it was the first witchhazel to be planted in the garden as it was originally planted in the Bird Feeder border.  There it did not thrive, it flowered twice and then just looked ill.  The other two hamamelis were bought and planted, one in the Wild Garden and one in the Pond Border, they are both thriving and maturing well.  I decided I would move this one as it wasn't doing well and I decided that the worst that could happen is that it would die, it was not looking well anyway.  So last Autumn I dug it up and put it into the Wild Garden, I think the soil there will suit it much better.  Time will tell.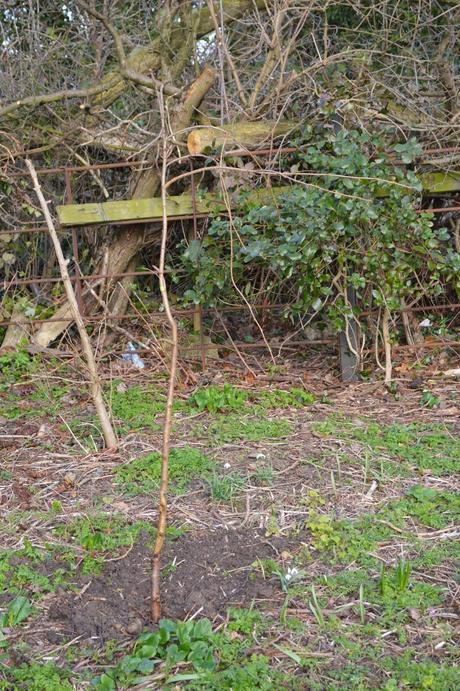 This is a new addition, it is an Iford Cherry, a small weeping cherry.  The originals of this tree are at Iford Manor, Harold Peto's garden.  I had been admiring them for a while and when I saw it on offer I decided I had to get one.  A gardening/blogging/twittering friend also wanted one and as we live close to each other we bought them together to reduce postage.  It will be interesting to see how they develop.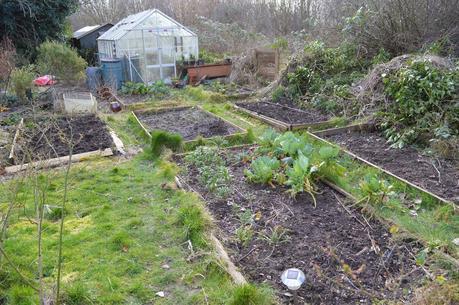 The veg beds have been weeded and dug over, it will soon be time to start sowing again.  The cabbages and broccoli are doing ok and the garlic is just pushing through.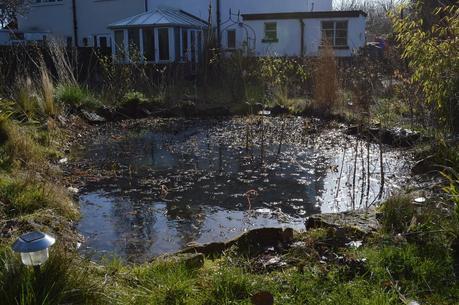 I end as is traditional on the pond, which is very full as it has been all year.  I have been cleaning out some of the leaf detritus and removing parrot weed, I am not sure I made much of an impact on it though.
It is March tomorrow, Spring is now so close I can almost reach out and touch it.  Every year I look forward to Spring so much, this year is no different.
Thanks as ever to Helen for hosting this meme.