ENCHANTED ROMANCES - Magical Passion
by Mimi Barbour, Jacquie Biggar, Rachelle Ayala, Suzanne Jenkins, Dani Haviland, Stacy S. Eaton, Katy Walters, Susan Jean Ricci
Genre:
Paranormal Romance
Come into our world, where guardian angels protect you, Fountain of Youth water revives you, and supernatural beings comfort you. Eight paranormal stories with romance and happy ever after endings by eight award winning and bestselling authors. Enjoy the ride into our mystical fantasies filled with superb entertainment!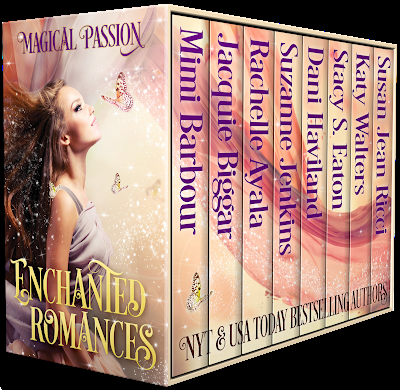 His Devious Angel - Mimi Barbour
A gorgeous man-hater gets mixed up with a hotshot soldier when he runs her down with his convertible. Now she's stuck having to accept help from him and his angel.
The Guardian - Jacquie Biggar
Lucas Carmichael and Scott Anderson had it all, money, fame, and fortune. But one night's stupid mistake takes everything they thought they cherished and dumps it upside down.
Just My Imagination - Suzanne Jenkins
✯ EXCLUSIVE TO THIS BOXSET✯
Sheila spends twenty-four hours nursing the half-frozen handsome stranger who appears at the door of her rustic cabin back to health. The next morning, he's gone, and Sheila longs for the mysterious Tom Caldwell. Was he ever with her or was it just her imagination?
Time in a Little Blue Bottle – Dani Haviland
The quest for the little blue bottle of Fountain of Youth elixir just got more complicated for Bella. A vampire, Elvis, and Mark Twain are after the same thing, plus her young escort has a crush on her!
Garda ~ Welcome to the Realm – Stacy Eaton
Sometimes decisions in death are as hard as the decisions in life. When Officer Corey Hamilton dies in the line of duty, she trains to be a Guardian, but will her choices change her destiny?
Black Tied - Rachelle Ayala
When ordinary you and the Son of the Kitchen God are all that stand between a playboy apocalypse and true love.
A Knight's Sorceress - Katy Walters
Tania Roberts searches for her lost love, a search that will take her through time to a distant world of the Tree people, an ancient tribe of Britons who lived and worshipped the mighty trees, a world where Lord Devlin the Black Warrior, encounters Forestyne, the Sorceress.
Honeymoon in Coffinville - Susan Jean Ricci
An ancient, haunted mansion, a white cat with different colored eyes, and more visions than they ever imagined leads lovers Shannon and Rick to wonder if their newly acquired cat is a guardian angel or a creature of darkness.

Amazon ✯ Amazon Int'l



Mimi Barbour
 is an incredibly busy New York Times, USA Today and award-winning, best-selling author who has five series to her credit. The Vicarage Bench Series – Spirit/Time -Travel tales that have a surprising twist / The Angels with Attitude Series – Angels Love Romance / The Elvis Series – Make an Elvis song a book / Vegas Series – 6 books full of romantic suspense, humor and gritty conflicts / and… the fast-paced, edgy, humorous, romantic suspense, Undercover FBI Series. She also has numerous box collections and single titles to add to her credits. Amazon ✯ FaceBook ✯ Twitter ✯ Blog ✯ Website
Jacquie Biggar
 is a USA Today bestselling author of Romantic Suspense who loves to write about tough, alpha males who know what they want, that is until they're gob-smacked by heroines who are strong, contemporary women willing to show them what they really need is love. She is the author of the popular Wounded Hearts series and has just started a new series in paranormal suspense, Mended Souls. She has been blessed with a long, happy marriage and enjoys writing romance novels that end with happily-ever-afters. Jacquie lives in paradise along the west coast of Canada with her family and loves reading, writing, and flower gardening. She swears she can't function without coffee, preferably at the beach with her sweetheart. 🙂 Free reads, excerpts, author news, and contests can be found on her website. You can follow her on Facebook, Twitter or email her via her web site.  Jacquie lives on Vancouver Island with her husband and loves to hear from readers all over the world! You can join her street team on Facebook, her exclusive Review Crew or sign up for her newsletter. Amazon ✯ FaceBook-author ✯ FaceBook-personal ✯ Twitter ✯ Goodreads ✯ Website
Rachelle Ayala
 is a bestselling author of contemporary romance and romantic suspense. She writes from sweet to steamy and believes that everyone should find love as often as possible, even if it's within the pages of a book. Rachelle is working on a sweet series of romances with pets and firemen, 
Have a Hart Romances
, and one full of bad boys, 
Bad Boys for Hire
. She also writes sports romances in both football and baseball, as well as many holiday romances, both sweet and spicy.
Street Team ✯ Twitter ✯ Facebook ✯ Amazon ✯ Website
Suzanne Jenkins
 writes page-turning contemporary romance, mystery, and women's fiction with passionately gripping characters that stay with readers long after they turn the last page. The Detroit Detective Stories, beginning with The Greeks of Beaubien Street are a reflection of American fantasy with historical reality. Pam of Babylon books consistently rank in the Top 100 Best Sellers in American Drama with over 500,000 downloads. A retired operating room nurse, Jenkins lives in Southern California. Goodreads ✯ Twitter ✯ Facebook ✯ Amazon ✯ Website
USA Today best-selling author 
Dani Haviland
, a Mayflower and Mormon pioneer descendant, recently semi-retired from selling tractor parts, tools, and roses in Alaska, relocating to a more temperate climate in western Oregon to pursue her passions: writing, gardening, and photography. Life has changed from jumping into a skidsteer loader to plow snow to pull-starting the walk behind weed whacker, but there are still enough hours in the day for the feisty old lady to propagate people for her novels and plants for her yard. Sharing is part of her personality, so creating books and photos to share all over the world makes her happy. Her tenacious and perky attitude is reflected in many of her cyber children, whether they be a British lord stuck in 18th century North Carolina or a 6'7" time traveling 'fairy' who is out to champion anyone who is having a rough time dealing with difficult life situations. Goodreads ✯ Twitter ✯ Facebook✯ Amazon ✯ Website
Stacy Eaton
is a USA Today Best Selling author and began her writing career in October of 2010. Stacy took an early retirement from law enforcement after over fifteen years of service in 2016, with her last three years in investigations and crime scene investigation to write full time. Stacy resides in southeastern Pennsylvania with her husband, who works in law enforcement, and her teen daughter who is working toward her second degree black belt in Tae Kwon Do and on the choral and cheerleading squads at school. She also has a son who is currently serving in the United States Navy. Stacy is very involved in Domestic Violence Awareness and served on the Board of Directors for her local Domestic Violence Center for three years. Be sure to visit her website for updates and more information on her books. Sign up for all the latest information on Stacy's Newsletter! Website ✯ Twitter ✯ Amazon ✯ Facebook ✯ Goodreads ✯ Pinterest ✯ Youtube ✯ Newsletter
USA Today Best-Selling author, 
Katy Walters
 e.books, and paperbacks are purchased and read in their thousands on Amazon and Kindle Unlimited. Katy lives in the midst of Regency towns on the South Coast of England. Her main interests are historical; contemporary suspense romance, and time travel. She is equally drawn to the paranormal based on mythology and the Dark Ages.  After studying at various universities Katy was awarded a B.A Hons (psych) B.A.(Soc.) B.A. Eng Lit & Creative Writing and an M.A. She was also awarded a Doctor of Science (Hon) for research into pain control.  Goodreads ✯ Twitter ✯ Website ✯ Facebook
An Award-Winning, From Women's Pens Author, and Humorist, 
Susan Jean Ricci
 is best known for her Cindy's Crusades Series, starring the hilarious duo Cindy and Jay DeMatteo. These cherished characters are first introduced in the novel Dinosaurs and Cherry Stems, and return to entertain you in the sequel The Sugar Ticket. Their mischief making continues in these shorts Two Miracles for Christmas, A Valentine's Day to Remember, and The Blind Seer.  Ms. Ricci's Christmas stories and novellas have been published in the beloved Annie Acorn Christmas Treasuries 2013, 2014, 2015, 2016. Other selections appear in Annie Acorn's Romance 2015 Treasury, Annie Acorn's Romance Treasury 2016, and Annie Acorn's Spirited Tales 2015. All may be purchased as stand alone stories, as well as other her titles, including those smoking, hot novellas available in Ms. Ricci's catalogue, The My Sexy Chef Series.  More recently, Ms. Ricci's When Sailors Play has been included in Uvi Poznansky's Bestselling Anthology Love in Times of War. Her current tales are offered in the following anthologies Unforgettable Heroes – Unforgettable Passion, and Sweet Heat – Where Love & Suspense Meet.  Susan and her husband Joe live in a beautiful town near the sea, and when time allows, they love to travel. Together they have seven children, ten grandchildren, and harbor their queen of the castle Emma the Lab. Twitter ✯ Facebook ✯ Amazon ✯ Website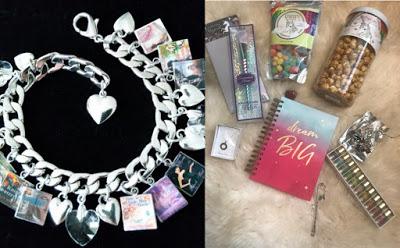 a Rafflecopter giveaway