Now the time has come for the favises moments of the Emmys. Besides every winner bringing up the countdown while giving their acceptance speeches, the following moments will be burned into my mind for days to come. Let's be real, Lohan will probably get drunk and hit a tree and I'll be focused on that…wait a minute!
Charlie Sheen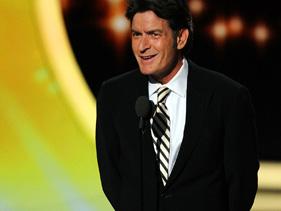 Photo Courtesy: mtv.com
While I felt like this Emmy moment could have gone south at any point in time, Charlie actually kept it together and did what a grown up would do.
Don't get me wrong; I thoroughly enjoyed Sheen's tirades about tiger blood, a drug called Charlie Sheen and cocaine. But I kinda like the sober Sheen. He's classy, nice and doesn't look like his heart is about to burst out of his chest.
Before Sheen presented the award for  Outstanding Actor in a Comedy Series, Charlie decided to give a shout out to his old "Two and a half men" co-stars.  "From the bottom of my heart, I wish you nothing but the best for this upcoming season."
Charlie – Keep it sober. When you do, you are "Winning!" But if/when you need a career boost, go on another bender…with proper supervision of course!
Guy Pearce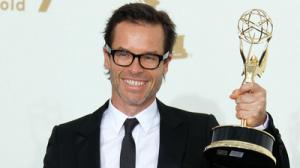 Photo Courtesy: au.tv.yahoo.com
Recently I saw Guy in "Don't Be Afraid of the Dark," starring alongside the one, the only Katie Holmes (she is the only person who could get me to go see a scary movie…yes, I did pee and spill my popcorn on the fool next to me).
I was quite surprised to find out that Guy was in "Mildred Pierce." I was probably in a Kate Winslet trance again.
I was excited that he won the Emmy for Outstanding Supporting Actor in a Miniseries or Movie. I have yet to see "Mildred Pierce," but I'm 100.9% positive this movie is epic…duh Rose Dawson is in it.
I'm going to make a decision…decision made: Guy had the best acceptance speech of the evening. Why you ask?
Guy stated, "This was really a delightful experience making 'Mildred Pierce,' I got to have sex with Kate Winslet many, many times. I didn't realize it was going to result in this. So Kate, I share this with you, because you're an extraordinary woman. Thank you for allowing me to insert myself into your world and Mildred."
Guy – I love your first name – I love your sexy nerd glasses – I love that you are okay with announcing your sexual exploits…p.s. ditch the wife.
Kate Winslet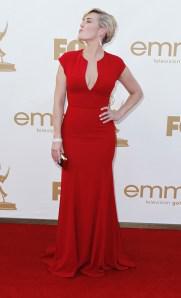 Photo Courtesy: ibtimes.com
You knew this was coming. Without question…the b.e.s.t moment of the night was when Kate Winslet's name was called for Outstanding Lead Actress in a Miniseries or Movie.
My reaction – I threw up and blacked out in an ecstatic seizure. Thankfully, I woke up in time for her acceptance speech.
Obviously this win was a no-brainer…Kate has an Oscar and a Golden Globe. This Emmy is probably just serving a paperweight.
Favises quote of Kate's acceptance speech: "Oh wait I really did win it." Our "Titanic" diva also dedicated the award to her mom…so I am dedicating this post/my life's work to my mom (Hi Carol)!
Btw Kate – I did notice that you almost had a nip slip on stage…just remember, if that ever happens it won't be a big deal…you're Kate Winslet!
She had a beautiful red dress, a beautiful accent and a beautiful everything. See you at the Oscars.