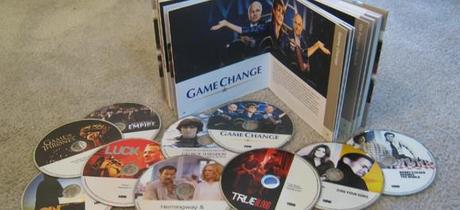 Every year I am hopeful that someone or something from True Blood wins an Emmy. Up until now that hasn't been very successful. But maybe 2012 is the year of True Blood? HBO is certainly hoping so judging by the amount of cast members and categories in which the HBO series has submissions. Gold Derby.com recently posted a look into the network's For Your Consideration package which included two binders worth of DVDs. Here's the 2012 Emmy Nomination Hopefuls!
In their drama binder, members of the academy received episodes 4.02 You Smell Like Dinner and 4.08 Spellbound.
True Blood is submitted as a hopeful for Best Drama series.
Interestingly enough Anna Paquin (Sookie Stackhouse) is the only actress submitted for Lead Actress in a Drama Series. Stephen Moyer (Bill Compton) is nominated against Dustin Hoffman from Luck and Steve Buscemi of Boardwalk Empire for Lead Actor.
The best supporting actor and actress categories feature much more stiff competition. HBO has submitted 2 nominees for Luck, 4 from Boardwalk Empire and 5 from Game of Thrones in the actress category. Fiona Shaw (Marnie), Kristin Bauer van Straten (Pamela Sywnford de Beaufort, Rutina Wesley (Tara Thornton), and Deborah Ann Woll (Jessica Hamby) are the actresses up in that category.
Best supporting actor features six names from Boardwalk Empire, 4 from Game of Thrones, and an impressive 10 for Luck. Nominees from True Blood are Nelsan Ellis (Lafayette Reynolds), Sam Trammell (Sam Merlotte), Joe Manganiello (Alcide Herveaux) Ryan Kwanten (Jason Stackhouse) and Alexander Skarsgård (Eric Northman).
There you have it! Any thoughts on this year's binder? Sound off below!
Source: Gold Derby.com- "Let's Peek Inside HBO's FYC Campaign Package"
Image Credit: Gold Derby