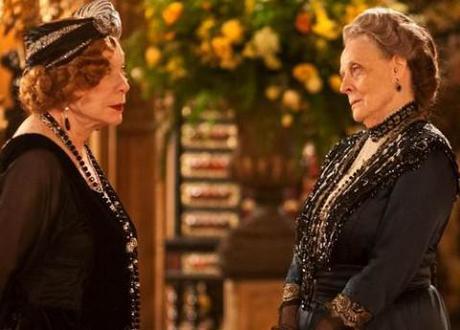 Dame Maggie Smith in Downton Abbey. Photo credit: ITV
The background
Dame Maggie Smith won an Emmy for Best Supporting Actress at the Emmys, television's equivalent of the Academy Awards. The gong was the only win of the night for Downton Abbey, despite the ITV drama's 16 nominations. Hugh Bonneville, AKA the Earl of Grantham, lost out to fellow British actor and Homeland star Damien Lewis in the Best Actor category. This was probably for the best: according to The Telegraph, Bonneville pledged to eat his own toe if he won.
Mad Men misses historic win
Thriller Homeland won Outstanding Drama, which meant advertising agency series Mad Men missed out on a historic fifth win. "The shut-out of 'Mad Men' — it won no major awards on Sunday night — surprised some in the audience," said The New York Times. Homeland stars Claire Danes and Damien Lewis also triumphed in the Best Actress and Actor categories, and the show's writers took home the best writing award.
"I'm one of those pesky Brits, I apologize. I don't really believe in judging art, but I thought I'd show up just in case," said Damien Lewis in his Emmy acceptance speech, reported Sky.
No surprise at Downton disappointment
It wasn't really a surprise that Downton missed out in the Outstanding Drama category, wrote Vicky Frost in The Guardian: "Many of the acting nominations were well deserved, but it was bordering on astonishing that Downton was even in the running for best drama series, given a second season that included, among other quite ridiculous moments, The Tingle."
Modern Family is comedy gold
US mockumentary Modern Family won Best Comedy for the third time in a row. "The ensemble sitcom, about three generations of an upscale suburban family led by Ed O'Neill, has been an Emmy juggernaut, vacuuming up 31 nominations for its first three seasons," wrote Scott Collins in The Los Angeles Times.
It seems it is possible to wear an unflattering dress and tweet – at the same time! "Unfazed by her fashion faux pas, and her failure to win one of the four categories she was nominated for on Sunday, Lena [Dunham] chirpily tweeted her way throughout the evening from the Nokia Theatre in LA," said The Daily Mail.
Fashion matters
The Emmy results weren't the only objects of scrutiny after the awards ceremony. The fashion media were swift to deconstruct the actresses' red carpet outfits. Girls creator Lena Dunham chose a "frumpy" lace dress, said The Daily Mail, while Emmy winner Julianna Moore wore a "tent-like" Dior gown. Of the actors' outfits, not a word.