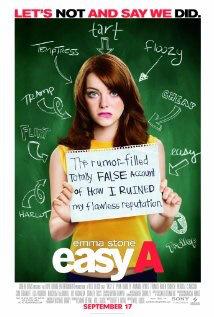 Director: Will Gluck
Writer: Bert V Royal (Screenplay)
Starring: Emma Stone, Penn Badgley, Amanda Bynes, Dan Byrd, Thomas Haden Church, Patricia Clarkson, Cam Gigandet, Lisa Kudrow, Malcolm McDowell, Aly Michalka, Stanley Tucci
Plot: A clean-cut high school student relies on the school's rumour mill to advance her social and financial standing.
There may be spoilers the rest of the review
Verdict: Good Modern Teen Comedy
Story: Easy A starts with Olive (Stone) telling us that rumours have left her reputation being shattered, where she has her best friend Rhiannon (Michalka) who wants Olive to go camping, but she lies about what happened leading to Rhiannon spreading the rumor.
When the rumor starts spreading the whole school seems to learn about Olive's weekend with Marianne (Bynes) leading the stories due to her religious beliefs. Olive decides to embrace her new popularity in the school even if it is built on lies. Olive has just one person to turn to the gay Brandon (Byrd) who is also suffering from the rumor mill but the two decide to make their own rumor. The problem with this ruins any plans Olive has to be with the guy Todd (Badgley) that she really wants to be with. Just how far can the rumor mill spiral out of control though.
Easy A is a teen movie that I have started to grow out, my generation would be the American Pie franchise era. I think this does bring the idea of high school into the new world well because it still has the social situation and embraces the use of the modern technology. When it comes to the subject matter the film isn't afraid to explain that is is a modern telling of the Scarlett Letter which I think is different to others who try to bring classic literacy into teen genre. I will say I loved the 80's movie references but I would question why Olive was watching them. Overall I thought this was a good welcome addition to the teen comedy genre. (7/10)
Actor Review
Emma Stone: Olive is the quiet student who ends up embracing a rumor about her sexually stories. She becomes the talk of the school as they see her as the slut but in the end she is just making money for fake sexual encounters but the rumor starts getting completely out of control. Emma really has sky rocketed after this role showing she had all the talent. (9/10)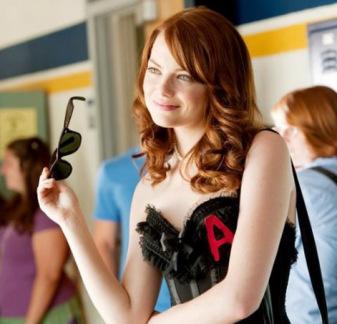 Support Cast: Easy A has such a big supporting cast that is hard to pick out who were the main supporters, the adult characters played by Thomas Haden Church, Patricia Clarkson, Malcolm McDowell, Stanley Tucci and Lisa Kudrow all give wonderful performances. While the teen characters all gives great performance dealing with Olive's decisions.
Director Review: Will Gluck – Will brings us a new era of teen comedy that will be the stand out for the 2010's. (8/10)
Comedy: Easy A has good comedy moments especially when the rumours start spiralling out of control. (8/10)
Romance: Easy A has good basic teen level romance with nothing too much until the final scene. (7/10)
Settings: Easy A keeps most of the story in and around the high school settings which works for the film. (8/10)
Suggestion: Easy A is one for a the teen comedy fans out there. (Teen Comedy Fans)
Best Part: Emma Stone's performance.
Worst Part: Being picky, I didn't like how there was a true supporting lead.
Romantic Moment: Final cliché moment.
Favourite Quote: Dill 'Is everything all right? It sounds like you're having sex in here, which I know can't be true due to the fact that you have a homosexual boyfriend. '
Believability: No (0/10)
Chances of Tears: No (0/10)
Chances of Sequel: No
Post Credits Scene: No
Oscar Chances: No
Box Office: $58 Million
Budget: $8 Million
Runtime: 1 Hour 32 Minutes
Tagline: Let's not and say we did.
Overall: Great addition to the teen comedy genre.
Rating