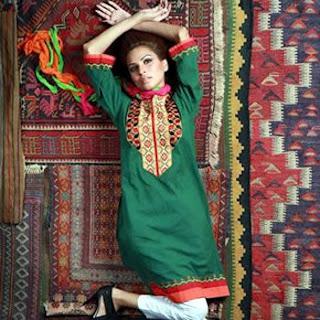 Experience the latest in line of Pakistani custom dresses,Embroidered kurta tops, which are rich in colours & design. These kurta tops look stylish with traditional shalwars, trousers & denims. So whatever is the occasion, you can buy these Pakistani dresses on reasonable prices.
Pakistani kurta top is of the most fashionable & traditional outfit for Pakistani females. Fashion designers like Nomi Ansari, Maria B & HSY etc have come up with fascinating tops which are a blend of brightness & vibrancy.
These Pakistani dresses suits every age, females & season. Whether you are attending a wedding or a formal party these kurta tops are decorated with stones, mirror & thread works & made by the fabric yarn in rich colours.
Such kurta top is obtainable at different cost ranging from Rupees 500 & above. Another kind of this embroidered kurta top, is the shorter length tunic top which is globally called as, traditional kurti which represents a small description of the kurta. Such embroidered Kurta tops have become a popular product among females globally. Now you can see females wearing them on all occasions.
These Pakistani dresses are the best choices for summer & spring wear. Females can wear them in winters by choosing black, brown, maroon & dark colours with a stole or shawl. Embroidered kurta tops are usually made up with high quality fabrics such as viscose & polyester georgette & crepe.
The length of these Embroidered kurta tops can vary, however they can be of thigh height or slightly above the knee obtainable with different styles & designs with different choices either tight-fit or semi-fit.
Similarly, females can select this Pakistani dresses according to choice of sleeves they require e.g. cap sleeves, short sleeves & long sleeves. The size of this garment can be of small size or and size.
Pakistani females can increase their persona by wearing these Pakistani dresses with skinny fit pants, Capris, churidars, salwars, & also with leggings to add style to their persona.
Embroidered kurta top is a finest option for college going girls & on wedding occasions. Similarly working females love to wear them. Such embroidered kurta tops provides a woman not only a style but an ultra comfort in the coursework of their every day routines.