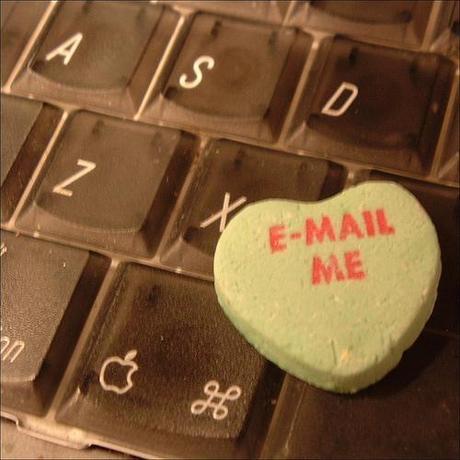 If you're a digital marketer, email no doubt plays an important role in your campaign strategies. But how do you determine whether your efforts at email are successful? Do you measure more than just opens and dig deeper into your ROI from your email marketing efforts? If your answer to that is affirmative, then you're in the minority. Go ask for a raise.
Conversely, if you're operating under the "Let's do an email blast" strategy and looking at open rates as your barometer–without any data tracking and analysis tied to conversions–you're making the same mistake as many of your peers. Even worse, if you've got various departments all over the company doing their own thing when it comes to email and no tracking and measurement in place beyond open rates, well, you've got issues.
Survey Says, We've Got Work to Do
Lionbridge Technologies surveyed more than 570 marketing pros across the world for its 2014 Global Email Survey, with a goal of learning about how they use, control, and measure email as a part of their marketing strategies. The results make for interesting reading, particularly when it comes to measuring performance, with fewer than half saying that the impact on sales is their primary metric. Let's take a look.
Measuring performance. Nearly three-quarters of respondents reported that they strongly rely on opens as a measure of performance, with just less than a half saying they link the impact on sales and revenue to the measurement of the success of a campaign and even fewer tracking customer engagement. Surprisingly, the vast majority said that they not only don't track ROI from the email stream they also overwhelmingly don't use email metrics to drive future programs as this graphic. Please kill me now.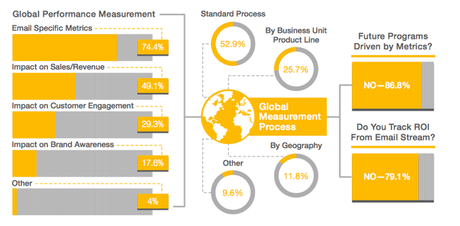 Ownership of email
and integration
. Almost two-thirds of respondents (some 64.1%) reported that they used a centralized approach to email, which is something we see all the time. And sometimes, the bigger the company, the more rampant this tactic of everybody going their own way is—do you see this in your company or with your clients?  Even among the marketers who reported their email marketing efforts are centralized, there is the scope for inter-departmental squabbles over 'ownership' of email ,with responsibility often being spread over several marketing and customer service functions, each of which has their own schedules and objectives. The potential for mixed messages to go out, for mistakes to be made, or for missed opportunities is huge.
Integration with social media and content marketing strategies does at least appear to be strong, with only one in six saying that they view email as a standalone activity.
What About Multi-Channel Integration?
More than half (56%) of marketers surveyed reported combining email marketing efforts with social, CRM integration and content marketing, which is a good thing. Tying those things together as part of a multi-channel strategy didn't fare so well, with 48% reporting email is sometimes part of a multi-channel strategy and just a third reporting that email is always part of a multi-channel strategy. I think these numbers are a bit high, based on what we see happening with  multi-channel strategies, but if that's accurate (and hopefully continuing to rise), it's a good thing.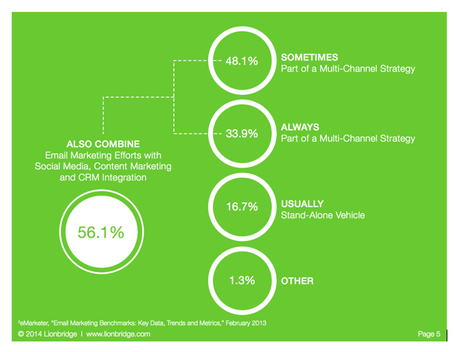 If you're focused on doing a better job of multi-channel integration in the future, something to consider when it comes to multi-channel integration and the development of content for your email marketing initiatives is the step of evaluating the  shareworthiness of the content you're creating. The next time you're creating an email campaign, think about what there is about the message that makes it worth sharing. Is there a reason someone would read your email and share it across their social networks because of the value it delivers? Do you make it easy for them to do that in a manner that results in an attractive, informative link? Also consider what you're trying to accomplish with your content marketing initiatives and ask yourself whether you're connecting what you're doing there with what you're doing with email. If the only connection between your email and content efforts is that you're blasting your corporate blog content out to your email list on a regular basis, without any CTAs or other measurable tactics in place, well, that's not really connected.
What Vendors Are Companies Using? The overwhelming majority of survey respondents reported the use of in-house systems to deliver emails, either by way of an email marketing or marketing automation system; only 7.2% say that they employ a full service agency partner. When it comes to which email marketing system is most used, the field is pretty evenly spread, although Mail Chimp has a nice lead over vendors Silverpop and Constant Contact.  I'll make a guess here, based only on what we hear from others and see internally with clients: companies don't yet understand the importance of email and, as a result they're not allocating budget dollars for more sophisticated email marketing and marketing automation technologies. They don't understand what email marketing can do, and they're generally not doing it. Not to take anything away from Mail Chimp, because it's a good email platform and it's not free – but there are obviously more sophisticated, more expensive products out there that may ultimately deliver better value and data. And those products don't have to break the bank—I would guess that people just aren't making time to explore them like they should and compare capabilities and/or there isn't an allocation of budget dollars to allow for more training and more sophisticated tools.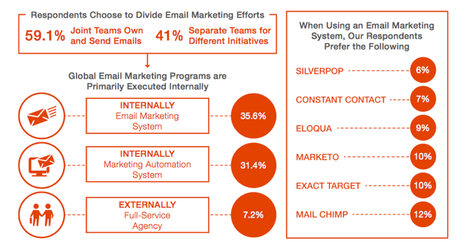 Why email? Marketers responding to the survey reported that email isn't just used for marketing, but also for a number of other related purposes. While engagement, product news and sales top the list, brand awareness, service and research are also cited as regular reasons for email communications. Based on the vast number of emails that hit my inbox daily, most marketers are interested in using email as a channel for their marketing messages. It is rarely used to deliver value outside of "here's what we sell and why you should buy it" and that, to me anyway, isn't customer engagement. We might be calling it that, but it is so not engagement. It is selling.
Customer engagement would be delivering something of value to a customer that leads them to take an action. Maybe it's completing a survey with the promise of the delivery of results that might give them better insights on their industry or target audience, maybe it's downloading a white paper, maybe it's a resource tool or a free webinar on something they need to learn about (that you don't sell), and maybe it's crowd sourcing thoughts on a new product line that's being considered. Those things? They lead to engagement. And I'm pretty sure that's not happening much, in spite of what marketers may be calling it.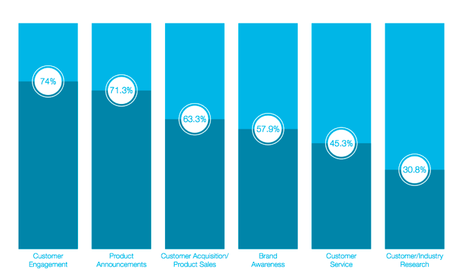 Mobile.
And then there's mobile—and a sad state of affairs. The survey asked respondents about whether they were using responsive design in their emails; something that's becoming ever more vital in this mobile-dominated landscape in which we operate. Only 42% reported they focus on device compatibility, with the rest reporting that it either wasn't a priority or that they didn't have the budget. Recent research indicates that an email campaign is opened for the first time on a device over 40% of the time and of those readers who open the email a second time, 70% open it on the same device. These numbers are only going to go up. My advice: find the money and put it at the top of the list. Not doing so is without question impacting the effectiveness of your email campaigns and overall marketing efforts.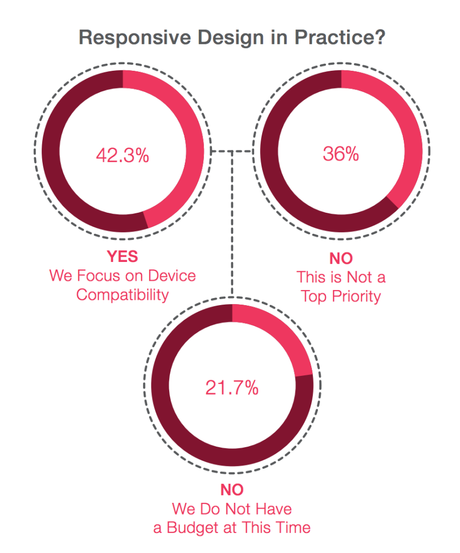 In summary, the survey results aren't surprising. Despite the sophistication of the organizational and tracking tools available to email marketers, campaigns are all too often haphazard, not integrated across the company, and ROI is either not a factor at all or inaccurately calculated by way of open rates rather than by other, exponentially more important factors.
The report also contained some interesting information on segmentation, targeting, localization and others and it's definitely worth your time to check it out and think about how you're using email today and how that might change moving forward.  The one bit of information that was missing from this report for me, anyway, was a breakdown between B2B and B2C respondents. In general, and because it's the nature of the beast, I think that in general, B2C marketers get the importance of email and are regularly striving to test, measure and improve their results. And in most cases, I think they are paying a lot of attention to sales. B2B marketers, however, just aren't there.
So after all that, what do you think? What are you seeing – within your own company as it relates to some of these things and/or with your clients? I'd love to hear about it and what you think.
If you want to download the report, you can do it here Lionbridge 2014 Global Email Survey Results (registration required).
Other resources on this topic:
Want Email ROI In 2014: Let's Do This
Use Email Targeting and Marketing Automation: Keep Customers Instead of Running Them Off
photo credit: idogcow via photopin cc
This post was brought to you by IBM for Midsize Business and opinions are my own. To read more on this topic, visit  IBM's Midsize Insider. Dedicated to providing businesses with expertise, solutions and tools that are specific to small and midsized companies, the Midsize Business program provides businesses with the materials and knowledge they need to become engines of a smarter planet.