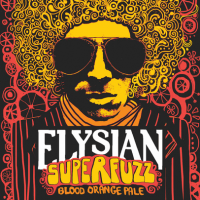 (Label from elysianbrewing.com)
Elysian Brewing's newest seasonal is the Super Fuzz Blood Orange Pale Ale which fills the summer spot vacated by Loser Pale Ale when it became a year round beer.  This beer was based off of one of the 12 Beers of the Apocalypse project from last year.  The Maelstrom was a "Blood Orange Pale Ale" but at a higher alcohol content of 7.25%.  To fit into the summer seasonal slot, Elysian toned back the alcohol a bit.  Both beers use actual Blood Orange fruit and orange peel.  Neither use essence.
While I've been on the theme of good beers for Spring and Summer, I thought I'd add an extra twist into the reviews by doing some good fruit beers for spring and summer!  Especially since the 3rd Annual Portland Fruit Beer Festival is coming up in little over a month (June 8-9).  Although it doesn't appear that this beer will be at the festival, it's perfect for the sun and some fun!
Appearance: Cloudy gold with an off-white head.  Minimal head depth but good retention.
Aroma: Grapefruit, Orange, Citrus Hops, a touch of malty honey.
Taste: Citrus acid, light hop bitterness with a good malt backbone.  Round, creamy mouthfeel.
Overall Impression:  This beer isn't a sweet "orange" bomb.  The citrus is very present by it's well integrated with hops and malt to create a very balanced beer.  This could be a very versatile summer food pairing beer.  Play off the bright citrus/hop tones to find fun matches.  This is another winner from Elysian.
Availability: Everywhere Elysian is sold.
5.4% ABV