(Picture from http://www.elysianbrewing.com)
Elysian Brewing has long been a pioneer of Pumpkin beers, brewing around 20 or so a year.  To celebrate this pumpkin diversity, they started holding a pumpkin beer festival at their Capital Hill pub in 2004.  When they opened their new Georgetown production facility  in 2012, they moved the festival there, greatly increasing the amount of people who could attend what was becoming a hugely popular festival.  This year, 2013, they added a Sunday session.  Now with three days, it's estimated that nearly 5,000 people attended the Great Pumpkin Beer Festival this year.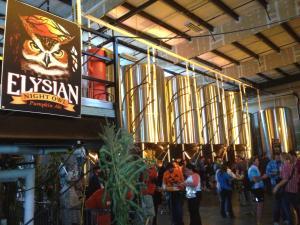 (Picture courtesy of http://twitter.com/elysiandavec)
I attended last year's GPBF, which was the first at the new production facility, and was very excited to be attending this year's!  Last year, they had two sessions on Saturday.  Having an inside pass, I stayed for both and had way too much pumpkin beer!  This year, I tried to be more strategic.  I started out the day hitting one of the food trucks for a little lunch to pad my stomach for a day of beer drinking.  I got one of the creole pork po' boys which set me up excellently before I dove into the 65+ beers that were in attendance this year.  The sandwich was made by the "Where Ya At?" food truck.  My pork po' boy was very tasty: slightly spicy, flavorful, with a nice bit of sweeter slaw to balance out the rich pork.  Several of my friends also got food from "Where Ya At" and all were very satisfied with their experience.  Later, I tried one of the special for the day pumpkin beignets which was very tasty and satisfied my afternoon sweet tooth.

(Picture courtesy of http://twitter.com/elysiandavec)
With some food in my belly, it was time to get to the beer tasting.  Here is a list of the participating breweries.  My fist beer, which was an excellent pairing for my sandwich, was the "He Said" collaboration with Elysian and 21st Amendment Brewing.  There are actually two different beers with this name that were brewed.  I had the triple, which was quite enjoyable.  It was certainly a great way to start my day at the fest.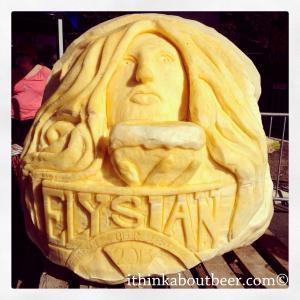 After that, it was a blur of trying new beers and some old favorites.  It would be crazy to try to list everything I'd tried.  I can give a few highlights though.  Mr. Yuck is a sour pumpkin ale brewed by Elysian, it's always a tart and tasty treat.  I'm also a huge fan of their Yuck, Yuck, Geuze; which is a blend of multiple years of the Mr. Yuck.  Other highlights included: Alaskan Brewing Pumpkin Porter, Pike Brewing Harlot Harvest, Elysian Hansel & Gretel, and Elysian Plumpkin to name a few.  Another highlight is always the artistically carved giant pumpkins (Pictured to the left).
Besides all the beer and some great food cart selections, there's a good deal of other fun to be had at the festival.  People are encouraged to dress up in orange or to create their own pumpkin attire to get into the spirit.  Like any beer festival, the people watching is a huge part of the fun along with sharing some excellent beers with your friends.  Each session also features a special tapping: the great pumpkin!
Each year, Elysian works with their pumpkin growers to purchase some extra-large gourds.  The largest this year was around 1200 pounds!  They cut through the thick rind with a saw.  With the biggest one, the brewer had to stand inside the pumpkin to carve the guts out and then hand torch the inner wall.  A different Elysian pumpkin beer is selected to go inside where it will undergo a secondary fermentation.  The pumpkin's lid is put back on and sealed with heavy wax.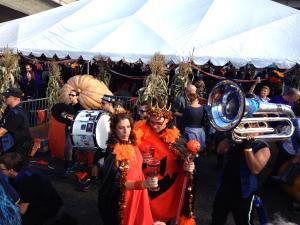 (Picture courtesy of http://twitter.com/elysiandavec)
This year the pumpkins were so thick the poor brewer tasked with tapping them lost a drill bit or two inside the thick flesh.  Despite all the eyes eagerly watching, they managed to get the pumpkin beer tapped so the crowd could see what was inside.  This year, it was Punkuccino Coffee Pumpkin Ale!  With a marching band and the Pumpkin King or Queen overlooking the proceedings, everyone who wanted some beer from the giant orange gourd got some!
Overall, this is a well-organized festival and continues to improve with every year.  Yes, there are lines but they're fairly short and efficient and if you split lines with friends who'll share their beer, you can cover twice as much ground.  They keep the number of attendees to a manageable level so it's not a total zoo, but so that it still feels fun and festive.  Having the festival set within the production Elysian facility adds that extra air of "BEER" to the festivities as you drink some amazing beers amonst the fermenters and kettles that made the beverages you're experiencing.
If you haven't made it to this festival, I highly recommend that you put it on or near the top of your list of lifetime beer challenges.  Nearly every style of beer is represented, so even if you're not a traditional pumpkin beer fan, you'll find more beer that you'll want to try than you'll have time or liver to accomplish.