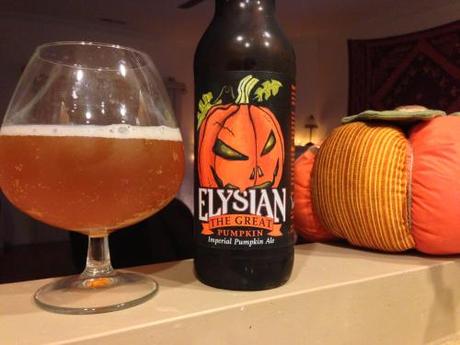 Since I've made a point to write-up thoughts on the three previous beers from Elysian Brewing's Pumpkin Patch beer pack, I'd be remiss if I didn't top off my thoughts with that of The Great Pumpkin, the brewery's imperial pumpkin ale that sits at 92 on Beer Advocate.
Describing this beer is super easy, since you could probably check out my thoughts on Night Owl – Elysian's run of the mill pumpkin ale – and it'd be a sufficient base. What I got from Great Pumpkin is simply Night owl multiplied by two. At 8.1 percent ABV, the booze for Great Pumpkin is stronger than Night Owl's 5.9 percent and more easily detectible. If you're into that kind of thing, then I'd say reach for Great Pumpkin, which balances out the extra alcohol flavors with stronger pumpkin and spice characteristics than you'd find in Night Owl. Sugary sweetness is a bit more present in Great Pumpkin, which again helps to cover up some of the extra booze. Otherwise, I felt all the spice aromas and tastes were the same as Night Owl, just kicked up a notch to ward off higher ABV.
If I had a choice, I'd skip Great Pumpkin and stick to Night Owl, if only because Great Pumpkin doesn't seem to have any other purpose than to offer a higher ABV version of Elysian's standard pumpkin ale. Don't get me wrong, this beer is good, but it's too similar to their other offering to excite me that much.
… and with that, my pumpkin tour of Elysian is complete. The Dark O' the Moon pumpkin stout was by far my favorite, an incredible marriage between chocolate malt and seasonal pumpkin flavors.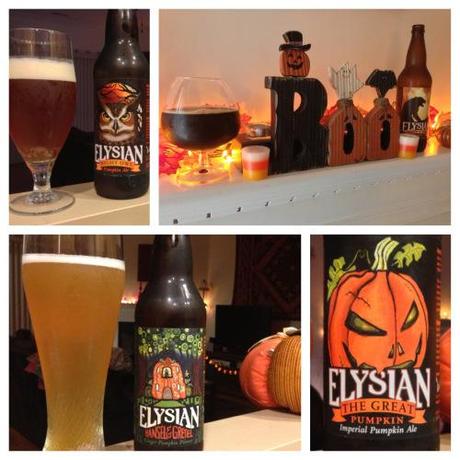 All four of the beers from Elysian's Pumpkin Patch pack.
The Great Pumpkin Stats:
Malt: Pale, Munich, Cara-Hell, Cara-Vienne, Cara-Munich and Crisp 45° L Crystal malts
Hops: Bittered with Magnum
Adjuncts: Roasted pumpkin seeds in the mash, and extra pumpkin added in the mash, kettle and fermenter. Spiced with cinnamon, nutmeg, cloves and allspice.
ABV: 8.1 percent