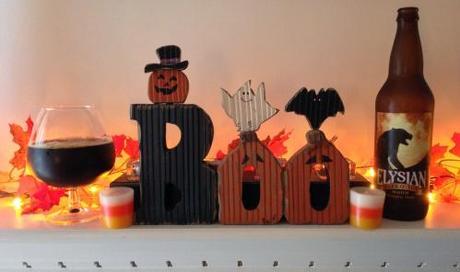 No need to wax poetic about my love for all things pumpkin again. I'll simply point out that I'm now 3/4 of my way through Elysian Brewing's Pumpkin Patch beer pack and while I've loved them all, their Dark O' the Moon pumpkin stout simply blew me away.
I'm not the only one, as this beer won a silver in the "Field Beer" category (now also includes pumpkin beer) at the 2010 Great American Beer Festival and it carries a 87 on Beer Advocate. What's the love all about? Hit the jump.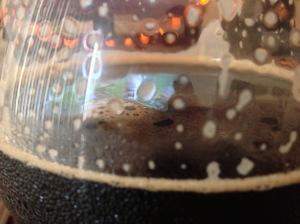 Carbonation stuck to the glass, but the beer was clear on top to reflect Sunday football.
Naturally, Dark O' the Moon poured midnight black. It produced next to no head. The carbonation was fairly steady, however, as lacing stuck on the side of my glass throughout.
On my initial smell, the aroma of the beer gave me loads of sweet pumpkin upfront, then blended the chocolate smell of the malt with that of pumpkin and pumpkin seeds used in the brew, similar to Night Owl. On my second whiff, I got more chocolate seeping into that classic pumpkin aroma. As those characteristics danced together, there were hints of cinnamon that hid below.
But the taste. My god. If anything, this beer proved to me that chocolate and pumpkin were made for each other. Similar to Epic and DC Brau's Fermentation Without Representation, Dark O' the Moon produced a great roasted chocolate flavor that was simply meant for a pumpkin-enhanced brew. A dessert-like combo, if there ever was one in beer. In order, I found the chocolate of the grains to show up at the front, a creamy pumpkin middle and a chocolate finish made just a little bitter by Magnum hops. Saaz were used at flameout, I gather from the Elysian website, but you can't detect them at all in aroma or taste.
The finish was dry but most definitely left my tongue wanting more. If you wait long enough – as I love to do with dark porter/stouts like this – a touch of coffee seeps through onto your taste buds.
Needless to say, I can't wait to try the final beer of this pack, The Great Pumpkin imperial pumpkin ale.
Dark O' the Moon stats:
Malt: Great Western pale, Crisp 77° Crystal, Munich, Cara-Vienne, roasted, chocolate and Special B
Hops: Magnum and Saaz
Adjuncts: Pumpkin in the mash, kettle and fermenter. Crushed cinnamon at flameout(?).
ABV: 6.5 percent