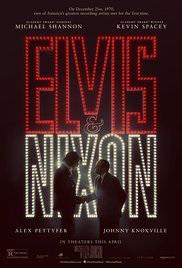 Director: Liza Johnson
Writer: Joey Sagal, Hanala Sagal, Cary Elwes (Screenplay)
Starring: Michael Shannon, Kevin Spacey, Alex Pettyfer, Johnny Knoxville, Colin Hanks, Evan Peters, Sky Ferreira, Tracy Letts, Tate Donovan
Plot: The untold true story behind the meeting between Elvis Presley, the King of Rock 'n Roll, and President Richard Nixon, resulting in this revealing, yet humorous moment immortalized in the most requested photograph in the National Archives.
There may be spoilers the rest of the review
Verdict: Enjoyable Comedy
Story: Elvis & Nixon starts as we see Elvis Presley (Shannon) decide he wants to get a Federal Badge which leads him to bring his two closest associates Jerry (Pettyfer) and Sonny (Knoxville) to arrange a meeting with President Nixon (Spacey).
Going through the President's associates Krogh (Hanks) and Chapin (Peters) to make the most unlikely meeting between the two different worlds to have a simple conversation between two of the most iconic men in American history.
Elvis & Nixon is a good comedy that has good moments to see how different the two men are. We get a brilliant performance from Shannon once again as we see him become the King and interact with different members of his fan base to get what he wants. The gun scenes are all the extra funny moments because we get to see how Elvis believes he is doing nothing wrong. This is an overall an enjoyable watch in a light hearted manner.
Overall: Enjoyable comedy that has moments of truth through it.
Rating