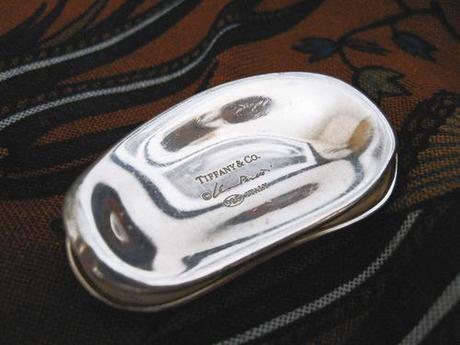 In May of last year, there was some speculation as to whether or not Elsa Peretti would continue her long-term relationship with Tiffany & Co. Her contract was set to expire, and the two parties couldn't agree on new payment terms moving forward. If their agreement terminated, Tiffany would have an exclusive right to sell their remaining Peretti-related designs for about a year and a half before the designer moved on. You can bet if that happened, there would have been a mad dash at Tiffany – not just for the pieces Peretti has designed for women, but also the few things she's made for men. 
Luckily, the crisis was adverted, and last month, the two agreed to a new set of terms that extended their relationship for another twenty years. Basically for the remainder of the designer's life.
Elsa Peretti's path to design was a strange one. She was born in Florence, Italy in 1940, but got her primary education in Rome and Switzerland. At the age of 21, she left Rome to become a school teacher, and then later a skiing instructor, but having tired of both, she returned home in order to get a degree in interior design. Afterwards, she worked for a short period for an architect, but then decided at some point she'd rather be a model in Barcelona. Then, after a year or two in Spain, she flew to New York City for some modeling jobs. It was there that she made her final career change and became a designer.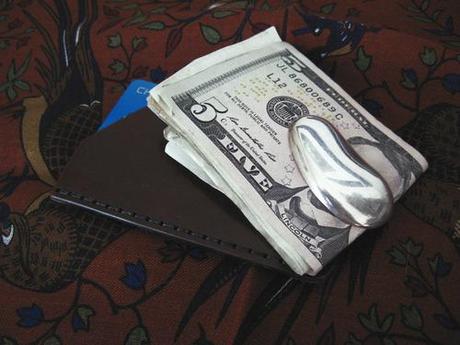 I myself own one of her money clips, which I carry with me every day. It's shaped like a bean, but in a fluid sort of way. That is, the outline is that of a bean, but when you see it on a table, it looks like a small puddle of silver liquid. The underside is indented to perfectly fit one's thumb, so that you can easy pull it off when you need to take out your cash. I think it's a bit more beautiful and interesting than the kind of money clips you see financiers and MBA types carry around, which you can see here.  
Pictured below are snapshots of Fifteen of my Fifty With Tiffany, a portfolio of Elsa Peretti's work that a friend gifted me. It was printed in 1990 as a celebration of the designer's tenure with the company. You may notice from looking at the shots that everything she designs feels like a small pantheist sculpture made from silver, crystal, and terracotta. Indeed, each piece is meant to remind the viewer of the beauty inherent in nature. As Richard Martin once wrote of them, they "resemble shapes in nature as humble as beans, as languorous as loops, and as touching as teardrops."
And aside from the beautiful, organic, and fluid nature of their shapes, there's the romantic symbolism. For example, the small bottles and vases she's made into necklaces are meant to celebrate the things we use to keep beautiful things alive; the smooth, round apples embody the eternal temptation of women; the bones symbolize the things that remain with us forever; and the snakes and scorpions for luck. And for the bean? It symbolizes new life, which I suppose summarizes Peretti's path to design perfectly.