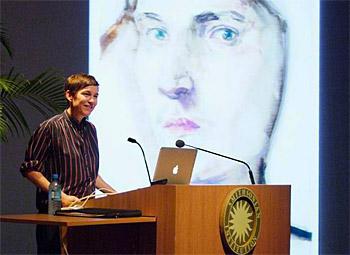 Elizabeth Peyton - Photo by Bruce Guthrie
"I think my work is more capable of articulating my thoughts and feelings than I'm willing to say. I'm going to let the work speak for itself," Elizabeth Peyton said at the beginning of her talk in the Clarice Smith Distinguished Lecture Series. Peyton, celebrated for her intimate paintings of friends, family, and members of the art world, began with biographical comments then spent a good part of the evening showing us images of her colorful work, often noted for its jewel-like palette: paintings, watercolors, drawings, some based on historical themes (Napoleon), some literary (Proust) and others beaming with a downtown New York pulse: it's a subtle wash of neon applied to paper or canvas.
During the question-and-answer period that followed, Peyton talked about her different media, as well as painting from life verus painting from a photograph, "whatever it takes to get the job done," she said. If you weren't able to attend the talk, you can view the webcast here.
Learn more about Elizabeth Peyton's work. The Clarice Smith Distinguished Lecture Series of American Art continues, and concludes with a talk by Julie Mehretu titled "Grey," on November 2.