Eleven From "Stranger Things" Traded In Her Buzz Cut For Some Extensions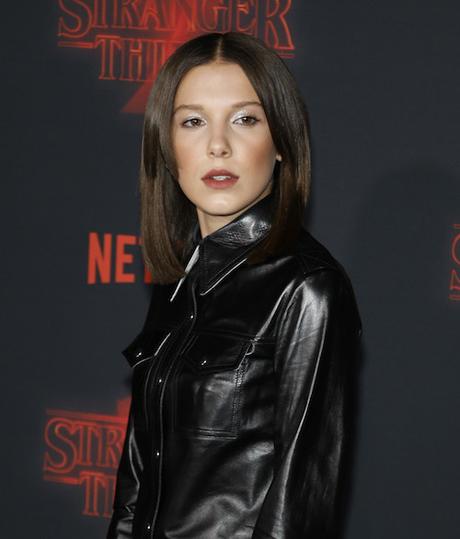 The red carpet premiere of the second season of Netflix's hit show Stranger Things happened in Los Angeles last night. Millie Bobby Brown has sort of become the show's breakout star – well, unless you're count Winona Ryder's catalog of endlessly entertaining reaction faces. It feels like every Spirit Halloween store I walk past has a giant picture right at the door of someone dressed up in a cheap $29.99 Eleven costume (box of Eggos not included). Everyone wants to be Eleven, except Millie Bobby Brown herself, apparently.
Millie showed up to the premiere in Phantom of the Paradise juniors couture and a grown-out buzz cut accessorized with a couple extra inches of extensions. It seems weird that nobody thought to blend in those extensions, but maybe they were a last-minute choice by Millie's Papa Rose in an attempt to diversify her resume and snag his little star some new gigs. "Look, she's not just Eleven – she's a fun teen with shoulder-length hair. Add a couple more inches and she's a young adult. Call today! NO LOWBALL OFFERS."
Also looking great was Natalie Dyer, aka Nancy Wheeler. I'm a firm believer in a theme, and so I'm thrilled to see someone walk down the Stranger Things red carpet in a tribute to the unsung hero of an 80's teen girl bedroom: eyelet lace trim! Eyelet lace trim was on everything from throw pillows to bed skirts to the cover of a canopy bed.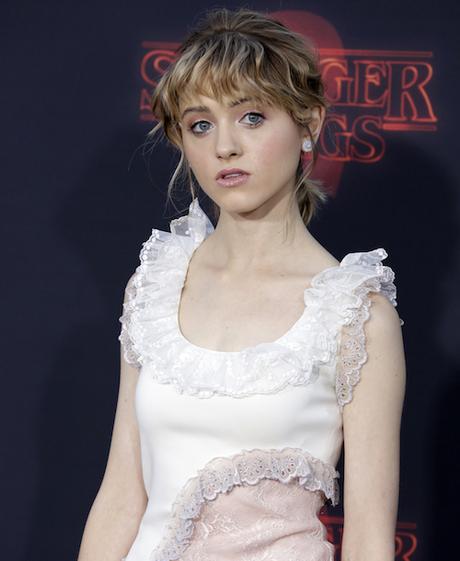 The only thing missing is a clutch made from a re purposed clear telephone. Here's more from the premiere last night:
$(function(){
$("#gallery_272904").microfiche({ buttons: false,bullets: false });
$("#thumbcontainer_272904 .prevthumb").click(function() {
$("#gallery_272904").microfiche({ slideByPages: -1 });
});
$("#thumbcontainer_272904 .nextthumb").click(function() {
$("#gallery_272904").microfiche({ slideByPages: 1 });
});
});
Pics: Wenn.com
Source: Eleven From "Stranger Things" Traded In Her Buzz Cut For Some Extensions
3 total views, 3 views today