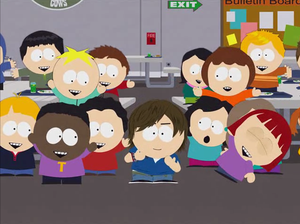 Image via Wikipedia
Do you think it is advisable to learn two different languages at the same time? Well for some, it must have been a struggle; but for those who choose to avail this opportunity then they might want to reconsider. Just like the students in Smithland Elementary School; students in this institution actually integrates Spanish language alongside with English. Isn't this great?
A headline was posted on April 6th this year about a group of students in Harrisonburg taking all of their classes in both English and Spanish. It was posted by Harris MacKinsley in a certain news headline.
According to MacKinsley, the staff in Smithland Elementary School "updated the Harrisonburg School Board Tuesday night about the new dual-immersion program". This has been a widely promoted program in the school since it has recorded 40 students who enrolled.
The dual-immersion program is basically simple: Students have half of their day spent to learn Spanish language while the other half is to learn Spanish Language. The program is also arranged for elementary students who speak English as a second language, as well as for English-speaking students who want to learn Spanish. It's a program intended for learners who want to acquire English and Spanish language learning without necessarily going to language schools. Furthermore, immersion and constant communication among English and Spanish-speaking students is greatly practiced, so their language learning is beneficial for sets of learners.
"It's wonderful for them to understand where other children are coming from, appreciate different cultures. There's a great opportunity here in Harrisonburg, so people are jumping on the opportunity to get their children to appreciate other cultures to be more aware of diversity," says Gary Painter the school's principal. He even exclaimed that these young learners will become fluent in both Spanish and English by the time they reach the fourth grade.
Knowing such great news makes me personally want to pursue foreign language learning. In the learner's young age, they are given the privilege to learn foreign languages. Would you do the same thing as well?