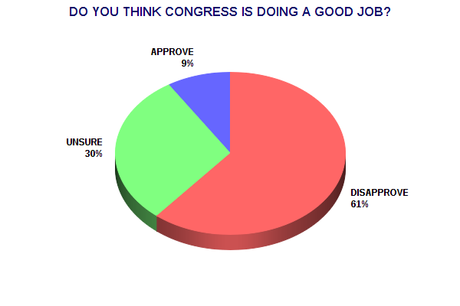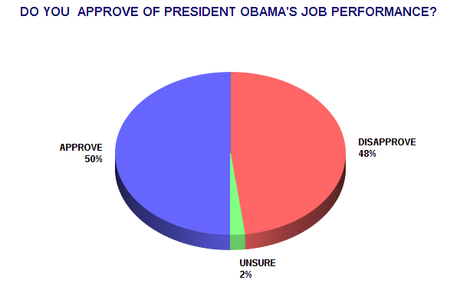 I continue to hear from the New York and Washington Political pundits that this coming election will favor the Republicans because it is a referendum on President Obama. What a load of horse-crap! Just look at the two charts above and then tell me who the public is most angry with. It's not President Obama (who was given a big vote of approval in the real referendum on his job performance in 2012). It's about Congress, who in this Rasmussen Poll (taken on May 19th and 20th of 1,000 likely nationwide voters, with a 3 point margin of error) has only a 9 point job approval rating -- about one-fifth of the job approval of President Obama.
I can understand why the Republicans (and the pundits pushing their propaganda) want people to think this election is about the president, because they are extremely unpopular with the public themselves -- and they don't want to have to defend their inaction, obstruction, and refusal to compromise for the good of the country. And they know that if this election is a referendum on this very unpopular do-nothing Congress, they will be the ones to suffer the most (since they have the significant majority in the House of Representatives. They are terrified that they anti-incumbent mood of voters will oust enough of them to flip control of Congress to the Democrats.
Here are some more graphs made from that same poll, showing just how little respect the public has for the 113th Congress.