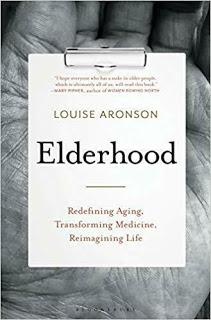 Published 11 June 2019.
This year geriatrician Louise Aronson published a book that serves as a great overview for the field of gerontology.
Elderhood: Redefining Aging, Transforming Medicine, Reimaging Life
was published on June 11, 2019.
Aronson presents 464 pages of observations about the aging process and health care in the US.
Yes, she has a medical degree; however, her outlook on aging comes very much from a humanities standpoint.
First, her book is structured like a memoir. She does talk about aging; however, she also includes a lot of autobiographical detail in chronological order.
Second, her book discusses case studies in a way that foregrounds the qualitative elements of the human experience, such as relationships, emotions, values, bias, limited perspective.
By even making this observation about her vocation, Aronson declares her preference for the more philosophical side of medicine.
Third, her book brings in a lot of material from non-medical sources. She quotes from works of literature, philosophy, psychology and sociology.
For example, this is how she frames the way physicians choose a specialty:
"How doctors choose to spend their careers may depend in part on their tolerance for ambiguity and complexity, and their interest in questions that lend themselves as much to philosophy, psychology, and sociology as to science and statistics." (p. 159)
I read a lot about aging, so her bibliography mirrors my recent reads: 
Ashton Applewhite
,
Katy Butler
, Roz Chast, Joan Didion, Barbara Ehrenreich, Michel Foucault, Betty Friedan, Atul Gawande, Jerome Groopman, Donald Hall, John Leland, Jonathan Kozol, Sherwin Nuland,
May Sarton
, Rebecca Sloot, Susan Sontag, Paula Span, and Bill Thomas. 
Most of these authors are advocates for change in aging practices or medical experts who write to the lay reader. The exceptions in the above list are Hall and Sarton, who are poets; Chast, a cartoonist; and Didion, a novelist. Even though she doesn't cite them in her bibliography, Aronson also refers to literary works by Gilgamesh, Aristotle, Cicero, Shakespeare, Hemingway and others.
While she never discusses the Myers-Briggs Temperament Indicator, I perceive her as an INFJ, which is nicknamed "the author." This personality type is very idealistic, empathetic, verbal, metaphorical, and spiritual. I get the result of ENFJ,  which may explain the high overlap in our reading list and observations. However, I have neither the medical training nor the clinical experience, so her patient stories were the most valuable for me. Those were the passages where I slowed down my reading and paid the most attention.
Even though the book is a blend of several genres, what unites it for me is Aronson's quest to find the best work situation for her temperament.
She describes herself as "an outpatient doctor with a low tolerance for patient distress who works best in a supportive, creative, collaborative environment" (287).  While she can clearly do the science part of her job, she's very empathetic about her patients in a holistic way. She plugs in deeply to the social-emotional dimensions of patient care, and she's very contemplative.
"I am not anti-science-and-tech or antichange or antiprogress. Like many people, I routinely use science and technology to work for change and toward progress.  My hope is that we might try to advance in each of these areas in ways that don't just pursue what can be done but also consider the potential consequence of each innovation for our cities, country, planet, and, most important, for people. Not just a select few people either, but all of us." (p. 280) 
It seems as though her transformation over the last few years into writer, speaker, and advocate for improved care for older adults is a good fit for her idealistic nature. She's going to be one of the keynote speakers for MAIA, a
conference on aging and wellness in my area this summer
(August 2020). I look forward to meeting her in person and hearing more of her ideas for improving care for older adults.
Related:
Books about Aging