Yesterday, EJ Scott sat down for an interivew with CBS's "The Insider" to talk about his disease, his upcoming marathon, the New York City Marathon and how he and girlfriend Deborah Ann Woll (Jessica on True Blood) support each other.
In the interview EJ talks about what it's like to be on the red carpet with Deborah Ann and his sensitivity to all the flashing lights that are part of walking down the carpet. He also discusses how he and Deb met, what it's like to have his disease and how he is doing all this to help find a cure before he goes blind permanently.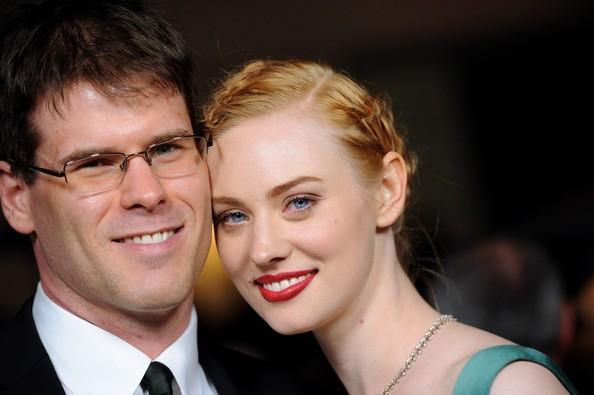 EJ has to carry a cane due to a degenerative eye disease. The Insider sat down with E.J. to find out what it's like being in the spotlight with Deborah and how he's embarked on his own ambitious effort to raise awareness about the disease that has made him legally blind.
E.J. explained that he suffers from Choroideremia – a degenerative, hereditary eye disease that attacks peripherally and erodes over time until total blindness occurs. First diagnosed in 2003 at age 27, he is currently down to vision of only 10-15 degrees in each eye. The illness currently has no cure and E.J. says at best he can only slow the progression before going totally blind.
He feels so strongly about increasing efforts to find a cure that he came up with his own publicity campaign that involves him running 12 marathons in 12 states in 12 months — and all of them while blindfolded! He says Deborah has been fully supportive in helping him reach a goal of raising $144,000 in research money.
While E.J. says he doesn't always attend red carpet events because the photo flashes are too much for his eyes, he is able to support Deborah at home. His tunnel vision still allows him to watch TV and he says he's Deborah's biggest fan. "Yes, it's my favorite show, I get to watch True Blood," he said. "Thank God I can watch True Blood!"
Watch the video below of EJ's appearance on "The Insider."
Please consider giving to EJ's charity, The Choroideremia Foundation by donating using the button below: