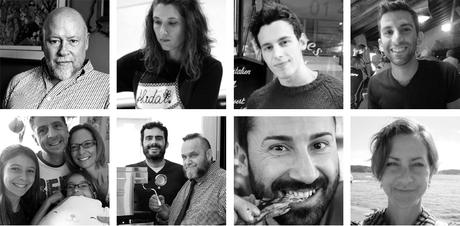 Hello everyone! Today this blog turns eight years old, prompting me to give an (overdue) update.
As you have heard in the latest podcast, and seen on "the social channels," I have some big news. After spending over 17 years in Vancouver, two months ago I moved to England! Precisely, to the town of Guildford, 30 miles south-west of London. I won't go too much into the reasons for the relocation, other than saying that they are both personal and professional, and that I am super excited about being here!
If you wonder what's going to happen to this blog now that I am much closer to Italy and perhaps no longer bombarded by the worst Italian Food "interpretations," please rest assured that I will continue the project! Even though England's proximity to Italy, along with a much reduced Italian-American influence should result in a much closer rendition, Italian cuisine is still foreign, and as such, subject to adaptation to the local palate, and I have started to see this already. But in any case, what I'm interested in the most is food culture (and I think you are interested in it too!); England has so much to offer on that front, and I hope to dive into it over time.
For now, all I can do is share my first impressions. I may be stating the obvious, but, to me, the most noticeable difference between England and western Canada is that in England, the weight of history has resulted in a stronger national identity. However much I love Vancouver's openness towards all cultures, it's fascinating to now be exposed to more rooted customs, which may be even stronger in a small town such as Guildford. Moreover, it's exciting to have the opportunity to explore and discover, for instance, that pretty much all cafes serve cream-tea, that the only fruit in fruit scones is raisins (or should I say sultanas?) and that crusty bread may be called a 'bloomer' (having no reason to be called "Italian!")
I will talk more about British culture and traditions going forward, in comparison to the Italian and North American ones.
Now, onto a brief retrospective on this last year of blogging, or podcasting, as I should say. With only one article published, no recipes (boo!), and eight podcast episodes, it appears that I have been dedicating myself almost exclusively to Thoughts on the Table. I have certainly enjoyed producing each episode, along with my wonderful guests (some returning and some new): from the planning, to the recording, to the editing. If you missed any of them, here is a summary:

Returning guest, food blogger and photographer
David Scott Allen
returns on the show to discuss
The Basic Rules of Italian Food
, such as that no Italian would dare to cut spaghetti with a knife, or to have a cappuccino after a meal!

Foodiamo
's founder
Raffaele Asquer
and chief editor
Roberto Croci
talk about the Foodiamo project and how it expanded from guide to Italian food in Los Angeles to online magazine of global appeal.