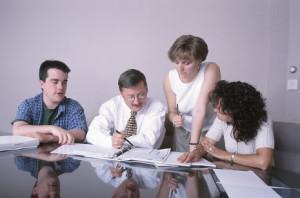 One of the serious mistakes businesses and organizations make in strategic planning is to use an "internal" facilitator, rather than an outside professional facilitator.
Selecting a professional strategic planning facilitator is very important. Facilitation of your strategic planning process involves working with groups of people and requires that the facilitator be tuned in at all times to what is happening.
The facilitator also must be able to suspend or change the direction of the process when necessary.
An experienced professional facilitator used in your strategic planning process will greatly increase the probability of a successful process and strategic plan and will also enable the participants to leave with positive feelings, a stronger cohesiveness, a sense of accomplishment and a stronger team.
In selecting a professional facilitator, your strategic thinking business coach suggests that you look for the following key characteristics :
+ has experience in leading strategic planning processes
+ has excellent communication skills
+ has an understanding of organizational issues
+ has conflict management skills and confidence in handling conflicts
+ has the ability to help clarify your outcomes
+ has a commitment to ensure the group will reach the desired outcomes
+ has the ability to operate systematically and keep people focused
+ has the ability to offer insight and empathy

Author: Glenn EbersoleArticle Source: EzineArticles.com
© 2011, ©Active Consultants 2011. All rights reserved. Copying in part or in entirety only permitted by written consent
Republished by Blog Post Promoter