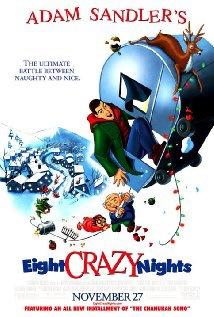 Director: Seth Kearsley
Writer: Brooks Arthur, Allen Covert, Brad Isaacs, Adam Sandler (Screenplay)
Starring: (Voice Talents) Adam Sandler, Jackie Sandler, Austin Stout, Kevin Nealon, Rob Schneider, Norm Crosby, Jon Lovitz, Tyra Banks
Plot: Davey Stone, an alcoholic with a criminal record, is sentenced to community service under the supervision of an elderly referee. Davey is then faced with trying to reform and abandon his bad habits.
There may be spoilers the rest of the review
Verdict: Underrated Comedy
Story: Eight Crazy Nights starts as we watch town troublemaker Davey Stone who hates the holiday time and always causing troubles. When the judge gives Davey his final warning before local gym ref Whitey steps up to finally fix Davey ad make him the replacement. Whitey's overly friendly nature clashes with Davey's constant bad attitude but as time together on a mutual love of basketball shows Davey starts showing a nicer side with local kid Benjamin.
Davey does have a reason to hate the holidays and that is the loss of his parents when he was kid over Christmas which shut him off emotionally. We watch how Davey has to finally face the reality of his mistakes and see how patient the rest of the town has been with him after knowing how difficult his life became.
Eight Crazy Nights is a touching Christmas story once you do see past the awkward Adan Sandler jokes. It does show how people can be effected by certain things in life that will change them forever, it also tackles the idea of treating people equally regardless of how look. Of course we do have to deal with all the painful Adam Sandler humor throughout but once you see through it you can see the heart in the story.
Character Review
Davey: Davey is the town drunk always causing trouble usually around the holidays, the town is tired of him and he gets one last warning or it is jail for him. Davey does have a good reason for being angry at the world after losing his parents on Christmas. Davey is a good Scourge like character that works with both Christmas and Hanukkah.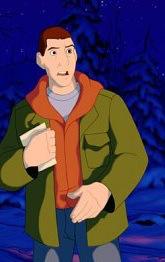 Whitey: Whitey is the odd looking elderly member of the community, everyone uses him to do odd jobs and he is always happy to help. He decides to try and train Davey into replacing him so he can retire. He has a twin sister that is equally as odd as himself. Whitey is a good character to have in the film showing how good hearted people can get taken advantage of.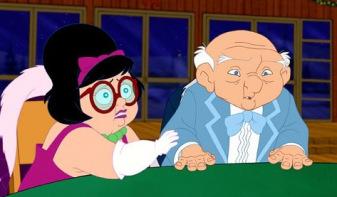 Eleanore: Eleanore is the twin sister of Whitey who is equally as strange as he is, she is very set in her way but always supported her brother through all the situations he finds himself. Eleanore is a good supporting character that does get an extra laugh here and there.
Jennifer: Jennifer is the old romantic flame of Davey's who was there when his heart was really broken, she moved on with her life but now finds herself as a single mother with her child being one of the few people Davey shows good signs towards. Jennifer is an important character because she is one of the few people that knew how good Davey could be.
Support Character: Eight Crazy Nights is filled with comical supporting characters that really play into the comedy Sandler enjoys giving us.
Director Review: Seth Kearsley – Seth gives us a basic animated comedy that does have a touching story.
Animation: Eight Crazy Nights has solid animation throughout but isn't the same level as other films coming out at the same time.
Comedy: Eight Crazy Nights isn't as funny as it thinks it is due to the Adam Sandler level throughout.
Musical: Eight Crazy Nights has a couple of enjoyable music numbers throughout.
Settings: Eight Crazy Nights keeps the whole film in a small town that is great for the film to use throughout.
Suggestion: Eight Crazy Nights is one to try if you don't like Adam Sandler you will find this difficult to watch (Try It)
Best Part: Opening the letter.
Worst Part: Sandler humor.
Believability: Parts could be real.
Chances of Tears: Maybe
Chances of Sequel: No
Post Credits Scene: No
Oscar Chances: No
Box Office: $23 Million
Runtime: 1 Hour 16 Minutes
Tagline: The Ultimate Battle Between Naughty And Nice.
Overall: A solid Christmas film that can be enjoyed once you get past Sandler humor.
Rating