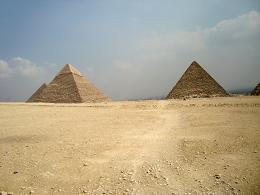 Image via sxc.hu
Are you interested to learn Arabic language while enjoying an enjoyable tour at the same time? In your holiday itinerary, highlight your language learning opportunities by going to Cairo, not just to learn Arabic language but to enjoy a wonderful sight-seeing, and do-something experiences with Cairo's beautiful scenery.
Cairo has wonderful modern and ancient sites that you will surely love to see for real. Egyptian museums are astonishingly wonderful. You can view various collections of vestiges of Egypt's history. Statues, sarcophagi, busts, and other relics from the Ancient Egypt are preserved for five thousand years in these museums.
Movies like The Mummy Returns, Indiana Jones, and Tomb Raider have scenes that involve mummies and other Egyptian artefacts like the pyramids. Here in Cairo, various museums display such wonderful preserved materials. You can go to Giza enjoy the sight of its famous monuments, the Great Pyramid of Khufu, the smaller pyramids of Menkaure and Khafre, and the enigmatic Great Sphinx! These pyramids served as the resting places of ancient pharaohs and sphinx. Historians are so into these details and I believe it is the same as you.
Now that we have detailed the ancient sites of Cairo, the city also has its modern buildings. As one of its highlights, the Cairo Tower stands one hundred eighty seven-meters high which portrays a magnificent view of the pyramids. Citadel is also a fine establishment since it has a revolving restaurant, good for fine dining! Hotels, Modern Art Museum, Caribbean and Oriental delicacies– all these can be enjoyed if you spend your holiday in this marvellous city.
So what are you waiting for? Grab this opportunity to integrate your Egyptian holiday treats and learn languages advantageous for your own benefits!