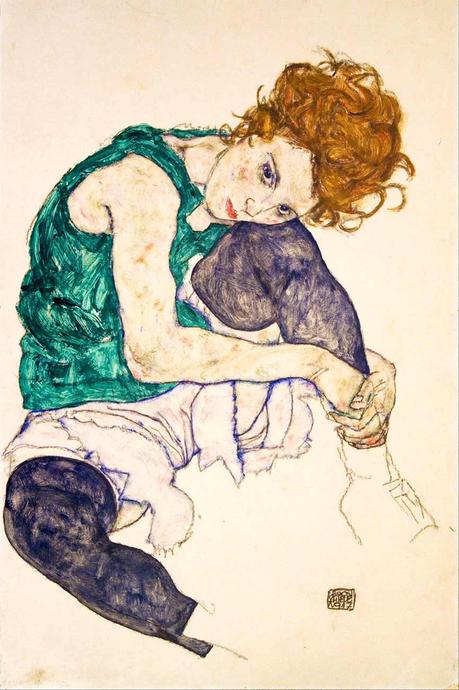 Author: Marina Valcárcel
Art Historian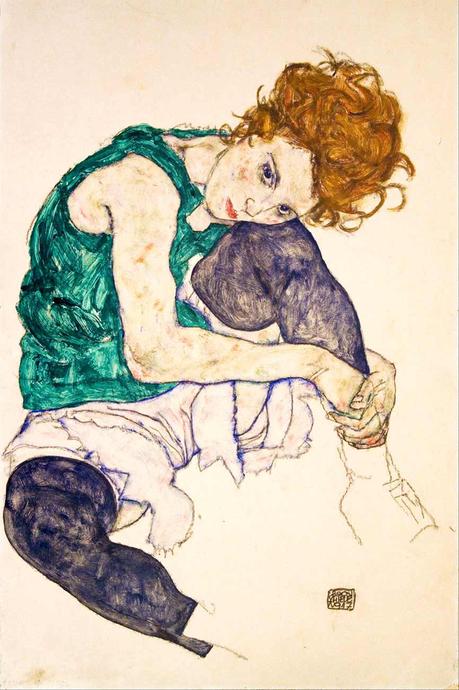 Egon Schiele, Seated Woman with Bent Knee, 1917. Narodni Gallery, Prague
Vienna is this year commemorating the centenary of the deaths of Gustav Klimt, Egon Schiele, Otto Wagner and Koloman Moser. The celebrations kick off with a Schiele retrospective at the Leopold Museum: oils, watercolours, drawings and gouaches alongside photographs and poems. In all, over 200 breathtaking works of art divided up by theme.
Egon Schiele died at the age of 28. The Leopold Museum in Vienna, which houses the largest collection of his work in the world, is now honouring the 100th anniversay of his death with an unforgettable exhibition. In one glass display case, there is a photograph of the artist, lying on his deathbed in a white shirt, his left arm bent lazily to support his head. He would look every bit the young man snoozing in the sun were it not for the wild flowers scattered over his body. Just a few hours earlier, Schiele had finished a sketch of his wife as he watched her from this bed. Edith, pregnant with their child, has her heavy head resting on a pillow, her eyelids drooping. None of them would live. Edith was to die of Spanish flu, whilst being painted by her husband, on the 18th of October 1918. Schiele, who had also already contracted the disease, would die three days later.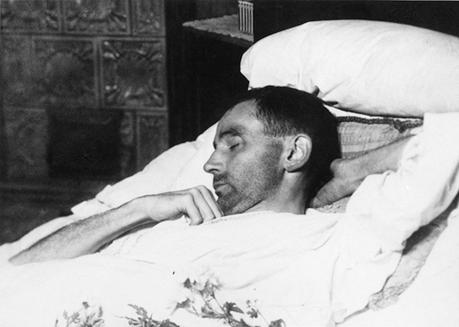 Marta Fein, Egon Schiele's Deathbed, 1918. Leopold Museum, Vienna
As a child, Schiele (born 1890) started out drawing the trains he watched in Tulln, a small city on the Danube, where his father was station master. He entered the Vienna Academy of Fine Arts at 16 and from then on, he remained inseparably tied to Austria's capital.  Between 1898 and 1918, Vienna was both the finale and the prelude to many things. During the second half of the 19th century, this opulent hub of the Austro-Hungarian Empire saw the building of the Ring Road palaces while life pulsed and revolved around the operas and infectious waltzes of Johann Strauss II. At cafe tables all over the city, people read and wrote about themselves, much like characters out of a Joseph Roth novel, in the twilight of their empire. And still, slowly, Vienna was declining and falling all around them.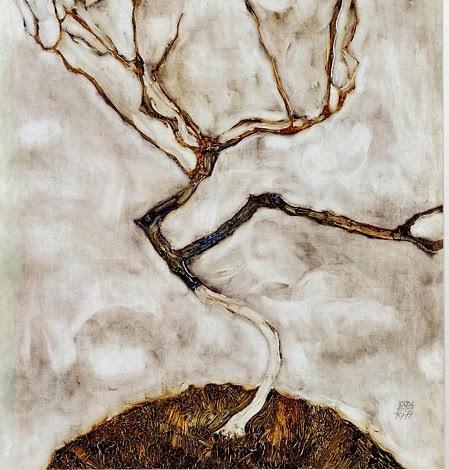 Egon Schiele, Small Tree In Autumn, 1911. Leopold Museum, Vienna

Sex and death  
It was against this backdrop of an empire on the verge of collapse that the precursor to a new century was ushered in.  It entailed an explosive surge in intellectual pursuit and artistic creativity throughout all  fields.  See the architecture of Otto Wagner, Josef Hoffmann and Adolf Loos. Hear Mahler's symphonies seemingly marking out the rhythm of a different spiritual beat. It was the time of writers like Kraus, Trakl and Schönberg and of philosophers like Wittgenstein. As regards painting, Gustav Klimt, the first president of the Secession movement, had started out as a conventional history painter but was now on the lookout for new horizons. Oskar Kokoschka and Egon Schiele were to represent the second generation of this artistic renovation and become the exponents of Austrian Expressionism.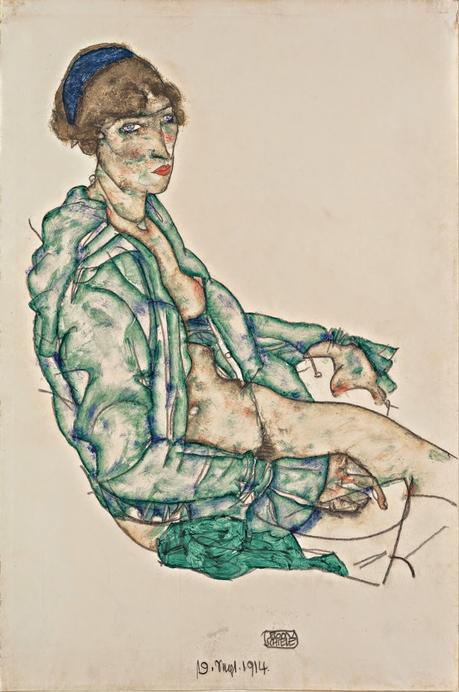 Egon Schiele, Sitting Semi Nude With Blue Hairband, 1914. Leopold Museum, Vienna
The decadence of 1900's Vienna was an emotive catalyst that veered between two obsessions: sex and death. Old Austria was not just a void but a constancy that dissimulated the void. Nihilism made way for a new state of mind and a new bravado. Sigmund Freud discovered that pain created specific problems and conflicts that would not resolve themselves. He wrote The Interpretation Of Dreams and Studies On Hysteria which Schiele became obsessed with. Exploration of the "I" and sexual identity were all that interested him and this spilled over onto his canvasses.
Between 1910 and 1918, Schiele addressed various psychological topics. He left traditional portraiture behind, having pushed it to its absolute limits and, as Richard Avedon said, " he broke the mould and turned up the volume to scream pitch". Schiele's scream came from inside haggard, twisted, satanic bodies that terrified the society of his day. He was often his own model, gesticulating, mouthing words, his hair bristling and a menacing look in his eye, painting hands sharpened like spiders and which rarely depicted a thumb. He cut off his compositions to look almost mutilated, pushing the bodies of his subjects right into the corners of the canvas. His approach was radiacally "flat", like American art of the 1940's. Backgrounds didn't exist and bodies were suspended in the void, alone. Even the paper he used, from 1910 onwards, had something of the past-its-sell-by-date about it, a high concentration of lignin giving it a particular pale brown quality that could not withstand exposure to light. He sometimes outlined them with a white border, as if they had an aura around them. For Schiele, bodies emanated light: "I draw the light that comes from bodies."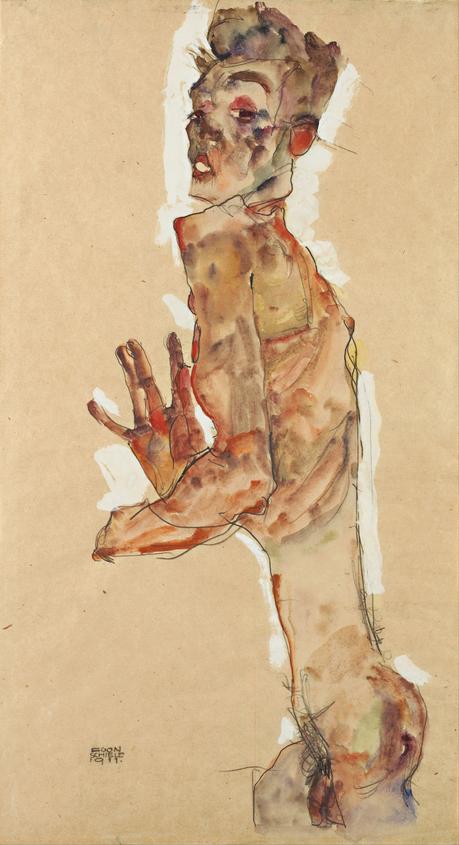 Egon Schiele, Self-portrait With Splayed Fingers, 1911. Leopold Museum, Vienna
Egon Schiele was all but forgotten during the 1930's but not so much so that the Nazi regime would neglect to include him on their list of degenerate artists. He was, however, rediscovered after WWII as a fundamental figure in modern art. His mutant, narcissistic persona would go on to attract other like-minded egos while later contemporary personalities such as James Dean and David Bowie would fall under his spell.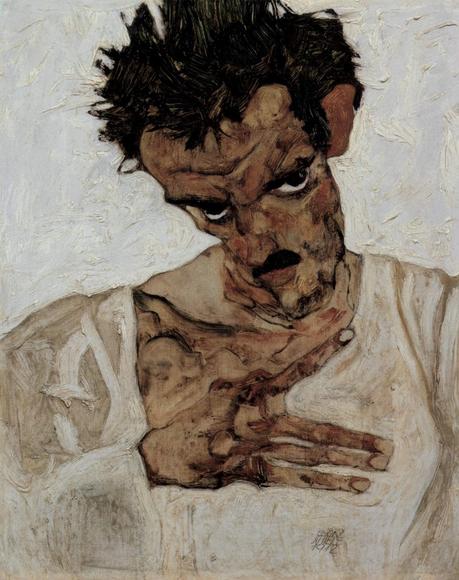 Egon Schiele, Self-portrait, 1912. Leopold Museum, Vienna
In the vast majority of his over 2000 drawings and 300 paintings, Schiele transforms the body - particularly the female one - into a chilling merchandise of desire. Skirts wide open, exposed genitals, prostitutes, his 14 year old sister, lesbian couples, priests, nuns, postures and bodies as if from an extermination camp. None of them has a real face. They are, rather, stunned masks with a look of the lost about them.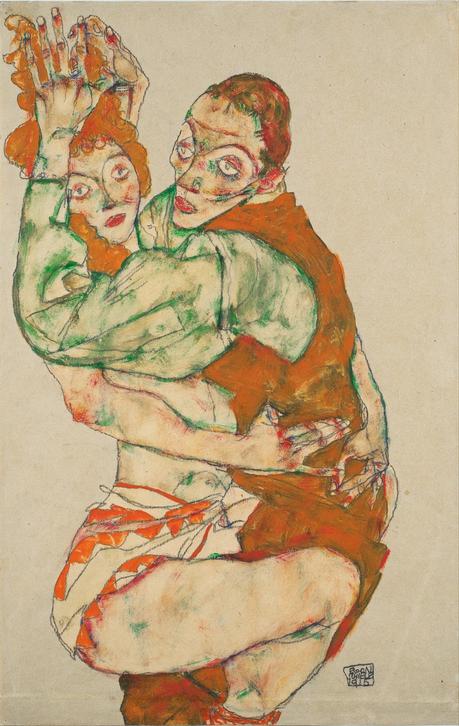 Egon Schiele, Lovemaking, 1915. Leopold Museum, Vienna
The aesthetics of the grotesque
One might say that Schiele was a master of the aesthetics of the grotesque. Up until then, in works such as Courbet's The Origin Of The World (1866) or Japanese prints, sex had never been treated in such a sordid manner. Why then do Schiele's paintings move us with their beauty? Why do his stray faces, enraptured gestures and anxious hands seem, at times, to possess the serenity of a Russian ballerina frozen mid-performance?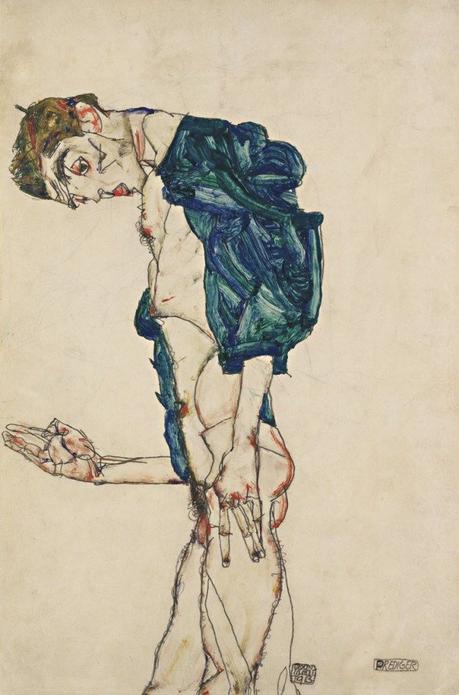 Egon Schiele, Preacher (Nude With Teal Shirt), 1913. Leopold Museum, Vienna.
The answer lies, arguably, in the virtuosity of Schiele's technique. Few artists have managed to convey so much with just one stroke, or even at times, a scribbled line. They ranged from sharp to caressing and from tense to delicate, whether hastily sketched or profoundly deliberate, broken or fluid. But above all, Schiele was prodigious in his use of colours, wholly independent of Nature's own. He used greens and purples, lilac, mauve and reds for human skin. His bodies looked ill but the colourways were sublime.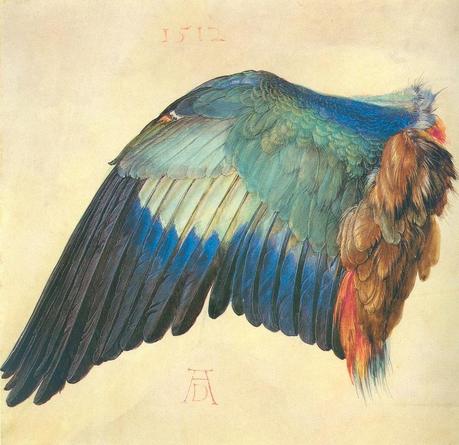 Albrecht Durer, Wing Of A European Roller, 1512.  Albertina Museum, Vienna.
A short distance away from this exhibition in the Museums District is the Hofburg Palace with its still snow-covered gardens, Habsburg library and imperial steel filigree glasshouse and so we arrive at the Albertina Museum. In the rooms containing this collection, Albrecht Durer's watercolours rub shoulders on the walls with those of Schiele. 400 years may separate them but, regardless, they are both stitched from the same cloth of infinite blues, oranges or greens and the same mastery of line that edges each feather on the wing of Durer's birds or the body of Schiele's figures. In these days of strange and seemingly random censorship when photographs of prisoners are taken down at a Madrid art fair or posters for Schiele exhibitions are banned for obscenity in London, Cologne and Hamburg, it's well worth coming to Vienna. Sometimes, it takes raw, naked beauty to make sense of things. As Schiele himself wrote at the bottom of one of his watercolours, "I don't think there's such a thing as modern art. It's just art and it's eternal."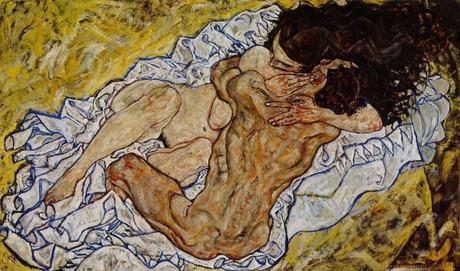 Egon Schiele, The Embrace (Lovers II), 1917. Belvedere Gallery, Vienna
EGON SCHIELE ~ The Jubilee Show
Leopold Museum 
Museumsplatz 1, Vienna
Curator: Diethard Leopold
Until 4 November 2018
                                      (Translated from the Spanish by Shauna Devlin)
- Egon Schiele, beauty and the chasm between -                                   - Alejandra de Argos -