For the 3rd day of
BM# 23
under "Eggless Chocolate Cupcakes & Muffins", I made Zucchini chocolate cupcakes with a fudge chocolate frosting. Even though these cupcakes are not technically considered "healthy", they sure pack a healthy amount of shredded zucchini. By substituting the white flour with whole wheat flour and reducing the sugar a little bit, these cupcakes can definitely make a healthy and delicious breakfast food. Since it is the holiday season, I didn't make any healthy substitutions.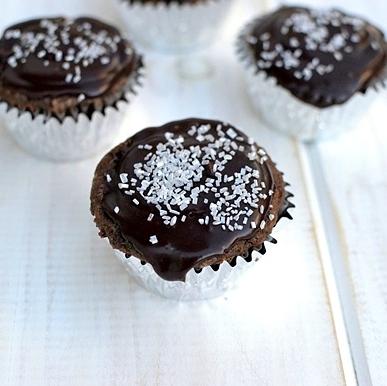 Ingredients
: All purpose flour - 1¼cups
Baking Powder - ¾tsp
Baking Soda - ½tsp
Salt - ¼tsp
Unsweetened Cocoa Powder - 2tbsp (I use Hershey's cocoa)
Unsalted Butter - ¼cup (½ of a stick)
Oil - 3tbsp
Sugar - 1 cup
Sour Cream - 6tbsp (substitute Yogurt)
Milk - 6tbsp (any milk will work here)
Vanilla - 1tsp
Zucchini - 1 cup, finely shredded (from 1 small zucchini)
Semisweet chocolate chips - ¼cup (I used white chocolate)
Chocolate Fudge Frosting - Recipe at the bottom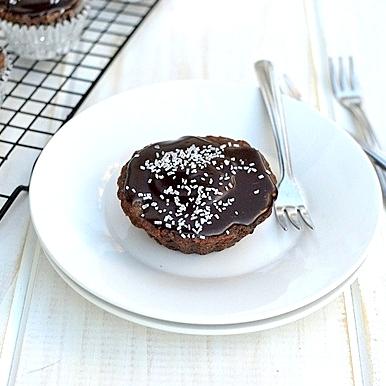 Method
:
Preheat oven to 350°F. Line cupcake pan with paper liners.
Sift flour, baking powder, baking soda, salt and cocoa in a small mixing bowl.
In a large mixing bowl, cream butter, oil and sugar until light and fluffy. This just means to vigorously mix the mixture until it becomes light in color and the sugar is completely dissolved. A good spatula or a wooden spoon should do the trick.
Add the sour cream and vanilla. Mix well until combined.
Next add half of the flour mixture, mix well and then add half of the milk. Mix well and repeat with rest of the flour and milk.
Gently stir in the shredded zucchini and chocolate chips.
Fill the cupcake liners 3/4ths full with the batter.
Bake in the preheated oven for 22-25 minutes or until a toothpick inserted in the center comes out clean.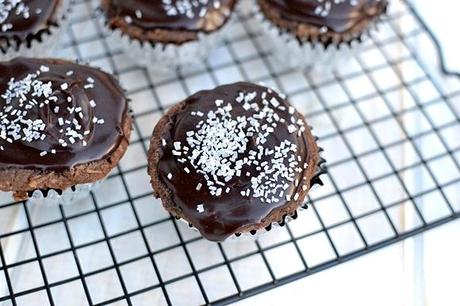 Chocolate Fudge Frosting
:
Ingredients
:
Unsalted Butter - 3tbsp
Unsweetened Cocoa powder - 2tbsp
Confectioners sugar - ½cup
Heavy Cream - 4tbsp or as needed (Milk can be used too)
Pure Vanilla extract - ½tsp
Method
:
Melt butter in a small sauce pan. Remove from heat and add the cocoa; mix well and set aside to cool for 5-10 minutes.
Whisk in 2 tbsp of confectioners sugar followed with the addition of 1tbsp of cream. Alternately add sugar and cream and beat the mixture until desired thickness is achieved.
Use a spoon to pour the frosting over the cupcakes. Frosting hardens as it cools. I sprinkled some sparkling sugar on top, but you can sift some powdered sugar or sprinkles on top. Enjoy!!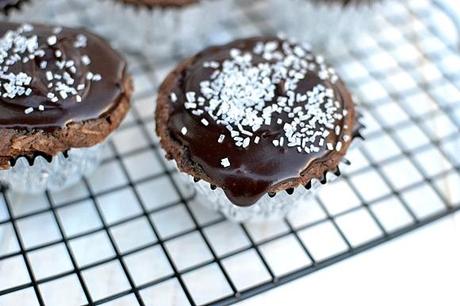 Lets check out what my fellow marathoners have cooked up for
BM#23
.