Blogging Marathon# 27: Week 1/ Day 8
Theme: Occasions/  Birthday
Dish: Pineapple Cool Cake
For the last day under "occasions" theme, I made this simple Pineapple cool cake. Cool cakes are basically moist cakes that are chilled and are very common in India. I made this cake for my daughter's 7th month birthday. Time seems to fly by and before I know it will be time to plan her 1 year birthday. But thankfully my blogging buddies have posted everything one needs to have a party. So don't forget to check them out here for tons of party ideas and delicious recipes.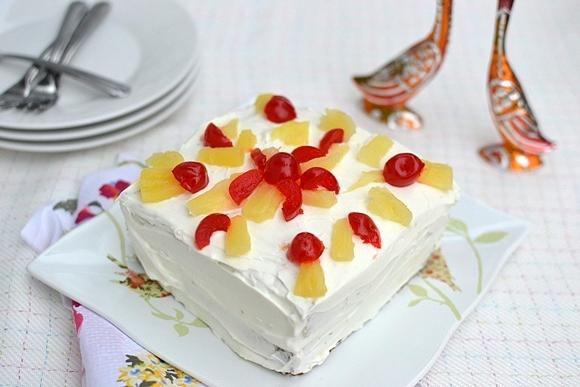 Cool cake is something I wanted to bake for quite some time now and finally got to try it now. I used the eggless pineapple cream cake
recipe
from Divine taste.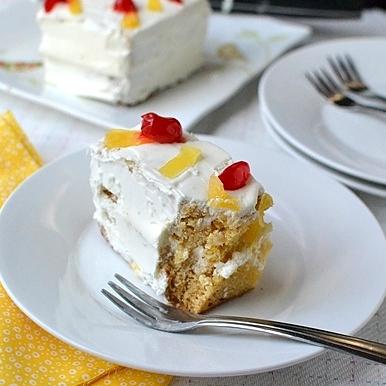 Note
: Original recipe uses a 8" square or 9" round  cake pans. I used 5" square and a 6" round cake pans. I used half a cup of wholewheat pastry flour to sneak in some fiber.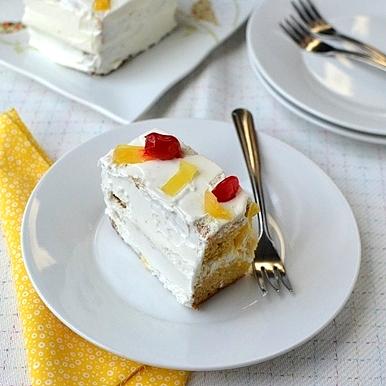 Ingredients
:
For the Cake
: All purpose flour - 1¼cup Wholewheat Pastry flour - ½cup Custard powder or Cornstarch - 2tbsp Sugar - 4tbsp Baking Powder - 2tsp Baking Soda - 1tsp Salt - ¼tsp Condensed Milk - 1 14oz. can (reduced fat or fat free will work too) Unsalted Butter - cup/ 1 stick, melted Water/ Milk - cup (I used vanilla soymilk) Vanilla extract - 2tsp
For the Pineapple Cool Cake Part
:
Canned Pineapple chunks in 100% Juice - 1 8.5oz. can
Cream cheese - 4tbsp, at room temperature
Heavy Cream - 1 cup, cold
Confectioners Sugar - ½cup (or more if you like a sweeter frosting)
Vanilla Extract - 1tsp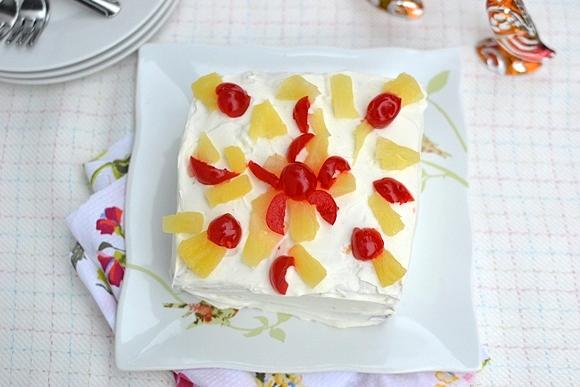 Method
:
Make the Cake: Preheat oven to 325°F. Grease the baking pans and line them with parchment paper (Refer to the note above for the size of baking pans).
In a large bowl, sift flour, custard powder, salt, baking powder, baking soda and sugar. 
Add the melted butter, condensed milk, water/milk and vanilla extract. Mix everything until well combined.
Pour into the prepared pan and bake for 50-60 minutes or until a cake tester inserted into the middle of the cake comes out clean. 
Let the cake cool in the pan for 5 minutes. Remove from the pan and let cool completely on a wire rack.
For the Pineapple Cool Cake part: Drain the pineapple chunks and reserve the juice.
Beat cream cheese with a hand mixer until smooth. Add heavy cream, vanilla extract and confectioners sugar and beat until soft peaks form.
To assemble: Using a sharp serrated knife, slice the cake in half horizontally. 
Place the bottom half of the cake on a serving plate lined with parchment paper. Liberally sprinkle the cake with reserved pineapple juice. Add a dollop of the whipped icing and using a offset spatula or a spreading knife, spread it evenly over the cake. Then sprinkle the pineapple chunks evenly over the cake. 
Carefully place the other half of the cake on top. Sprinkle this layer too with pineapple juice and pineapple chunks. Frost the entire cake with the rest of the icing. Use your creativity to decorate the cake, I used some of the pineapple chunks and cherries to decorate. Refrigerate until ready to cut and serve.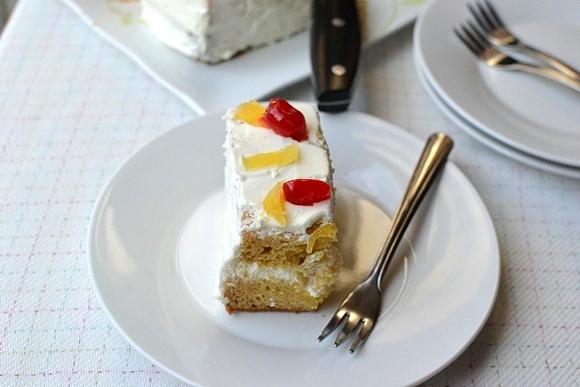 Lets check out what my fellow marathoners have cooked today for
BM# 27
.