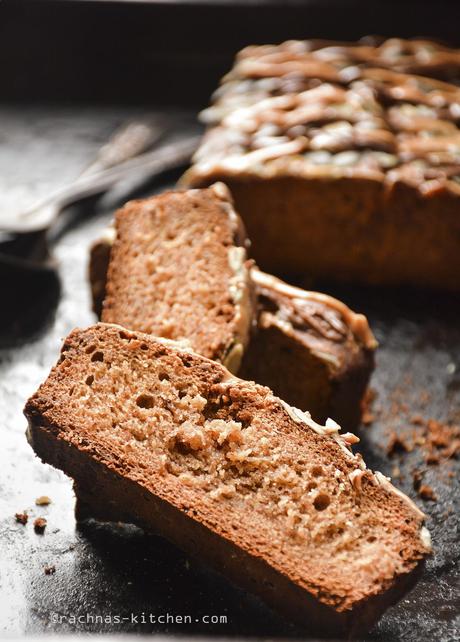 These days I feel I am becoming obsessed with baking with whole wheat flour. Honestly, these whole wheat flour bakes are turning out really good. This time I have tried the very famous bread that every one is talking about, banana bread. I tried it twice to get it perfect.
I have made this banana bread without eggs, no butter and with whole wheat. So much goodness in one. Isn't it?
I have also used brown sugar which you can replace it with castor sugar or honey if you prefer. Egg is one of the necessary ingredients to make any bread recipe so to replace egg in this recipe I have used greek yogurt and of course banana.
This eggless banana bread is absolutely delish and a healthy bread to accompany with a cup of tea.
Some questions related to whole wheat eggless banana bread recipe.
Question no. 1 - Why my whole wheat banana bread becomes hard after baking?
Answer - It maybe because of one of the most common mistakes in baking whole wheat bread which is not using enough water. Its just because whole grains absorb more liquid than the white flour.
Question no. 2 - Why my whole wheat eggless banana bread becomes chewy after cooling down?
Answer - Maybe because you did not use enough oil in your recipe. Just try to increase oil. Another reason can be that you have not sifted the flour. I always sift my dry ingredients no less than three times. It makes my cakes and breads light and fluffy.
Ingredients
*measurement for cup used, 1 cup = 250 ml
1 cup whole wheat flour
1 tablespoon corn starch
1/4 teaspoon baking soda
1/2 teaspoon baking powder
1/4 teaspoon salt
1/2 teaspoon cinnamon
1 cup extremely ripe bananas
1/2 cup greek yogurt
1 teaspoon vanilla extract
4 tablespoons olive oil
1 cup brown sugar, lightly packed
1/4 cup hot water
1/4 teaspoon of lemon juice
1 teaspoon brown sugar for sprinkling on top
1 teaspoon pumpkin seeds for sprinkling on top
To decorate
1 tablespoon Nutella
1 tablespoon peanut butter
Let's prepare eggless banana bread step by step
Step 1. Preheat the oven to 350 degrees F. At the same time Grease and flour a bread pan and set aside.
Step 2. Take 1 cup of whole wheat flour and replace 1 tablespoon of flour with cornstarch. This will be your cake flour. Adding cornstarch makes bread soft and fluffy.
Step 3. Sift the dry ingredients flour (step2), baking soda, baking powder, salt and cinnamon in large mixing bowl.
Step 4. In another bowl mash banana, I used a fork to mash it. Add vanilla essence, Greek yogurt, olive oil, brown sugar and hot water. Stir it with whisk until all mix well.
You can also use coconut oil in place of olive oil. It tastes good in breads.
Step 5. Add dry ingredient mixture (step3) to wet ingredients (step4) and mix. Be sure that you don't overmix the batter because it may result in dense texture. Add lemon juice at last and just mix it twice.
Step 6.Pour the mixture into the prepared bread pan. Spread it in pan and sprinkle 1 teaspoon of brown sugar on top for a nice brown crust. Sprinkle some pumpkin seeds.
Step 7. Bake for 70 minutes or until a tooth pick when inserted into the center comes out clean. If bread is baked, it will starts to leave the edges.
Step 8. When bread is halfway done, cover the top surface of bread by placing a silver foil on it else top of bread may become too hard.
Step 9. Bread is done. Decorate it with peanut butter and Nutella if you want or you can slice it up as it is. Store it in airtight container in refrigerator. It is good to use by 4 days of preparation. Enjoy heavenly delicious whole wheat eggless banana bread with a cup of tea.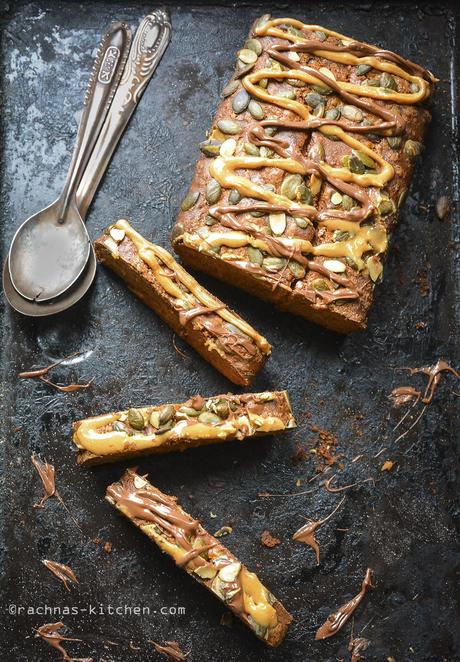 Recipe card - Eggless banana bread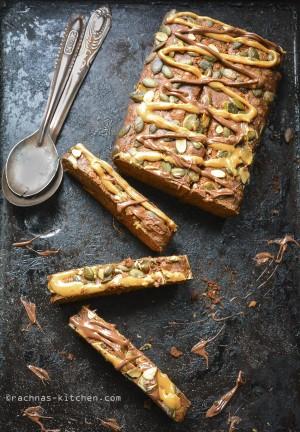 You may like other popular eggless recipes on my blog. Few of them are listed below.
1. Eggless chocolate brownie recipe