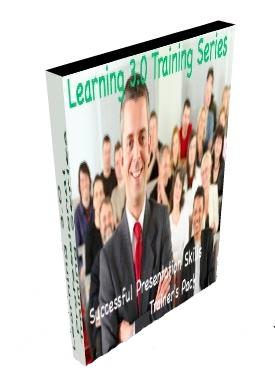 Duration – 2 days
Course objectives: Participants will be able to structure and deliver an effective presentation with confidence
Programme :
Defining the objectives and the content
Structuring the presentation
Designing and using slides with impact
Presenting information clearly
Persuading / informing / federating
Retaining audience attention
Positive body language and gestures
Expressing yourself clearly to an audience
Managing questions effectively
Related skills :
Adapting materials to different levels of understanding
Presenting in a meeting setting, to small or large groups
Use of media and structure
Planning a Presentation for maximum impact
Saying you don't know without losing face
Getting ideas across in a stimulating way
Using voice control (tone, pauses, volume, intonation)
Taking into account audience background and culture
Prerequisites :A good working knowledge of English.
What you receive:
Complete package for running 2 day "Effective Presentation Skills" seminars

100+ slide powerpoint training slides

Video clips

Printable trainees handbooks

Full trainer handbook with step-by-step instructions for running the course

Activities and ice-breakers

Self-evaluation sheets for trainees

Video guide

Training activity handouts

Pricing policy for your training seminars

Printable trainees feedback for trainer sheets

Marketing materials for your courses

Licence to use the package for one trainer

E-mail support to help you run great seminars

All of this for the one-time price of 850€ – less than the price of 1 day of the seminar!
© 2012, ©Active Consultants 2011. All rights reserved. Copying in part or in entirety only permitted by written consent

Copyright protected by Digiprove © 2011
All Rights Reserved
Original content here is published under these license terms: X 
License Type:Commercial
License Summary:You may read the original content in the context in which it is published (at this web address). You may make other uses of the content only with the written permission of the author on payment of a fee.
Republished by Blog Post Promoter