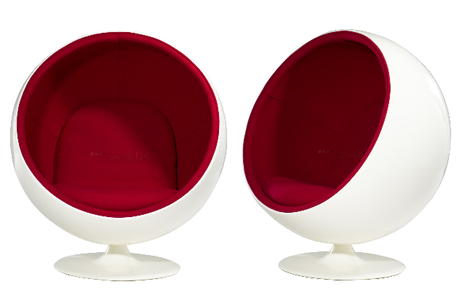 There are few pieces of designer furniture more symbolic of the 60's and eye-catching as the fantastically conceived and crafted Ball Chair from Eero Aarnio. This exceptional piece, first released in 1966 and has seen its popularity soar ever since. It is famed for its comfort and was once, somewhat impressively, described by The New York Times as "the most comfortable chair" which, to be fair, is a pretty good testimonial.
Eero Aarnio was born in Finland in 1932 and went on to become one of the most defining and inspirational furniture designers of his generation and his Ball Chair was undoubtedly the cornerstone of his collection of designer furniture. It is the ultimate piece of statement furniture for any contemporary home in 2013 and, if you've got a man cave that you're looking to kit out, the Ball Chair should definitely be your first port of call.
Stylish, comfortable and effortlessly cool, this is unequivocally a piece of designer furniture that will define a room and it is easy to see why the Eero Aarnio Ball Chair has remained ceaselessly popular since its release over 50 years ago – testament to the quality of the design.
Check it out
Leo is a luxury watch blogger who, despite being unable to afford any of the pieces that he writes about, has a love of the world's best Swiss watchmakers such as Breitling, IWC, Baume & Mercier and TAG Heuer. He writes for a number of men's lifestyle and luxury living sites and magazines.