This past Saturday I attended #EDnado at Middletown High School South in Central New Jersey. Here is the description of the event from their website:
"Ednado is about promoting innovation and inspiring educators to try new things in their classrooms.  At Ednado, educators from Monmouth County and beyond will be able to learn and share what WORKS in their schools." A unique characteristic of #EDnado was the inclusion of parents and students.
This was a wonderful event! I was not intending to go until a friend, @nataliefranzi, mentioned it to me and "volunteered" me to be a part of an administrators panel discussion on the topic of innovation.  I am so glad that I went because I am a huge proponent of #edcamp, so much so that I have been on the organizing team for #edcampNJ for the past 4 years. This was a chance to be a part of a Saturday professional development opportunity that was different than the traditional unconference model.
One thing is very clear to me... Educators who choose to use a Saturday to participate in professional development without pay or compensation are some of the finest educators out there. It is so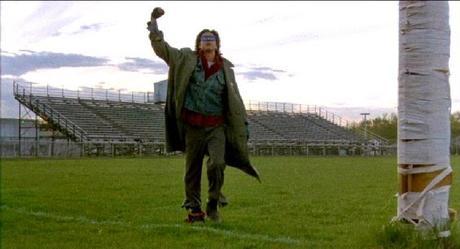 Universal Pictures (1985)
interesting to me to think that when I was in High School, it was quite a stigma to get assigned to Saturday School detention and something to be avoided at all cost.  However, now I eagerly seek out school on Saturday!  I feel like we've developed a new
Breakfast Club
.  Just like those characters (a brain, an athlete, a basket case, a princess, and a criminal) we are all different and bring our varied experiences and points of view to these days of learning. Additionally, we too, are misunderstood. Some in our schools and districts can't fathom "giving up" a Saturday to go to a conference; but we know better. We've found something that is too valuable to pass up. The connections that we make on these days can't be quantified. Whether it is connecting with people from Twitter, Google+, etc. who are in our PLNs or meeting colleagues for the first time, we share a common desire to continually improve our craft.
#EDnado is another fine example of one of these opportunities for connections. I connected with many familiar faces on Saturday and met some new ones. I learned about Classroom Blogging for beginners from Stephany Hesslein (@MissHesslein) and Marla Weinstein (@Miss_Weinstein). Their excitement and enthusiasm regarding blogging, and something I had never heard of called "quadblogging," was contagious!  Their presentation can be found here.  This was a wonderful way to start the day.  There were participants in the room who had classroom blogs and those who had never blogged before. It was clear at the end when the presenters took a pulse of the room that most were eager and ready to dip their toes in the blogging waters.
After this session, I was part of an administrator group that discussed innovation in education. This session was led by Middletown Superintendent, Dr. William George (@DrGeorge_MTPS). Once again, this was a room filled with positive people who wanted to learn from one another about how to move schools and districts forward. I encourage everyone to take a look at the crowd-source notes document from this session. There are great resources and people listed there.  If you are in a district that is resistant to innovation, I encourage you to contact any of the people in this session for advice. 
#EDnado offered two lunch sessions so that people could choose to eat when they wished and go to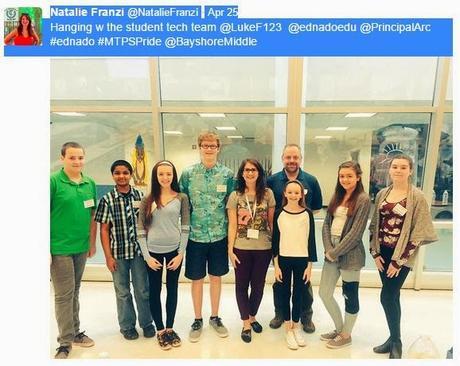 sessions when they wished. In fact, the lunch even offered some choices for learning. Of course, there was the opportunity to connect and talk with other educators. There was also a "Student Tech Team" set up at a table in the cafeteria.  Each student had a sign by their laptop indicating a tech tool that they could teach.  All you had to do was sit down and the students were eager to demonstrate and explain! This was a fantastic way to get students involved in the event. There was also a makerspace set up in the cafeteria that offered opportunities for educators to engage with the concept, see a 3d printer at work, and discuss ways of setting up such a space in schools/classrooms back home.
After a learning lunch, I attended a session run by Dan Alston (@dalston411) and Natalie Franzi (@NatalieFranzi) on Google Extensions for Efficient Administrators. You must look at the notes document from this session. There are so many extensions for Google that I never knew existed.  I am excited to try them out. Don't be fooled by the title; you do not need to be an administrator to find helpful and time-saving tools on the list.
I culminated my day of learning in a session conducted by Melissa Luell (@bayview_luell) entitled "The Power of Podcasts." This is an area that I have often thought about, but never actually tried. After this session, it is very possible that you may find a podcast or two on The PrincipalArc in the future.  You can check out the notes here. 
I cannot stress enough how important these days of learning are for me. They remind me that my school, my district, my county, and even my state are artificial boundaries that don't really exist when it comes to personal learning. Connecting with educators is universal and if you have not done so, do it soon! Here is a link to the schedule for the day. If you see a session title that you like, click on it to see the notes from that session.
"So, you may see us in the simplest terms, in the most convenient definitions. But what we found out is that each one of us is a principal...and a third grade teacher...and a superintendent...and a math teacher...and a parent...and a student.  Does that answer your question?"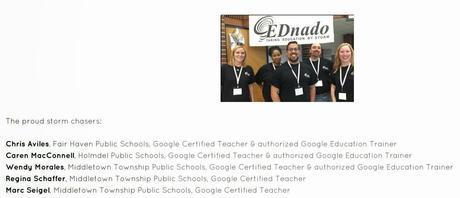 Thank you to the #EDnado Organizing Team!