It's nearing the end of April and all of the network TV shows that air from September to May are beginning to wrap up one by one for the season and in a few cases for good. Summer is drawing tantalizingly closer and with it the promise of True Blood season 5 on the horizon.
But for the moment, news on the show, cast, and crew has slowed down considerably. The search email alerts in our inboxes allude to articles or events we've already covered. Every day my staff asks if I have anything to give them and the answer is usually no. We are on the precipice of True Blood media season. It may seem quiet now but soon there will be more photos, interviews, articles, and videos than we can ask for. And in that onslaught of content we will all begin to get a sense of what the season will really be like.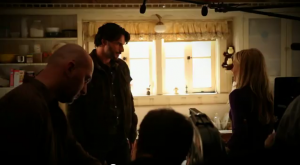 We have however received glimpses into season 5 since late March first with the Echoes of the Past trailers, then the New Season teaser, and most recently the Waiting Sucks clips. It has become clear that things are not looking good in Bon Temps, although most of the videos we've seen feature seemingly dramatic moments that are probably more for the sake of excitement than anything else.
In watching the latest Waiting Sucks clips, I've been struck by an ominous feeling. Unlike past seasons where we know who the enemy of the season will be even before it airs, I don't know what this season will entail. Yes we have certain clues like the appearance of Roman, head of the Authority (Christopher Meloni) and an ancient vampire named Salome (Valentina Cervi). And we've known since last year that Russell Edgington (Denis O'Hare) is now running around because someone freed him. But what about that voice that narrated the new season trailer?
"…For as the beetle nourishes the lark so shall human nourish vampire."
Ominous right? The Hollywood Reporter states that the narrator is an assumed authority member. If that is true then something tells me that the mysterious he has plans other than mainstreaming into human society. It also sets the stage for why Nora (Lucy Griffiths) may come to town in addition to helping Eric (Alexander Skarsgård) and Bill (Stephen Moyer) who have killed Nan Flanagan (Jessica Tuck).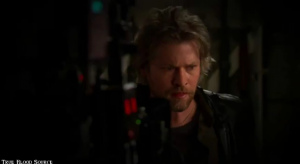 The vampires aren't the only group that has things to worry about this season. The last two Waiting Sucks teasers show that the humans and shape shifters of the True Blood world have been having a difficult time.
Terry (Todd Lowe) and Patrick (Scott Foley) were being held at gun point in a scene from episode 5.05 by someone they worked with in the service. And this past Sunday, Sam (Sam Trammell) comforted a very upset Luna (Janina Gavankar) over what sounds like several deaths. As to who they were and how they died, we don't know.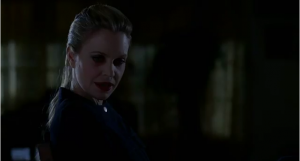 As for the scene between Sookie (Anna Paquin), Alcide (Joe Manganiello), and Lafayette (Nelsan Ellis), Sookie's refusal to go with Alcide could be just as much about Debbie's (Britt Morgan) death as it could be about Tara's (Rutina Wesley) fate, which is one of the major things HBO hasn't hinted at in the slightest as of yet. But I will point out that when we saw Pam (Kristin Bauer van Straten) in the season 5 trailer, she was at Sookie's house. And as of the synopsis for Turn, Turn, Turn, she is trying to make amends for what happened at the end of last season.
So what do you think about the unknowns of season 5 Truebies? Are you excited or perhaps a little more apprehensive about it? Sound off in the comments below!
Image Credits: HBO, Inc.