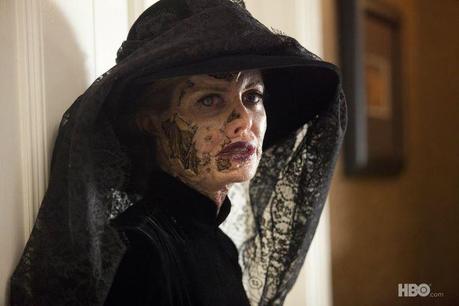 The town of Bon Temps, Louisiana; full of vampires, witches, werewolves, and fairies is one that people could imagine existing thanks to the way Southern Vampire Mysteries author Charlaine Harris has grounded it in the real world.  But bringing such a world to life on screen could have been challenging had it not been for Alan Ball and a network like HBO.
True Blood is unique in that it has removed itself from the world in which vampires are secret, mythical creatures. In the world of this show, a sort of alternative blood has been created, which allows vampires to survive without harming humans, and thus to coexist with normal people out in the open. So, the conflict between vampires and other people becomes one that is based on discrimination more than on fear or misunderstanding.
In other words it's not your typical network show, which is why networks such as HBO, Showtime, Starz etc… are so important. They provide the framework for programming that is unique and original to have a voice in today's society without the restraints imposed by mainstream networks. Satellite television programming providers like Direct TV include a number of shows that, once you've seen them, are hard to live without. Specifically, some Directv packages give you access to premium networks such as HBO and Starz, which in turn expose you to some of television's best shows, True Blood being one of them.
Thanks to providers like Directv, fans of True Blood can see television the way it was meant to be seen. Sex and nudity are two main things the show is known for. They are also reflections of what happens in real life. In the real world, sex and nudity are things that actually happen and they are not censored. However, on mainstream network television they are. So therefore television shows in the mainstream must constantly work around issues of sexuality, nudity, and language and in so doing have to sacrifice quality storytelling to meet certain requirements.
That's why premium networks have such an advantage over everyone else, unlike most networks, HBO caters to subscribers who crave good television and so they don't have to crank out shows that must have mass appeal. Instead, they develop shows that are genuinely interesting and well produced that will appeal to their subscribers.
It should be no surprise then why True Blood has such a devoted and passionate base of fans from which sites like True Blood Fan Source are created. The fans love the show because the cast, crew and creators love making it and so does HBO. It's the HBO difference.
Satellite TV Family.com is an authorized dealer for Directv. To learn more about how to receive Directv service and premium channels such as HBO in your area, please visit their website for more information.