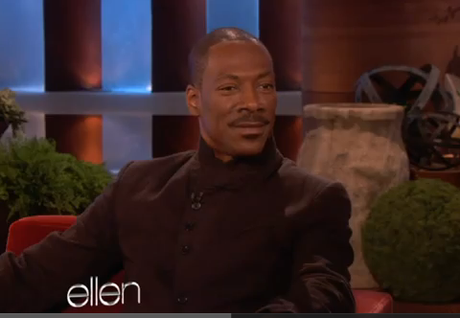 Eddie Murphy on the Ellen show, talking about hosting the Oscars. Shame it won't happen. http://www.youtube.com/watch?v=ziVOV7_AMC8
It's all going up the spout at the Oscars. The venerable awards ceremony has suffered a scandal. Eddie Murphy, who was going to be the host of next years' bash, has pulled out, after the Oscars' producer, Brett Ratner, resigned.
Ratner had made many strange comments recently, including speaking on the Howard Stern radio show about his sexual conquests, masturbation, and the size of his testicles. His resignation came after he used an offensive slur to describe gay people whilst at a screening of his new film, Tower Heist, saying "rehearsing is for fags."  Producer Brian Grazer (Apollo 13 and A Beautiful Mind and, er, Tower Heist) has now stepped in to fill Ratner's shoes. Ratner has since apologised for his comments. But who's going to replace Murphy? As yet, nobody knows. Although there is speculation that it might be The Muppets.  Well, at least there's a Facebook page calling for them to do it… Billy Crystal's actually the favorite.
"Being asked to help put on the Oscar show was the proudest moment of my career. But as painful as this may be for me, it would be worse if my association with the show were to be a distraction from the Academy and the high ideals it represents," apologised Brett Ratner, quoted on TMZ.
Oscars on the out? Murphy's resignation is the "least surprising news of the day," said Alex Suskind on Moviefone. The Guardian took the line that Murphy's decision to leave is a bit of a "blow", since the Oscars have been struggling to attract audiences recently. Murphy was meant to be more of a "traditional funnyman" like Bob Hope or Billy Crystal, rather than the "lacklustre James Franco, who hosted last year.
"I'm probably the best in the world at it." Brett Ratner 's comments about oral sex on The Howard Stern show, quoted (amongst many others) on Hollywood Reporter.
Time for the Oscars to take a good long look at themselves. It felt like it was coming to an end anyway, said Steve Pond on The Wrap.  He felt that "the times they were a-changin'", and not in a good way. Three of the people who'd helped to build it up have died or changed roles. It's not just the old guard leaving – who's going to replace them? "And at what cost?" It was silly for the Oscars to climb into bed with someone like Ratner – that's for Victoria's Secret models to do. The Academy needs to face the facts: It's not going to get the ratings it used to by trying to be hipper – and it won't, whatever they do.
Why on earth did Murphy leave? Murphy's been struggling for a while, said MTV news. He did have the ability to cross generation gaps though, so it's a real shame that he's gone. He's "too funny" to forget, a real legend. The opportunity for him to rejuvenate his position at the Oscars has now gone – he could have shown that there was more to him than Norbit. Murphy's leaving does rather beg the question why – it wasn't as if he was chained to Ratner. Perhaps, speculated the site, he holds the same opinions.
This is why. Jen Chaney on Celebritology, her Washington Post blog, explained why. She said that it looked like Eddie Murphy's "comeback" had come a cropper. He'd been ready to "reclaim his rightful place as cinema's comedic master", but Tower Heist was less succesful than Puss in Boots – a spin off of the Shrek franchise, which has dispensed with Murphy's talents. Now he's jumping ship so that he doesn't disagree with Academy writers over what constitutes comedy – and because publicising Heist doesn't look quite so attractive now.
Eddie Murphy talks about hosting the Oscars. Before he pulled out, obviously.