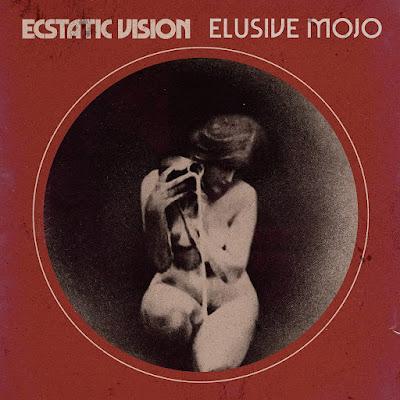 Ecstatic Vision formed in 2013 and have slowly built a reputation as a killer live act. This has never quite been recreated in the studio. Their second album Pure Rock Fury set out their manifesto of the Stooges meets Hawkwind and showed real promise. The following covers e.p. Under the influence was a stopgap filler in the extreme and third album for the masses were blunt and heavy but at times the frantic nature of the songs seen this collapse under its own weight. For the masses, honestly was at times a total mess. Which brings us to album number four.
Elusive Mojo maintains the bluntness but sharpens the focus to create a maelstrom of heaviness and controlled chaos. Staring with a throwaway instrumental March of the Troglodytes The album really begins with the title track that has so much wahwah pedal abuse that even Kirk Hammet might say "Ah here lads calm down". The Stooges/Hawkwind foundation is still here however, the Saxophone which featured sporadically on their albums becomes a lead instrument here and it adds an extra layer to the dense sound. The rhythm section of Michael Field Conner (Bass) and Ricky Culp (Drums) lays down a vortex of repetition to allow Doug Sabolik (Guitar/Vocals) Kevin Nickles (saxophone, Organ) to stretch out and trade solos.
Sabolik's pint of gravel for breakfast vocals may not be to everyone's taste but really work in the context of this album. It would be fair to say the vocals and lyrics are the least important part of this album, coming second to the overall Retro vibe of the songs. Times Up continues the pattern. Driving along at a breakneck speed and guitar and saxophone solos clashing and combining to great effect.
Vintage organ features on The Kenzo Shake as if Ray Manzarek dropped by for a jam. The album continues in this fashion until the Comedown which by the bands standards is restrained, It takes the foot of the pedal momentary before stoving your head in with final track Deathwish 1970.
It may be brief clocking in at only 35 minutes but as the lyrics of Times Upstate, "Take it easy and enjoy the ride but you got to go fast there's not enough time". Buckets of solos, Killer Riffs, Krautrock grooves, Heaviness, and most of all super focused song writing and playing the chaos is unbridled but always delivered with laser like precision.
This all makes Elusive Mojo the most misleading title for an album this year.
Their mojo is not only working but functioning on a level that will leave you breathless at its ambition and execution. The promise of Pure Rock Fury is delivered tenfold and then some.