We don't fall for the highly commercialised Valentine's Day trappings anymore. We used too, we used to love it but this was our 17th one together and so no cards, extortionately over priced roses/gifts or super fancy dinners for us.
No, we decided to engage with each other and share the day in the beauty of nature. Holding hands and walking around Tollymore Forest with Maggie was, for us, the greatest way to say I love you.
We took our favorite trail, the red one which allows us to be around trees and the river both, oh the feeling of walking and listening to the rush of the water and the songbirds is heavenly. At the start of the trail to can see some of the remains of the old domain, beautiful walls and bridges, plaster work etc.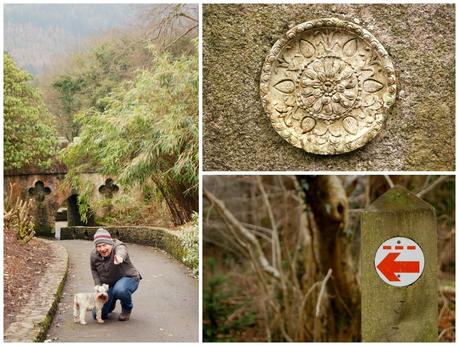 There isn't a great deal of color about in Feburary but it made it extra beautiful when we did come across some berries or the last of the still on tree leaf out of a long period of brown and green.....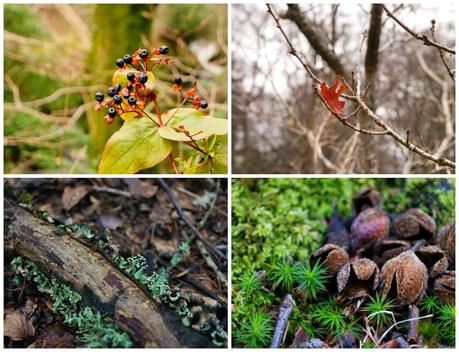 These are one of two sets of stepping stones across the calmer parts of the river. Goodness I remember being so nervous as a child going across these, they are quite wide apart (it was good to hear other children laughing and screaming trying it themselves).
Right by the river there is also an magical building called the Hermitage, it can be walked through on one side but the real joy is seeing it from the other side of the river...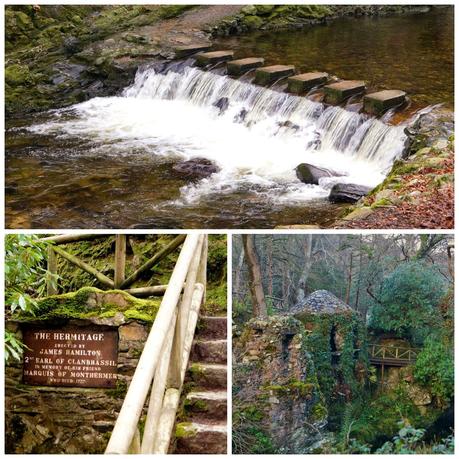 ***

 This is a true treasure for Andrew and myself...We wouldn't dream of doing it now; carving into a poor tree, but 15yrs ago! Andrew posted a sign of our love for all to see on this huge beech tree. We searched for a good while around a large clump of trees, all of which were heavily vandalised by love but it was after only a good walk further that we saw ours, standing alone, slightly raised and not another mark on it. Gosh I wonder at all those declarations and how many ended so happily as ours.

***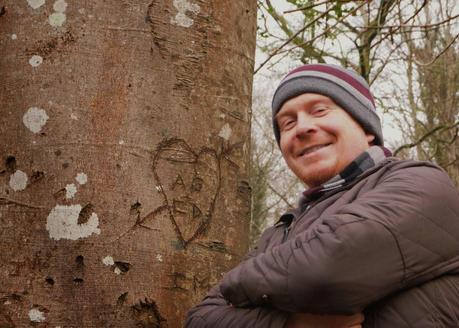 It's tradition whenever we are at any place like this with forest, river and wooden bridge, that we play Poohsticks (you know, from the A.A.Milne 'Winne the Pooh' books). Andrew has this knack for winning and as usual he did so again - look at that winner's smile :)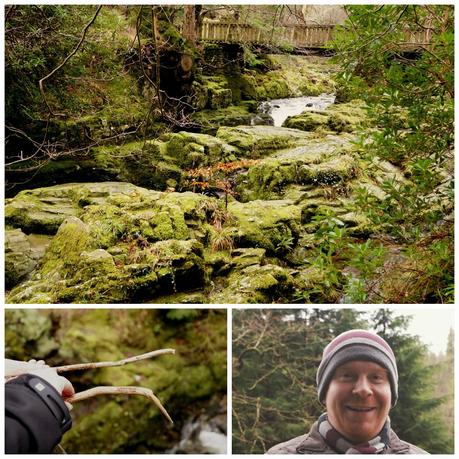 The trail then heads upwards into the hills, the trees so dense in places it's black in amongst them. I love the mixture here of huge pines and deciduous trees with all the bracken and some primroses yet to flourish again. The air up here is cold and catches in your throat but it is oh so clear and all one can hear is the crunch beneath one's feet and the quiet rumbling of the river, now left below. Look hard up in the hills - snow! I know it's not much but that is pretty much an Irish mountain range you're looking at in the distance. lol.



We couldn't have timed our return to the car park any better - just in time for the sunset through the forest and the clouds clearing away for some beautiful blue sky.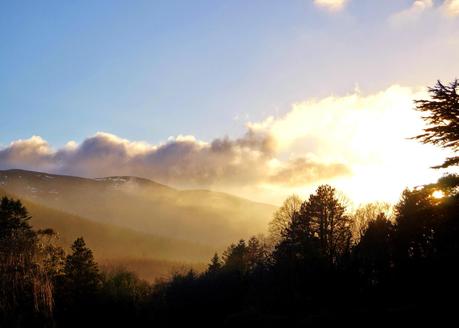 After this walk we were hungry and found a lovely bar/restaurant in Dundrum called The Buck's Head were we did have an impromptu but perfectly delicious Valentine's dinner, only is wasn't a set menu and the prices were fair ;)
Home to bubbles (yay) and a film.
Hugs and love to all
Carrie