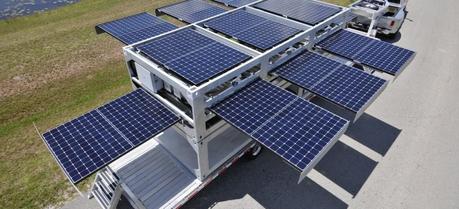 Ecos PowerCube—a mobile, deployable solar power plant. (Credit: Ecosphere Technologies Inc.)
Ecosphere Technologies, a U.S. technology licensing and manufacturing company, has announced the completion of its first Ecos PowerCube—a shipping container that can be transformed into a hybrid solar-wind power plant with onboard batteries.
Ecos PowerCube runs on high power photovoltaic panels that extend from its container combined with an easy to set up wind turbine. Energy is stored in onboard batteries. According to the company's website, Ecos PowerCube is designed to provide self-sustaining energy and clean water to remote, off-grid locations. The device comes in 10′, 20′ and 40′ standard ISO shipping container sizes.
SEE ALSO: BMW Develops Solar Carport Concept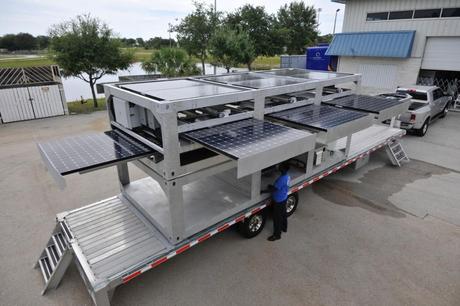 (Credit: Ecosphere Technologies Inc.)
The patented solar panel arrays are mounted on roller assemblies for easy integration and supported by hydraulic actuators that make them simple to properly position.
Dean Becker, Director and Intellectual Property Strategist for Ecosphere Technologies, stated, "This innovative patented solar technology has the potential to be one of the most important solar patented innovations of our generation. The Company is ready to begin immediate demonstrations and looks forward to working with strategic partners across a wide variety of industries and applications globally to monetize this unique asset."
Once it arrives on location, PowerCube can be deployed immediately to generate up to 15KW of electricity. The electricity generated can be used to power various onboard systems, including communication systems, water treatment systems, as well as water distribution systems and more. These systems are capable of providing Internet connectivity, satellite communications, clean water and some of the most important basic necessities of life. Electricity can also be used to power external systems such as hospitals or schools.
Dennis McGuire, Chairman and CEO of Ecosphere Technologies and Inventor of the Ecos PowerCube, said, "Ecosphere has worked diligently to design, engineer and receive patent protection for our Ecos PowerCube. From a technology standpoint, we believe today's announcement that we have completed manufacturing of this highly mobile, renewable power generation system is a significant milestone for the company."