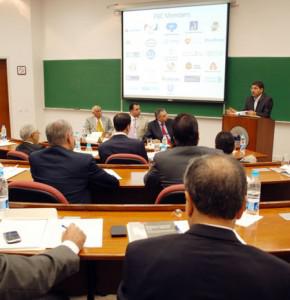 A Pakistan Business Council event. (Photo: Pakistan Business Council)
In Pakistan, private sector participation in the economic reform process is gaining pace.
With CIPE's continued technical and financial assistance, on one hand, business associations are now becoming more vocal through collective reform declarations; on the other hand, business think tanks such as the Pakistan Business Council (PBC) have started pushing for reforms more strategically.
CIPE started working with the PBC in 2009 and provided technical and financial assistance in developing a National Business Agenda (NBA). The process took over 18 months and in November 2010 the PBC launched the National Business Agenda for Pakistan.
With CIPE's technical support, the PBC developed a future strategy for ensuring government engagement in the reform process. Realizing the importance of continued push for economic reforms in the country, the PBC started working with the leading political parties and created awareness about key reforms.
This initiative took a new interesting turn in April, when the PBC gained support from the parliamentarians belonging to Pakistan Peoples Party (PPP), Pakistan Muslim League-Nawaz (PML-N), Pakistan Muslim League-Quaid (PML-Q), Muttahida Qaumi Movement (MQM) and Awami National Party (ANP) endorsed the NBA at a national dialogue on Pakistan's Economic Reforms organized by PBC in Islamabad.
According to reports, it has been agreed that a step-wise process of the national economic agenda will be followed:
Gaining commitment by major political parties to engage in a dialogue for developing consensus on minimum national economic agenda.
Formation of a working group for finalizing the national economic agenda.
Approval by the top leadership of each political party.
With the advocacy process gaining momentum, Asad Umer, Chairman Pakistan Business Council requested political parties to nominate their representatives at the working group. He said that the council intends to implement the plan from the upcoming budget.