As wedding photographers, during the height of the wedding season, it is not uncommon to visit a venue and see confetti from weeks and weeks of joyous celebration mounting high on the steps and blowing around in the wind. As well as being a slightly forlorn sight, it makes me wonder; what happens when the dust settles? When last night's confetti has turned into mulch, what has the impact on the environment been?
I confess that my family isn't the most eco friendly bunch. Despite our close connections to the Toxic Avenger and having the best of intentions, we simply don't ever seem have the time or energy to be as conscientious as we'd like (no excuse…I know!). As much as anyone else, we'd like to be a lot greener than we are at the moment.
Therefore, this article is meant for inspiration rather than being a lecture. I hope these ideas will stimulate your imagination and demonstrate that it is entirely possible to create a beautiful occasion and at the same time be at least conscious of the environmental impact. In any case, I save my lectures for money, politics and religion (if you ever come to dinner I'm sure I can oblige).
So without further ado, here are my top tips for keeping it green and still having an amazing and distinctively Yorkshire wedding.
Your Wedding Dress
Extend Your Wear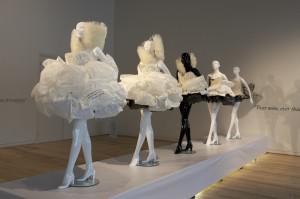 Image via Sheffield Hallam University
One of the easiest ways to up the green factor of your wedding is by choosing an eco-friendly wedding dress. Many designers are now looking into creative ways to make that wedding dress something more than a single use garment.
I recently saw a great article about a wedding dress designed by students in Sheffield Hallam. The fashion and engineering students created a dress that was dissolvable in water and would transform into a further five articles of clothing. Jane Blohm, a lecturer at the university, explains,
"The project is a union between art and technology which explores the possibilities of using alternative materials for our clothing. The wedding gown is perhaps one of the most iconic and symbolic garments in humanity's wardrobe and represents the challenges of 'throwaway fashion'.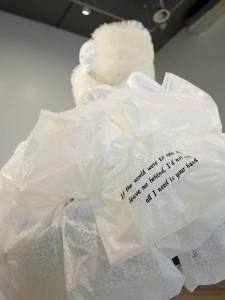 Image via Sheffield Hallam University
"In order to reduce fashion's impact on the environment, the fashion industry must begin to challenge conventional attitudes and practices. The exhibition demonstrates what could be possible when design and scientific innovation combine forces." (Sheffield Hallam Website)
Visit The Sheffield Hallam University website to find out more about their amazing designs!
Not yet ready for a dissolvable wedding dress? Another alternative idea is to have a wedding dress made of organic, fair-trade or natural material. It is important to check that environmentally harmful chemicals haven't been used in the dresses production.
Woolly Thinking Makes Sense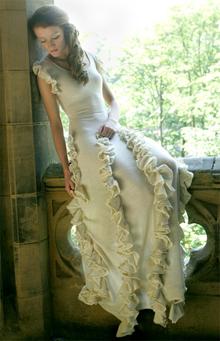 via Makeapiece
Some of the best looking dresses I have discovered during my wedding research are knitted. 'Knitted?' I hear you say. 'Yes!' I exclaim.  I know how odd this sounds but just wait until you've seen the amazingness of these creations before passing judgment.
British wool is a sustainable resource and fully biodegradable at the end of its natural life. The dresses are friendly to the environment and crafted for individuality by a company called Makepiece. Makepiece dresses are knitted at their studio in the Pennine town of Todmorden. They have also recently opened a shop in Hebden Bridge (West Yorkshire).
Dresses like these would be perfect for a winter wedding. They also have a range of shrugs and capes which are ideal for summer or winter weddings.
As well as the eco friendly nature of these dresses it is important to say that they are truly stunning creations. Being male and working in the wedding industry, it is rare (and slightly concerning) for me to be so excited by dresses – so you know these have really got to be something special!
If none of these options appeal to you, why not hire a dress? Many companies exist that hire out everything from the furniture to the plates. This is practical and in most cases less expensive than having something designed and produced for one day of glory.
Transport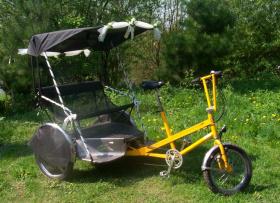 Image Via Get Cycling
Getting from Here to There
Unfortunately, England has laws which prohibit most people from getting married in their own home (unless you are lucky enough to live in a house used as a wedding venue!) So for most people, there will be at least some distance to travel. How green those miles are can be a matter for creative consideration.
The most important thing to consider is distance. A local venue will help reduce your carbon footprint by simply not having to travel as far to get there. This can be reduced even further if you fancy doing arriving in a horse and carriage.
Another fun option (and less frequently seen) that is to use a rickshaw. There are lots of rickshaw hire companies in and around London but for those of us up in Yorkshire there are very few. If this appeals to you (and if you are awesome – it should appeal to you in astounding ways) I have tracked one down -the York based Get Cycling company can provide this unconventional and super-rad mode of green transport.
Thinking about hiring a rickshaw to arrive at your wedding – get in touch with us for a discount on your wedding photography because we want to be your photographers because YOU ROCK.
Venue
 

Image Via Papakata
Teepee or not tepee, that is the question…
The most stunning tented venues I've seen in Yorkshire are owned by a company called PapaKåta. Kata tents are a tepee style tent used by the Sami people of Lapland. The tents are beautiful in design and when it starts to grow dark and they are lit up inside they are the perfect setting for a very special wedding reception.
Where possible, the Kata tents are made entirely out of natural materials. PapaKåta make amends to the environment for carbon released during their events by planting an equivalent number of trees to compensate for this impact. They strive to be carbon neutral and as green as possible.
PapaKåta are having an open weekend on the 15th, 16th October, if you'd like to check out these extraordinary venues I'd say this is well worth a look in.
Want more info on how to add a little green to your Yorkshire wedding? Well hang tight for part 2……
{lang: 'en-GB'}