Hello everyone
How's your week so far? Mine's going somewhat slow, after returning from our trip on Monday. Now it's time to catch up on laundry, groceries, and housecleaning. And of course….blogging!
For eco design day, let's talk solar panel roof designs.
The popularity of solar panels has been growing rapidly worldwide. These high-tech wonders each contain a two-dimensional array of photovoltaic solar cells that convert sunlight directly into usable electricity. You can see solar panels in many communities on the roofs of houses and other buildings. For homeowners, solar panels are very useful for reducing their electricity bills. They can also feel good that they're helping the environment by reducing their consumption of fossil fuels. The panels are spread out across the roof or another free standing structure such as a parking cover. These days, solar panels are more affordable, efficient, and reliable than ever.
To give you an idea of the cost of solar panels these days, you can purchase a panel that is approximately 3 ft. by 5 ft. for about $400. For a home with a 1000 sq. ft. roof that is completely covered with such solar panels, the panels can generate around half of that home's typical electricity needs.
Solar panels can also increase the value of your home, since prospective homebuyers find energy-efficient homes much more attractive. If you're putting your home up for sale, solar panels can set your home apart from the rest.
Solar panels can be either used as a totally private power system or they can be tied into the existing power grid (the network that provides electric power to everyone). If the panels are tied to the existing power grid, your electric appliances can consume power from either the panels or the grid, or both. If your panels provide more energy than you use, you can contribute your extra energy to the grid, selling it to your power company.
Many homeowners around the globe have embraced solar panels and have such installed them in attractive  eco design patterns.
Let me highlight a few of these solar panel designed homes.
The Active House, Lystrup, Denmark. The south-facing designed roof is covered in solar panels. They harness more than enough power to keep the occupants warm and the appliances running. The designers have estimated that in about 30 years' time the excess electricity flowing from the house into Denmark's grid will have cancelled out the energy costs of building it, leaving a non-existent footprint on the earth's resources.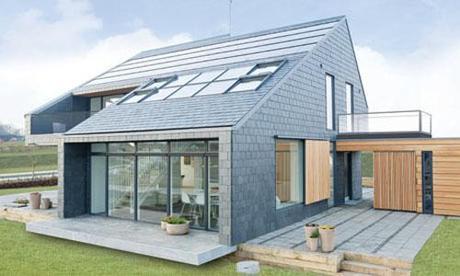 The Waldblick Residence located in Lucka, Germany. It's a rectangular wood-covered structure rising from the green surroundings.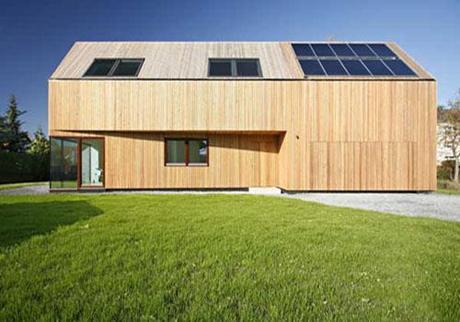 Freiburg: Germany's greenest city.  The hillside townhouses of Freiburg's Vauban district glisten in the sun.  They're in a complex of 58 residential houses that produce more energy than they consume.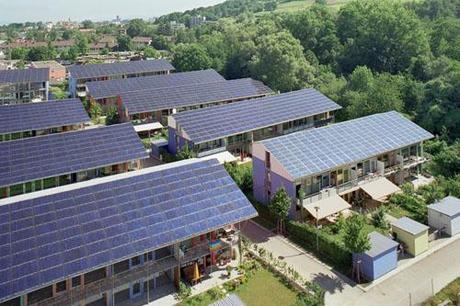 The Oxford Solar House, United Kingdom. It's the first low energy house in the UK with a fully integrated photovoltaic roof.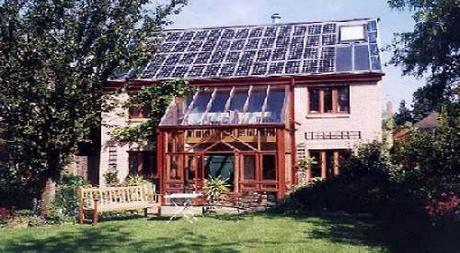 Many companies are now designing a new generation of solar panels. They've reduced the size of the panels so that they can be used as solar "shingles" that are much more affordable. The shingles appear to be  part of the roof itself because they are fully integrated in the roofing system.
 According to Solar Panel Kings, the many eco design features and benefits of solar shingles are:
These green power generation systems do not disturb the natural lines and beauty of the roof.
These roofing elements can be seamlessly incorporated into the aesthetic structure and design of the roof.
Solar shingles no longer need support structures.
The roofing materials are suitable for both new construction and renovation purposes.
They are made of water and fire resistant roofing materials.
They are easy to transport and install.
They can withstand strong wind loads.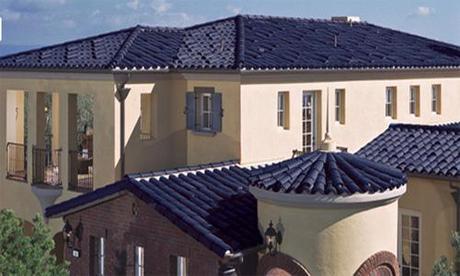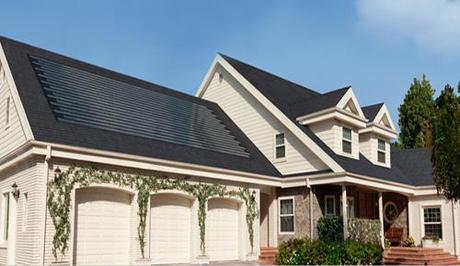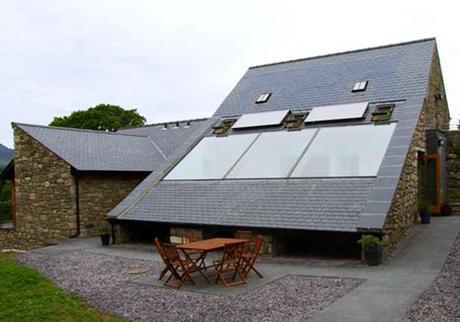 Hopefully seeing these solar panel roofs will inspire you to consider installing them on your own home or a future home. It's a wonderful idea for reducing energy costs within our homes, don't you think?
Have a great Wednesday, everyone.
Simone