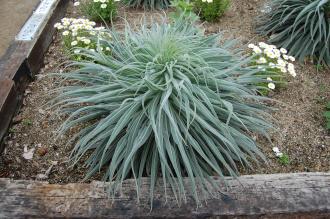 Echium wildpretii (04/04/2015, Kyoto Botanical Gardens, Kyoto, Japan)
Position: Full sun
Flowering period: Late spring to early summer
Soil: Well drained
Eventual Height: 3m
Eventual Spread: 60cm
Hardiness: 9a, 9b, 10a, 10b
Family: Boraginaceae
Echium wildpretii is a herbaceous biennial or triennial plant with an upright habit. In its first and second years it developed a dense rosette, In the third year it produces an erect flower spike, following flowering it dies. Its grey/ green velvety leaves are lanceolate with entire margins, up to 30cm long and u to 4cm broad. Its red flowers appear on an erect flower spike in its third year. This plant will readily self seed given the right conditions.
Echium wildpretii, commonly known as Tower of Jewels, Red Bugloss or Tenerife Bugloss, is native to the island of Tenerife. In its native habitat it grows in the subalpine zone in dry, arid conditions.
The etymological root of the binomial name Echium is derived from a name given to one of this genus by Dioscorides. Wildpretii is named after Hermann Josef Wildpret (1834 – 1908), a Swiss gardener.

The landscape architect may find Echium wildpretii useful as a dramatic biennial plant with an upright habit. It dislikes having a wet crown. Once established this plant is drought tollerant.
Ecologically, Echium wildpretii flowers are very attractive to pollinating insects.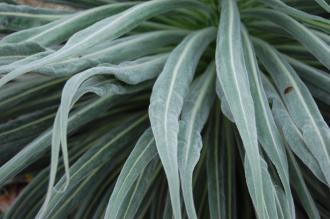 Echium wildpretii Leaf (04/04/2015, Kyoto Botanical Gardens, Kyoto, Japan)
The Royal Horticultural Society has given Echium wildpretii their prestigious Award of Garden Merit in 2002.
Echium wildpretii prefers a fertile, well-drained soil. It tolerates most pH of soil. It dislike wet soils.
Echium wildpretii requires little maintenance.