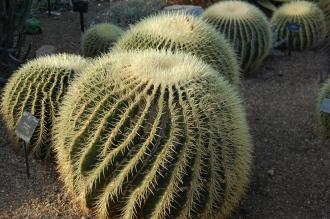 Echinocactus grusonii (03/11/2013, Kew Gardens, London)
Position: Full sun
Flowering period: Late spring to early summer
Soil: Well drained
Eventual Height: 90cm
Eventual Spread: 90cm
Hardiness: 9a, 9b, 10a, 10b, 11 (will tolerate occasional frost)
Family: Cactaceae
Echinocactus grusonii is a cactus with a spherical habit and they live for approximately 30 years. Its has up to 35  mid green ribs forming to surface of the cactus. Each rib contains sharp spines which are strait to slightly curved and buff yellow in color. Its yellow flowers are up to 5cm across and appear around the crown of the plant once mature.
Echinocactus grusonii, commonly known as the Golden Barrel Cactus, Golden Ball or Mother In Law's Cushion, is native to east central Mexico. In it native habitat it grows in volcanic rock slopes. Although common in cultivation this cactus is classified as Endangered according to the IUCN Red List of Threatened Species.
The etymological root of the binomial name Echinocactus is derived from the Greek echinos meaning 'hedgehog' and cactus an old world spiny plant. Grusonii is named after Hermann August Jacques Gruson (1821-1895), a German entrepreneur with an interest in Cacti.
The landscape architect may find Echinocactus grusonii useful in desert habitat or rock gardens as an accent plant due to its dramatic form. Once established this plant is drought tolerant.
Ecologically, Echinocactus grusonii has little wildlife value.
The Royal Horticultural Society has given Echinocactus grusonii their prestigious Award of Garden Merit in 2012.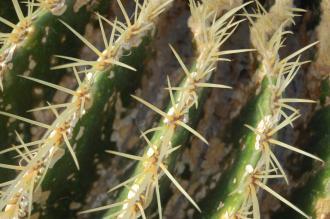 Echinocactus grusonii Thorns (03/11/2013, Kew Gardens, London)
Echinocactus grusonii prefers rich, well-drained soils. It tolerates most pH of soil. It will not tolerate wet soils. It should not receive water during the winter, cooler months.
Echinocactus grusonii requires little maintenance.