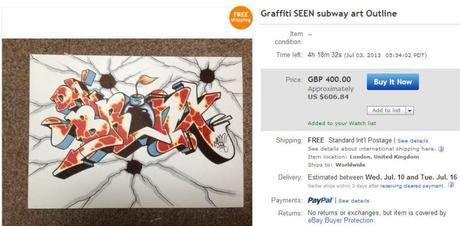 Original drawing in ink on thick paper 2006 comes with COA..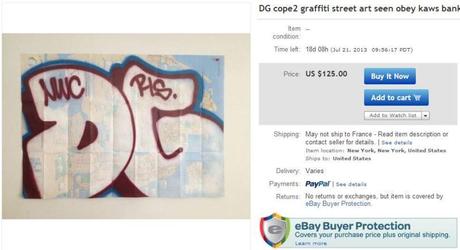 SELLING AN ORIGINAL DG NWC RIS NYC GRAFFITI SUBWAY MAP DONE WITH ACTUAL SPRAYPAINT IN 3 COLORS. DG WAS ONE OF THE TRAIN GRAFFITI ARTISTS FROM BACK IN THE DAY. THE COOL PART ABOUT WHAT YOU ARE BUYING IS IT IS ALMOST AS IF YOU PEELED THIS FILL IN RIGHT OFF THE WALL OF A TRAIN CAR OR A NYC STREET WALL CORNER. IT MEASURES 32 1/2 BY 23 INCHES AND WHEN IT IS FRAMED ON YOUR WALL IT LOOKS TOTALLY AWESOME. FREE SHIPPING WITH TRACKING AND SIGNATURE CONFIRMATION REQUIRED.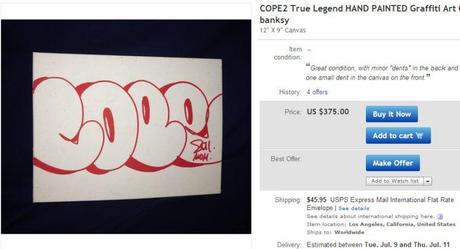 This hand-drawn canvas was purchased from COPE2′s very FIRST art show in Los Angeles, titled Authentic, in 2011, at the Maximillian Gallery inside the Sunset Marquis Hotel in West Hollywood, California.
This is a rare and priceless piece of work, as it is an authentic piece of history painted by legendary New York graffiti writer COPE2 himself!
The painting features a classic COPE2 graffiti "outline" in red on a white background on canvas board. The text inside the "E" reads "2011. MOM."
Shipping is FREE for US purchasers and will have Signature Confirmation to ensure that you've received this art piece.